Hello barbies..
   We girls always love clear skin but the pollution takes toll on our skin and makes it dull and life less. Summer is here and it makes our skin oily and attracts all dirt and causes acne. Summer also makes our skin tanned and we lose our natural color. We do facials at parlours to take care our skin, it brings temporary glow to our skin. But only few facials done at parlour treat our skin issues like tan,acne and dryness. Here is the facial for all skin types to maintain crystal clear skin at home. This facial calls for simple ingredients and it is really effective. You can feel the difference in texture of your skin from 1st usage itself.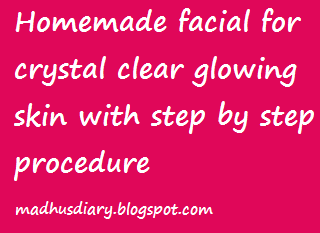 Our facial includes the following steps,
1.   Cleansing.
2.   Scrubbing.
3.   Toning.
4.   Face pack.
PROCEDURE
Cleansing
⦁   Gram flour(as required for cleansing)
⦁   Milk(for dry skin)
⦁   Rose water(for oily skin)
   Mix all the ingredients and use it to wash your face. It removes all dirt and oil from the face.Apply the paste all over face and neck and gently massage in circular motion for 1 to 2 minutes. Then rinse it with luke warm water.
Scrubbing
⦁   Unflavored oats(as required for scrubbing)
⦁   Honey(as required)
   Scrubbing is 2nd step in this facial. Take oats in a bowl and add honey to it. Now apply this all over face and massage it in circular motion for 5 minutes and then wash it with luke warm water. This removes dead cells effectively with out drying out the skin since it has honey in it.
Toning
⦁   Green tea(or grape toner(share the recipe soon))
⦁   Lemon juice.
   Brew some green tea and allow it to cool. Now add few drops of lemon juice to green tea( or grape toner if using). Now apply this all over face and neck using cotton pad and start massaging. Leave it for 5 min and then wash it off.
Face pack
⦁   Thick curd- 1spoon.
⦁   Aloe vera gel(i used patanjali saundharya aloe gel)- 2 spoons.
⦁   Wild turmeric powder( i strongly suggest wild turmeric since it doesn't stain skin)-2 to 3 pinch.
⦁   Honey-1 spoon.
⦁   Milk powder - 2 spoons
   Mix the above ingredients until desired consistency is attained. You can adjust the measurements according to your need.Apply this face pack all over face and neck. Let it dry completely and then wash it with luke warm water. Now your face will be fresh and rejuvenated.
Moisturizing
   After completing above steps, it is important to moisturize you face. You can apply any moisturizer that suits your skin type.


ALSO READ




Wild turmeric face packs




nutmeg face pack for acne




rice water toner




skin brightening face pack with picture tutorial


  
      Summer is the season when my skin becomes so dull. I do this facial once a week and it helps me a lot.  Within few uses i can see natural glow in face and acne marks have faded to some extent.Try this and enjoy crystal clear glowing skin.