Hey loveys,
This week I participated in a chat with Fit Approach and it was themed "Holiday Fit List". It got me thinking about my own Holiday Fit List and some awesome things that I think would be great gifts over the holidays! Here is what I came up with: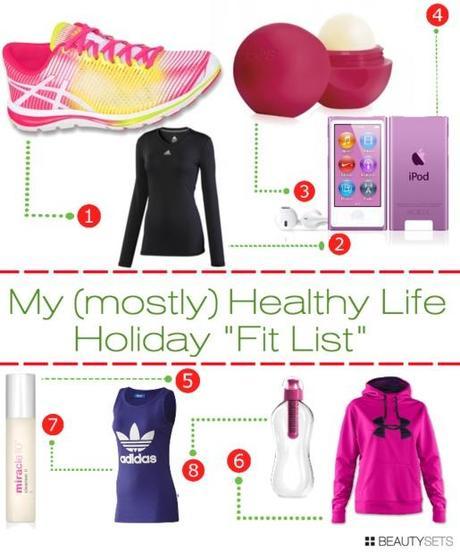 1. Asics Gel-Super J33, asicscanada.com, $100
2. adidas Women Ultimate Pullover, adidas.com, $60
3. eos Pomegranate Raspberry lip balm, $3.29
4. Apple iPod Nano, Purple, $149
5. Miracle 10 Cosmetics Inc, Cleanser II, $39
6. Under Armour Women's Hoodie, $62
7. adidas Women's Slim Tank, $28
8. Bobble Bottle, waterbobble.com, $9.99
I chose these for my Holiday Fit List, well, because I like it all and I think it's all useful. I love running in Asics, they're the best shoes for me to run in, and these are super pretty. Who says you can't look cute going to the gym?
The pullover is perfect to throw on after a yoga class or to wear under a running jacket if you're hitting the snowy trails. 
The lip balm is a MUST if you are running outside this winter. One thing I learned last winter was to always bring lip balm on those runs. The more you lick your lips to keep them moist, the dryer and more chapped they get. eos is all natural and smell SUPER good. 
The iPod is small enough to fit in your pocket or in the little slit of your lulu capris/pants. I like the touch screen. Right now I'm using an iPod mini but it has no screen, it drives me nuts not being able to choose a song rather than going through the whole list.
Obviously my Miracle 10 Cleanser made the cut... it feels so good after a hard core workout.. so fresh and so clean! 
The hoodie 1, is an amazing color.. and 2. is perfect post workout to snuggle in. I kind of want to buy it WAY too big just so I can curl up in it on the couch... oui?
The Water Bobble is so cute. I've never used one but I've seen them around and I love how they're so fun looking.. and no one can have too many water bottles, right?
What are some things that are on your "Fit List" this year??