"Swimsuit Shopping". Do these two words  send you into a frenzy and make you hit the panic button same time every year? All you want to do is hit the gym or switch your diet to fruits and veggies in the hope of that perfect bikini bod.
But worry not, There is a way to look amazing without having to torture yourself - By flaunting your best assets in the right way.
What's the way to do this? Pick up swimwear that looks good for your body type. You don't need to have the perfect body to look great, you just need to dress it right.
In this post, I have tips to choose swimwear for each one of the basic body types. 
If your Body Type is Hourglass 
An hourglass figure is characterized by balanced bust and hip measurements and a well-defined waist.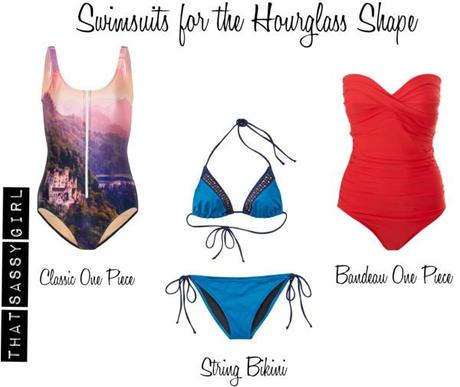 - If your bust is fuller, try halter tops which will provide bust support.  - Try bottoms with thick tie sides.  - Stay away from bottoms that are too thick or thin on the sides. Such bottoms tend to take away from your body's natural proportions.  - Similarly, go for an all over color or pattern since mixing and matching the top and bottom can muddle up your natural body shape. 
If your Body Type is Pear
A Pear shape is characterized by a larger hip measurement than bust measurement, often with a less defined waist.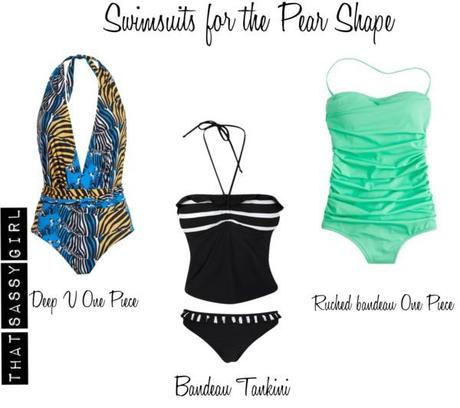 - To draw attention away from the bottom half, wear a one piece with a deep V neck that will draw eyes upward.  - Wearing a tankini paired with a high-cut bottom will give the illusion of longer legs.  - A bandeau tankini also works well for this figure by giving the illusion of more width in the bust area and a halter style makes the shoulders appear wider.  - Go for swimsuit tops that will draw eyes upward by adding volume and size such as a bright patterns and bold colors. 
If your Body Type is Triangle 
This body type is a variation on the pear shape but also includes narrow shoulders.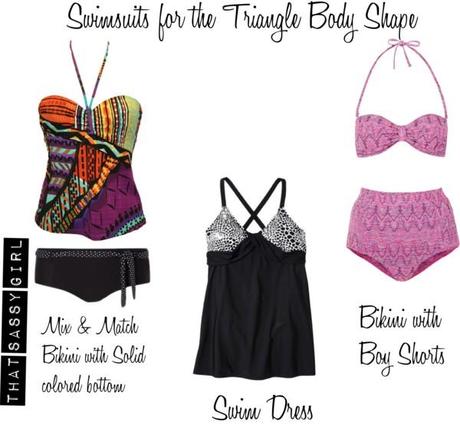 Women with this body shape need to draw attention away from the lower half to the upper half of their body.  - Choose a low cut swimwear to draw eyes upward.  - A wide/square neckline or a neckline with wide straps also helps in taking away attention from the lower half.  - Details such as ruching at the bust line help draw attention to the top half.  - Avoid embellishments or horizontal lines on the bottom. Stick to bottoms in a skirt/ boy shorts style. 
If your Body Type is Rectangle
A Rectangle shape is characterized by a Balanced bust and hips with little or no waist definition.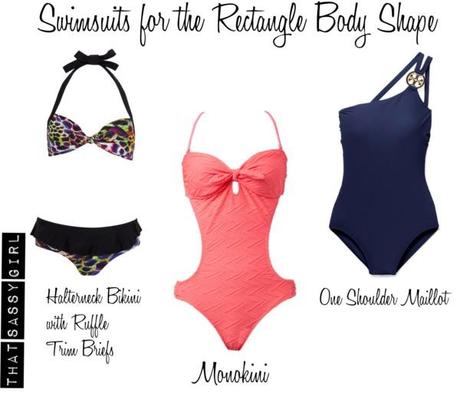 - Choose styles that will help define your waistline  - Pick bottoms with tie sides that will help accentuate the width of your hips.  - Tops with wide straps give the illusion of broad shoulders and a waistline.  - To create an hourglass shape, choose swimwear with detailing around the waist. Monokinis help create an hourglass figure.  - Choose swimwear with ruffles to give an illusion of a curvaceous figure 
If your Body Type is Apple
An Apple shape is characterized by Little waist definition, a rounded stomach that's either high or low on your frame, heavy thighs or wide hips (sometimes called saddlebags) and perhaps a pronounced bottom.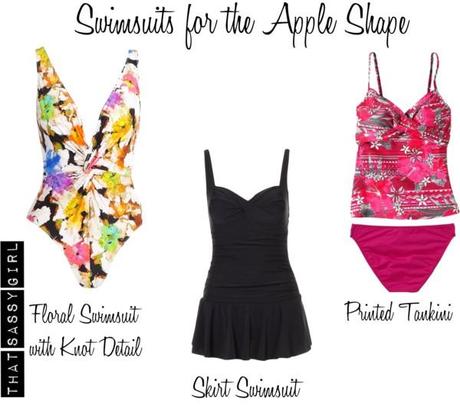 - Swimsuits with wide necks and skirted bottoms are perfect for this body type  - Tankinis are flattering and balancing for this body type since they cover up the stomach and draw attention to your hips instead.  - Go for a high cut bikini bottom that draws attention away from your waist and makes your legs appear longer.  - Halter necks tend to lengthen your torso while horizontal stripes draw attention to the waist. So steer clear of these styles. 
If your Body Type is Inverted Triangle
An inverted triangular shape is smaller in the hips than through the bust and, usually, have a nicely defined waistline. Your body can also give the impression of an inverted triangle if you have narrow hips and broad shoulders.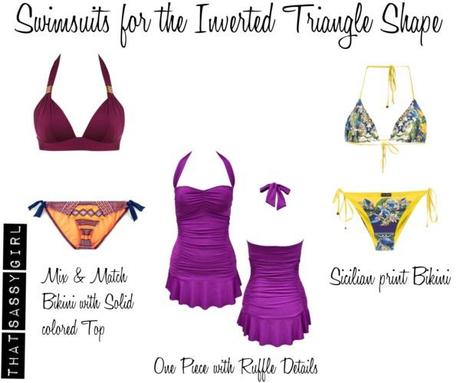 - Mix and match pieces with a top in a solid color and a bottom with a print or a pattern. This helps emphasize the lower half of the body while balancing the top.  - Halter bikini tops are great for this body type since they offer support.  - Choose bottoms that cut straight across the hips  - For balancing the bust with the hips, choose bottoms with ruffles.
Once you have picked up the swimsuit that best goes for your body type - Don't forget to glance at your reflection in the mirror before heading out to the beach. If you think you look fabulous, others will too!
Hope you are having a great week so far.
Let me know what you think of this post through your comments and emails!
xx
Seepz