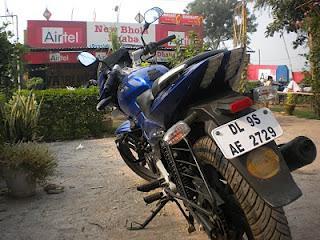 6/10/2010 was the most tremendous and exciting day of my entire life, because I went for a

motorcycle trip

to Amritsar with my best friend Shanky. As Shanky was preparing for civils, his coaching class was starting from 11th so we decided to go on the 1st week of October. As we were doing job in a travel agency we were waiting for our salary and after getting salary we fix the date on 6th. For this trip I had struggled a lot because my parents were not allowing me to go in a bike I know that they will be standing on fire till we are back home.

One thing I don't understand is why people don't try something different? When I said my parents that we are going to Punjab by bike, first they refuse and then mom was saying that why don't you go by train? Bike ride is totally different experience and enjoyable ride than train. Dad was saying that am not much experienced to have a long drive, if we travel in bus or train only how can we gain experience? At last they allowed me to go to the trip, and after having a long prayer by mom i left to shanky's house.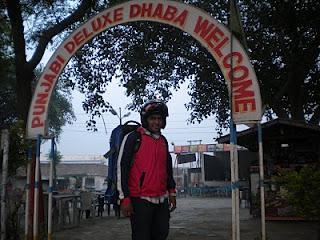 As every thing was according our plan I serviced my pulsar-180 yesterday itself. Shanky's house is at Delhi University, I reached over there around 10:00 pm and after packing our clothes and important equipments we slept. As alarm rung at 3 o'clock we woke up with full excitement. Suddenly we got ready and after having a cup of tea aunty had a prayer for us and at sharp 4 o'clock we get into our bike and started our journey. The moment we entered NH1 was really exciting one, we were waiting for this particular moment for a long time. The road till Panipat was really good but after Panipat the road was not good, thee were construction going on. At karnal we stop for having tea. We reached Karnal by 6 o'clock, till Karnal

Shanky

was riding the bike and I was carrying the bag, which was really huge one around 10-20 kg and bigger than me. Due to carrying that bag I got a sexy shoulder. After having our tea we left from dhabha and now I was riding the bike and we move to Ambala. Time was around 8; 30 and we were hungry so stop the bike at a dhaba in rajpura, from were actually Punjab starts. There we had aaloo and onion paratas, panner paratas and dahi which was really delicious. After having our breakfast we were exploring beauty of nature, the dhabha was located just near to railway track and train was coming in every minute.
Around 9:30 we left from Rajpura and from there we moved to Ludhiana. We had to go through the bypass but the road over Ludhiana was congested and confusing we took city route and the traffic over there was horrible, it was like the traffic at Delhi. By connecting Jalandhar we reached Amritsar around 2:30 but we didn't stop over there because we have to see the parade at Wagha border. The road to Wagha from Amritsar was quite and lonely one. Even it was heat we were so much exited because we at last reach our destination.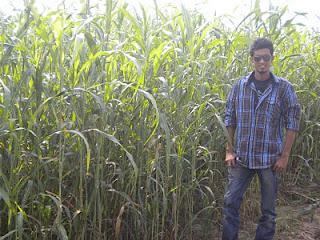 We had our lunch in a dhabha at Attari border. While talking with the people over there they were astonished while we said that we are coming from Delhi. As the gate of Wagha border was opened for the visitors we also stand in the queue for parade, after parking our bike. As the bags were not allowed inside we kept that in a cloak room of a hotel near Wagha itself. The parade was really good. The whole ambiance and atmosphere of Wagha was really great. The Wagah border closing 'lowering of the flags' ceremony is a daily military practice that the security forces of India (Border Security force) and Pakistan (Pakistan Rangers) follow. The Wagha border is also called as "Berlin wall" of Asia. The ceremony started with a perfectly coordinated parade by the soldiers from both the sides and ended by lowering of the flags. One Jawan was standing attention at the gate on each side. As the sun sets, the Iron Gate at the border was opened and the flags were lowered. After flag is folded the ceremony ends. Really a feeling of patronizing raises when we are watching the parade.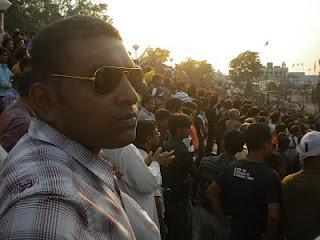 The parade ended at 6:30, then we suddenly went to Amritsar, our plan was to stay at golden temple but when I check, there was no room available all was full. There were lots of hotels but we want our bike also to be kept safe, so we were keep roaming and at last got one hotel which was having parking facility. The pam hotel for which the manager asked us Rs 500, but we managed to have the deal for Rs 350. After having a bath we were fresh and then went to dominos for having our dinner and we ordered a large Mexican green wave pizza and pasta italiano with coke.

After having our dinner we went to golden temple, which was looking great at night. The ambience and surrounding were cam and quite. A feeling of divinity was there. Golden temple is also called as the Harmandir Sahib. This temple is considered holy by Sikhs because the eternal Guru of Sikhism, the Sri Guru Granth Sahib, is always present inside in it and its construction was mainly intended to build a place of worship for men and women from all walks of life and all religion to come and worship God equally. We must have leave our shoes at the facility near the entrance, as everyone has to cover their head we bought a bandana and by washing our feet in the shallow pool we entered inside the temple. We were roaming inside the temple till around 11:30 and walking inside the temple was raising feeling of divinity. And after exploring golden temple we went back to our room and go to sleep.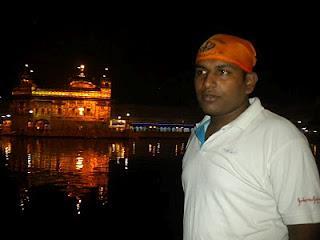 Next day we woke late around 8, and the morning was so pleasant by the great view of gurudwara from our room and that song "ik onkaar sat naam kartaa purakh nirbh-a-o nirvair akaal moorat ajoonee saibhn gur parsaad jap", I can still hear that song in my ears. After getting ready and packing our bags we went to Jallianwala bagh. Jallia wala bagh is also a must visit place at Amritsar. As every Indian knows why Jallianwalla bagh is famous for amritsar massacre. We can see the exact spot from were the people were fired by General Dyer. And we can still see the holes which were the marks of bullet. The museum at the garden tells the entire story of the massacre.

After visiting Jallianwalla bagh we again went to golden temple, to see what the ambiance is at morning. Despite its great sacred status, the Golden Temple is open to visitors, like all Sikh temples. The only restrictions are that visitors must not drink alcohol, eat meat or smoke in the shrine. And unlike many other Indian temples, visitors to the Harmandir Sahib are made to feel truly welcome and not pressured to buy anything. The information office left of the main gate gives helpful advice and information, as well as booklets on Sikhism. After leaving our shoes at the facility near the entrance, and covering our head with bandana and by washing our feet in the shallow pool we get into the temple. We saw the museum of golden temple which was also good and it resembles the sacrifices and contribution of many Sikh people to there state as well as country. There were lots of photos of the eminent people who fight for their pind (community) against Islam. Weapons, coins, etc also were exhibited at that museum, which were really good to explore.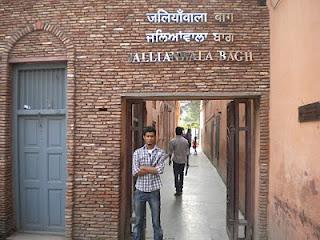 While going back to our room we had a cup of lassi which was really delicious. Having a single cup only our stomach was full, but even Shanky had one more glass. Then we went back to our room and took our bags and we checkout from room.

Today our plan was to go to Bhakra Nangal dam. So we started our journey around 11:30 and went Phathankot. Till Phathankot the road was not that good and also buses and trucks were driving madly. After Phathankot the traffic was really less and road was four lane. We reach Phathankot.at around 3:30 and from there we had our lunch and from there only we filled petrol as petrol was 4 Rs less than Delhi. Now our journey was through a hill and the way was awesome, there was 4 lane way at the hill and the view of the road was also great. While traveling Shanky stoped the bike and said " hey,

Wilson

, it whould be better if we wont go to Bhakra Nangal" and i said lets move to Chandigargh. We changed our plan because if we reach Bhakra Nangal we don't know how the place could be, definitely it may be some Porsche area, so we decided to go to Chandigarh. Around 9:30 we reached Ropar and from a dhabha named Satnam dhabha we had our dinner, and the dinner was really awesome. We suddenly left to Chandigarh because it was late, One of our friend Rahul's mosaji was staying at Chandigarh and he booked room for us. If uncle was not there we would be really in a great trouble, because everywhere rooms were not available due to the common wealth games at Delhi, tourist visiting Delhi were visiting Chandigarh and they have booked the room earlier itself.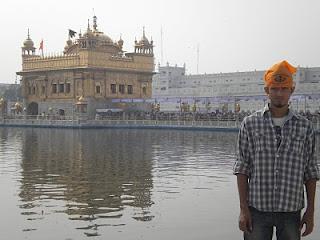 We reached Chandigarh by 10:30 and we suddenly call Jugdish uncle (Rahul's mausaji) and he told us to reach sector 45, there he has arranged a room for us at hotel Surya. We reached hotel and after parking the bike we get into our room. The hotel was really good, it was a/c room and we were charged Rs500 only, because Jugdish uncle had already talked to them. After having some chit chats we go to sleep.

Next day was really a fine energetic fresh day as I woke up at 8 o'clock and had a good bath. Then I began write my dairy. Shanky was sleeping till 9:15 and after he woke up we had our tea and ordered stuffed paratas and dahi as our breakfast and then I went to atm after reaching back we checkout from our room and left to jugdish uncle's house which was at sector 7 and it was around 4 kms from our hotel. The people of Chandigarh was friendly and very helpful. When we ask some people where 7A-1887(house no) is, they took us there, really they were so helpful.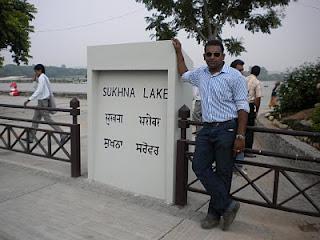 Around 12 o'clock we reached there house and jugdish uncle was so friendly and so was aunty also. We left our bag over there and after having a cup of tea we went to Sukhana Lake. Sukhana Lake is located at the foothills of the Himalayas, the Shivalik hills. Sukhna is a sanctuary for many exotic migratory birds like the Siberian duck, Storks and Cranes. Here we explore the scenic beauty of the setting sun, and heavily clouded monsoon sky, the boats floating through the lake adds tranquility of the lake. After spending sometime at Sukhana Lake we left to rock garden, rock garden was really a unique garden. Rock Garden is a Sculpture garden also known as Nek Chand's Rock Garden after its founder Nek Chand, a government official who started the garden secretly in his spare time in 1957. Today it is spread over an area of forty-acres (160,000 m); it is completely built of industrial & home waste and thrown-away items like bottles, glasses, bangles, tiles, ceramic pots, sinks, electrical waste, tube lights, etc which are placed in walled paths. The waterfall adds more beauty to this garden.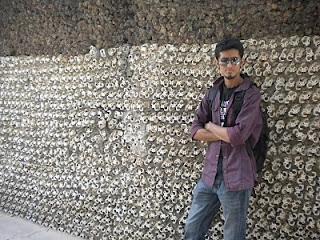 After that we went sector17 were there was a huge shopping complex, which was just near to rose garden. The amazing part of this place is that the parking fees are really less. We were charged just Rs 2 for parking our bike. We had chicken hotdog and lime soda which was really tasty. We thought of buying souvenirs form here but there was nothing special so we left to Jugdish uncle's house, after reaching their house we tell our experience to them and after having tea we left to Delhi. We started our journey around 6:30 via Ambala then we reached Kurushetra. As we reached Kurushetra we taught of buying some sweets to home so we bought some sweets which was famous over there like panni, malai barfi, pedda, etc.

From a dhabha at Kurushetra itself we had our dinner and via Karnal, Panipat, Sonipat we reached Delhi, just as we entered Delhi there started traffic jam and so I took wrong side and for around 2 kms I was driving wrong side. Around 12 o'clock we reached Shanky's house, were we started our journey.

This journey was really a great experience to both of us. It took 1261 Kms to cover Delhi – Wagha border – Amritsar – Phatankot – Chadigarh – Delhi. And 2 days 20 hours to reach back home. We have really enjoyed our whole journey. Everyone was saying that we guys will become tiered but we were not at all, this may be because of our first ride or may be because we were having young blood. I will suggest to everyone to go at least once a year to a long drive, it will really rejuvenate you and it will make your mind refresh. I,

Wilson tom

will never gona forget this trilling bike ride for ever.