As I've been living in Utah since April and taking full advantage of as many outdoor opportunities as possible, I'd love to share those with you! And since I'd go so far as to align myself with Jim Gaffigan and call myself "indoorsy", I'd like to focus on some of the hikes I've done that would be great for people like me: afraid of heights, lacking a lot of fancy gear, and unmotivated to sleep on the ground.
Let's begin!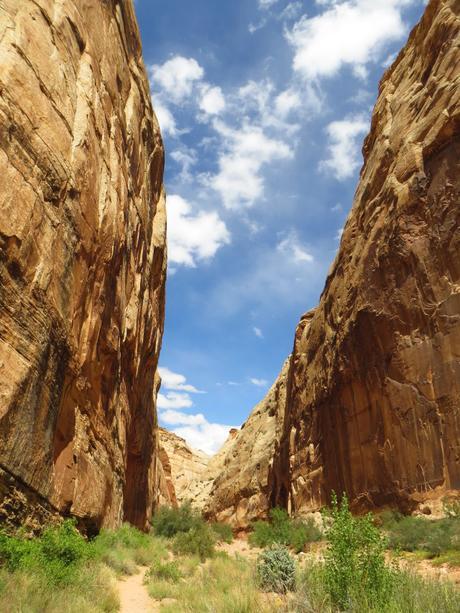 When visiting any park, state or national, keep your eye out for a trail guide. Grab a map and plan which hike you'd like to do according to difficulty. Here's the trail guide from Capitol Reef.
While visiting Capitol Reef National Park, I did two hikes, and these filled my day and left me satisfied. The first was the Hickman Bridge hike (which I'll talk about later), and the second was the Capitol Gorge hike.
If you are wimpy like me when it comes to hikes, I definitely recommend doing this one. It's rated easy, and  mostly flat terrain. Plus, almost the entire hike is through a large canyon, making for an impressive journey.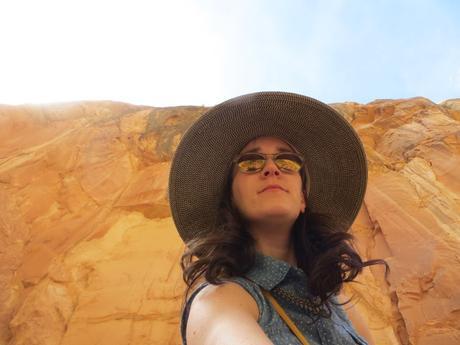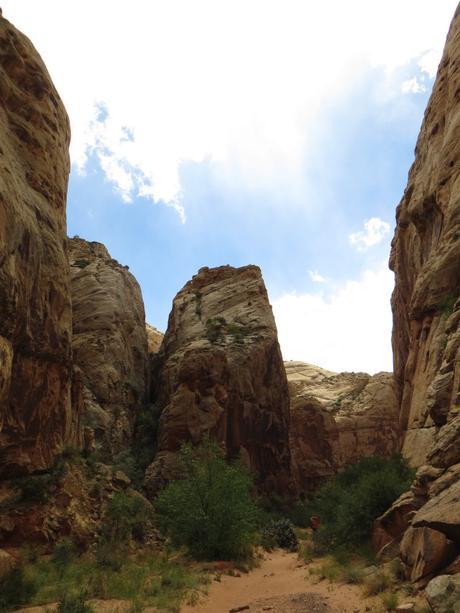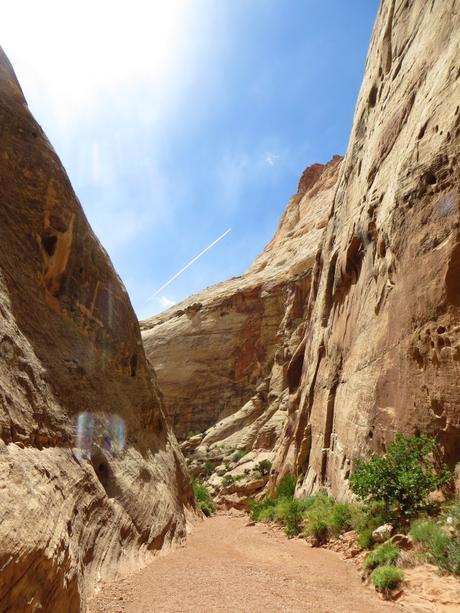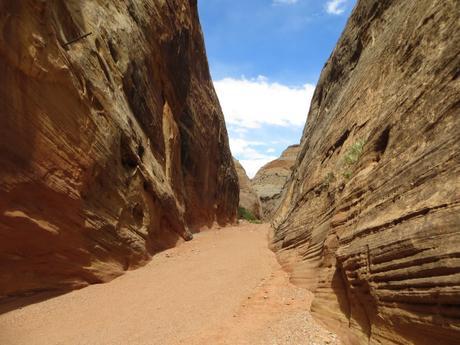 What I liked about this hike is that it can take as long as you'd like. You can dawdle and take photos, or you can scoot through the canyon quickly. I think I spent less than 2 hours on this hike, including a little extra hike up to some "tanks".
The one downside to this hike is that it's not a loop; the return hike is the same trail going in. You don't get to see anything new, but I must be like a goldfish because everything looked different coming back out.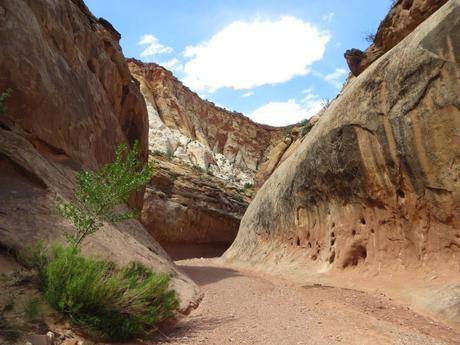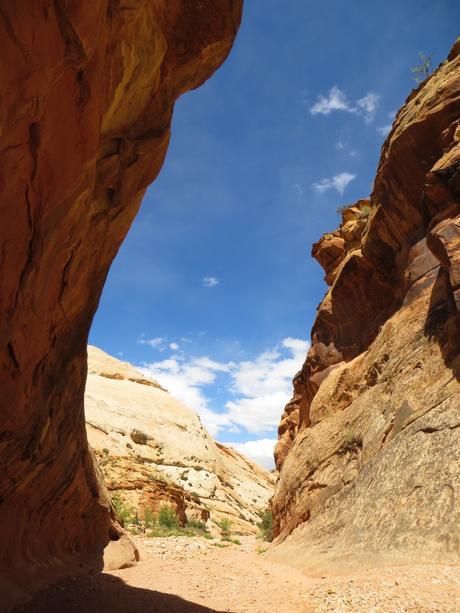 As for the tanks, I'd say this is a bit more challenging. I decided to do this portion of the hike because I was intrigued and these tanks were only 0.2 miles farther. This part of the hike involved a bit more climbing, and the trail was less defined. Hikers have to rely on what are known as "cairns" or piles of rocks. (But ask any Canadian and they will say, "You mean the inukshuks?"). These are path markers – it is important not to build any new ones or destroy any existing ones.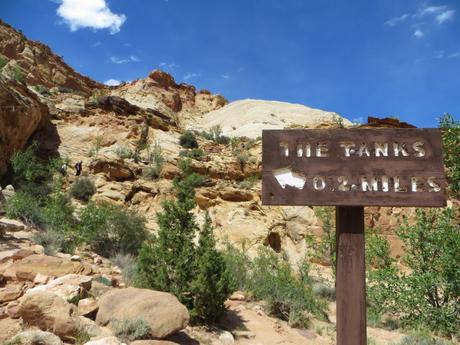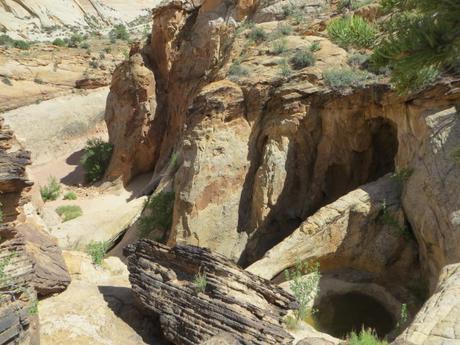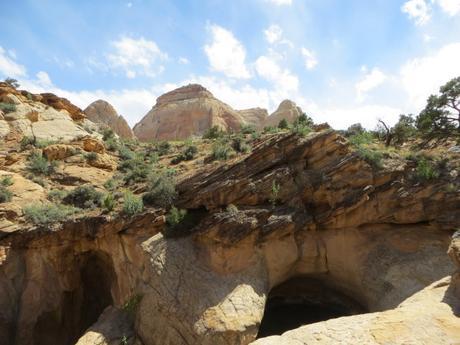 The tanks were neat to see but a little underwhelming. However, I do recommend this part of the hike if you have a little more energy. You'll see the landscape from a different angle along the way, and likely, you'll meet some interesting, curious people like I did when I hiked to the tanks.
PS – for my fellow trypophobes, sorry: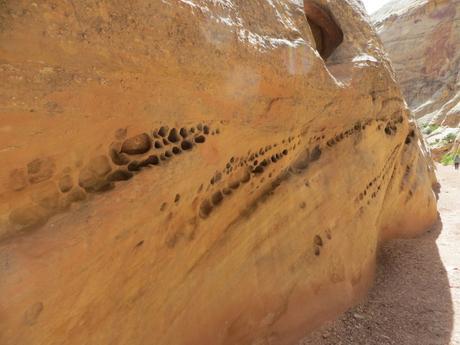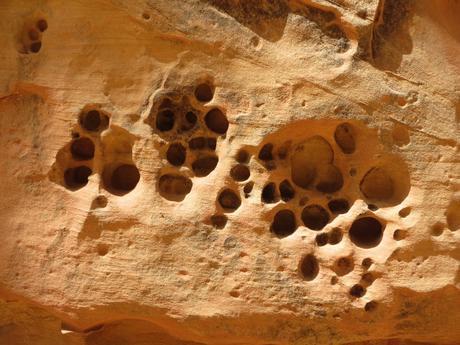 ____________________________________________________________________
What are your thoughts on Capitol Gorge? Have you hiked it? Would you?