Muslim themed wedding ceremonies tend to be on the shorter side, but, the reception can be quite a lavish affair that stretches across the span of several days. While everyone has their own family traditions and personal way of celebrating their reception, there are a few rituals that find their place in just about any Muslim wedding party. For example, since the color green is considered as being quite a lucky hue in Islam, most receptions are centered around a green setting to bring good luck and prosperity to the newlywed couple.So, here are some of the most popular highlights of a Muslim wedding reception.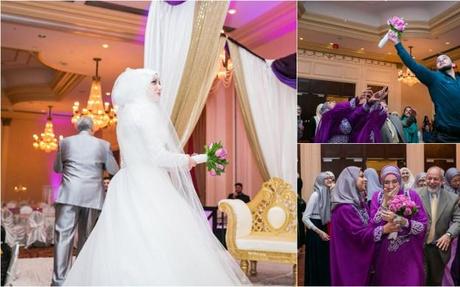 Imam Zamin
Also known as the unveiling part of the ceremony, the "Imam Zamin" is the part where the couple sits on a well-decorated elevated platform for the groom to remove the bride's veil. In India and Pakistan, the bride isn't allowed to display her face until she's officially a married woman. The public gesture of the groom unveiling his bride's face for the first time is considered as one of the most romantic moments of the post-wedding ceremony.
Afterwards, the groom's parents and relatives line up in front of the elevated platform to present the bride with various types of presents such as sweets, silk and jewelry. The bride's mother in law also ties a single golden coin wrapped in a silk cloth around her arm for good luck.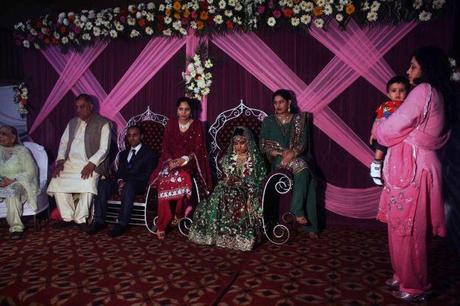 Walima
The 'Walima' is the feasting section of the ceremony, where the newlyweds and all the guests gather around several buffet tables laden with food. From 'biryanis' to tagines, hummus and pita dips, rice, fish, lamb and chicken, Muslim receptions are certainly oozing with exotic delicacies. Fertility-inducing dishes, as well as food considered as aphrodisiacs are often served as well and these include almonds and dates.
Because of some Arabic dietary restrictions, shellfish and alcohol are not served during the Walima and the guests toast with some alcohol-free champagne instead.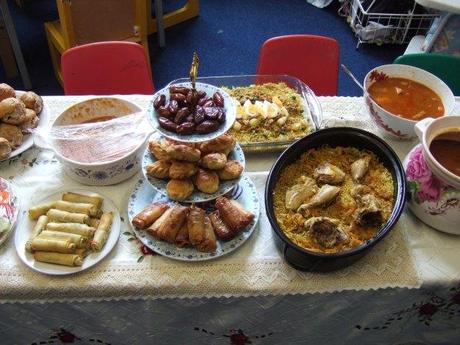 The Parade of the Muslim Bride
Muslim brides often change out of their bridal attire after signing the wedding contract. They usually show up at the reception in elaborate and heavily-decorated dresses and are paraded around the room to meet all the guests. In some cases, the bride is even carried over some of the guests' shoulders and paraded around the room to meet everyone. The ceremony officially ends when the bride is finally placed back on her feet.