There's nothing quite like a mid-week dinner date. A plan to look forward to, breaking up the long working week and helping you to shut off and relax after a busy couple days.
I do love a Tuesday/Wednesday evening plan.
Last week, Alex and I went along to a true hidden gem – a place I'd been recommended by one of my readers, which can be found along the back streets behind Holborn station. A lovely little hidden spot.
We had our table booked for 7pm, and arriving just a tad early were welcomed by a friendly team member who showed us to our booth and left us with a set of menus to ponder over our decisions.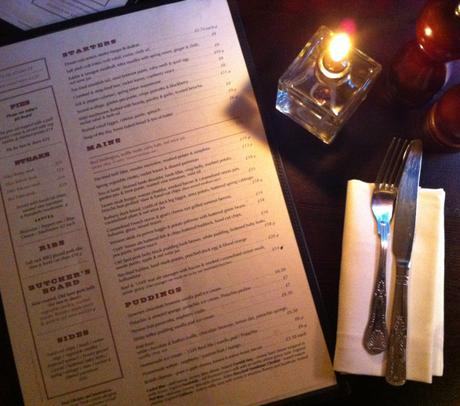 The interior of the restaurant had a vintage feel, bringing traditional English vibes, which is really hard to find in the heart of London. The decor was beautiful, and the whole place felt welcoming, yet classy.
Popping back to the table to take a drinks order, I asked the waiter about a gin I had seen on their twitter page – a seaweed gin from the cornish coast – and was delivered a whole gin list! Feeling a little overwhelmed by the choice – I did wonder, if it had been a Friday, how many I could actually taste (I'd be in heaven!) – I settled for the seaweed gin I'd seen with a slimline Fever-tree tonic water, and Alex asked for a Birra Moretti, an Italian lager.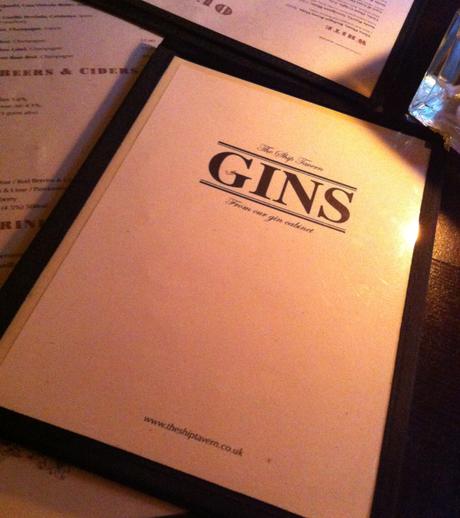 The Da Mhile Seaweed Gin was incredible. With a hint of mint, from the herb which was also in the copa style glass, the gin was herbaceous and incredibly refreshing. Alex really enjoyed his lager too.
The food menu brought about more tough decisions, with so many incredible dishes which just sounded truly amazing. Asking what the waiter would recommend, I finally settled for seared scallops for starter (his recommendation), whilst Alex opted for the Rabbit and Tarragon meatballs.
Our order was also taken for mains at this point, and as I had decided to have meat to follow my seafood starter, I chose the Beef Wellington. Alex had been checking the menu all day, and was recommended the fillet steak by a number of colleagues, so he chose that along with a peppercorn sauce.
Before long, starters were delivered to our table. Just look at the presentation – I think Alex was getting impatient whilst I was taking photos and getting the lighting and styling right haha.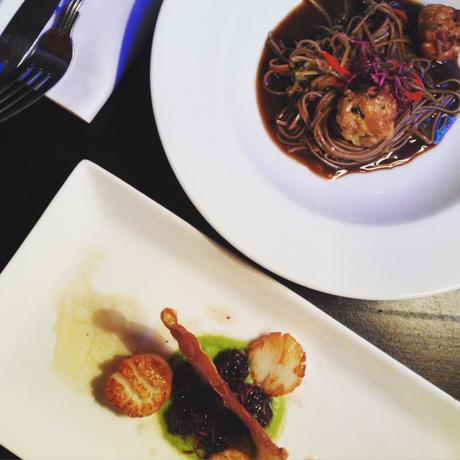 Almost too beautiful to eat, my plate of art was incredible. I'm not sure I've had scallops before, but these tasted delicious, not too fishy, this mild seafood was juicy and tender. Paired with the blackberries, pea puree and crispy bacon, the combination was something else. A mixture of meat, fish, and fruit, the crunchiness of the bacon along with the tenderness of the scallops was amazing, the sweetness of the fruit and pea puree with the saltiness of the bacon, was delicious. A true taste experience.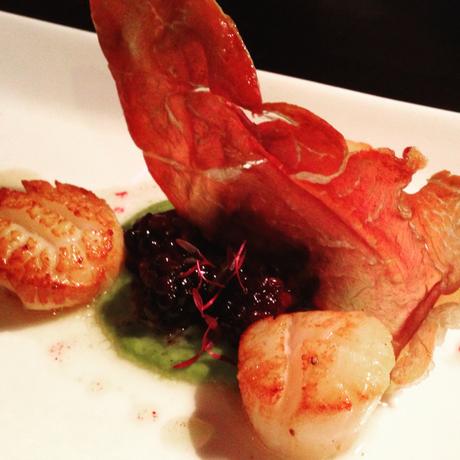 Alex's Rabbit and Tarragon Meatballs were served with soba noodles – a rich, meaty dish, with plenty of sauce and flavor. By themselves, the soba noodles weren't anything special, but paired with the rabbit and tarragon meatballs, the dish was completely transformed – you wouldn't want a really strong flavor to your noodles anyway as this would take away the attention from the amazing taste of the meat. The meatballs were succulent, flavoursome and the tarrgon really brought out the taste of the rabbit, which we'd never eaten before – a real delicacy.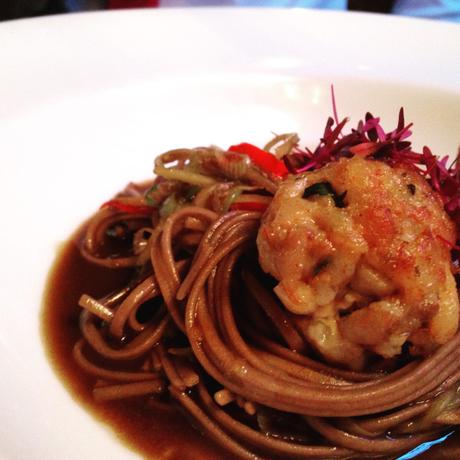 Our table was cleared, and our mains were soon served.  The beef wellington for myself and the fillet steak for Alex.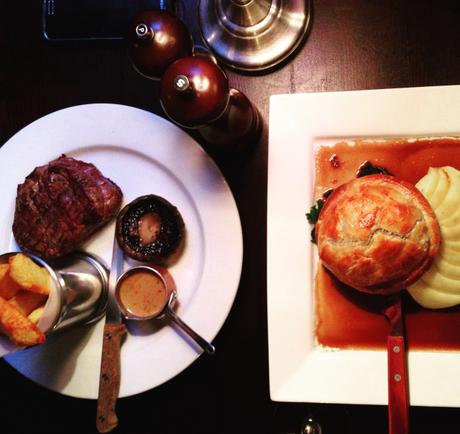 Alex's Fillet steak, served medium rare as ordered, was mouth-wateringly tender. With no fat running through, like steaks he'd usually go for. Alex loved his fillet steak, commenting that it was so flavoursome that he hardly even needed the peppercorn sauce. The sauce was still used, obviously, being deliciously creamy with a strong pepper taste, making a great companion for the beef. The chips, which were hand cut, were chunky, crispy on the outside and fluffy in the middle, perfectly cooked to make the ultimate side to such a succulent tasty steak.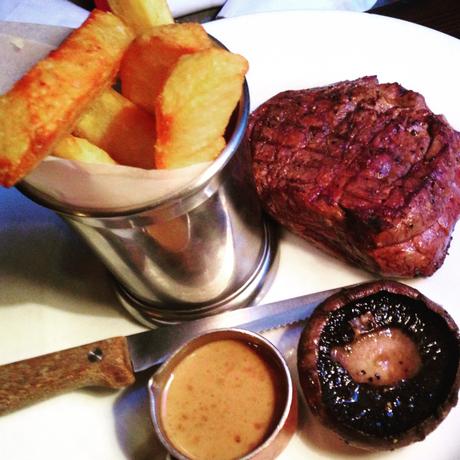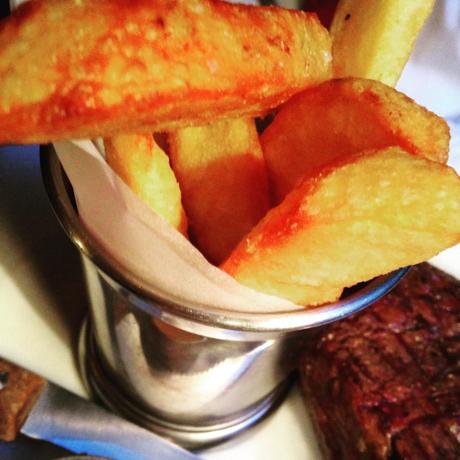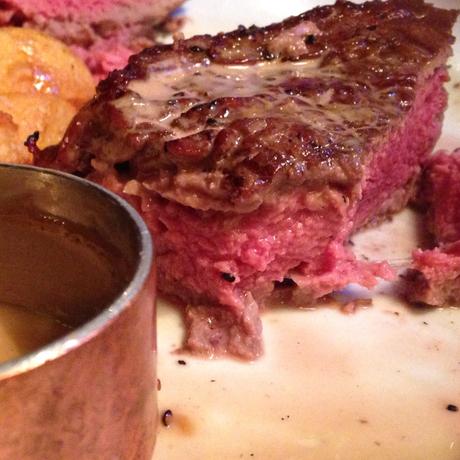 I've never had a beef wellington before. Only knowing that it would be some sort of beef encased in pastry, I wasn't sure quite what to expect. Served on a bed of kale, with a side of truffle mash, this dish was the only thing stopping me from suffering from food envy of Alex's meal choice.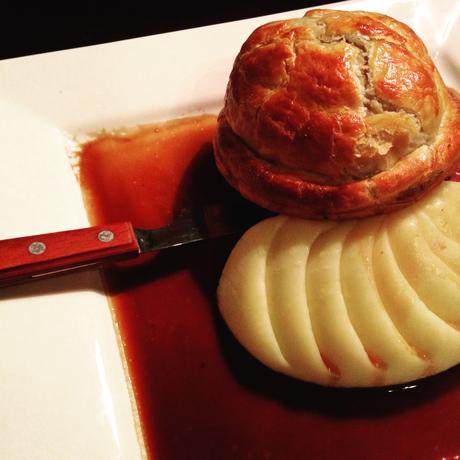 Slicing into the beef wellington, the beef was pink in the middle, just the way I like my beef, and there was layer of something else inside too, which later I found out was a mixture of mushroom and cheese – the combination of this was divine, and it's making me hungry thinking about it now – a rich and meaty flavor experience of tender beef, with a strong slightly creamy cheese and soft mushroom. 
If only I could recreate this at home!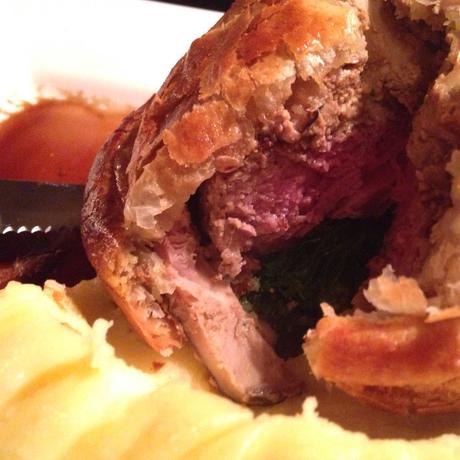 I do love a good mash, and can't believe I'd never had truffle mash before. Creamy yet savoury, some say this is the only way to eat mashed potato. The kale was wilted, yet not soggy, with a delicious fresh, green taste. The whole combination was heavenly, and even though I'm not usually a pastry lover, the puff pastry casing was just thick enough to produce a flavour, yet not too thick to be overwhelming. One of the best meat dishes I think I've ever chosen!
Feeling pretty full, our dishes were cleared, and the dessert menus were delivered. The lovely waitress also popped over the drinks menu and gave us her recommendation for dessert – the Sticky Toffee Pudding. Apparently, nothing can compare.
After taking a little while to mull over my decision (I was being indecisive as they didn't have the pistachio dessert I had spotted on the menu during the day), we both went for the sticky toffee pudding as recommended, and Alex also went for the suggested drink pairing, the Warre's Otima 10 Year Old Tawny, whilst I had a Luscombe Elderflower Bubbly.
The waitress delivered our drinks, letting us in on the information that the elderflower bubbly was from an organic producer. I do have a soft spot for anything elderflower, and this definitely didn't fail to satisfy. Refreshing and bubbly, with a soft hint of elderflower, it was a great companion for dessert.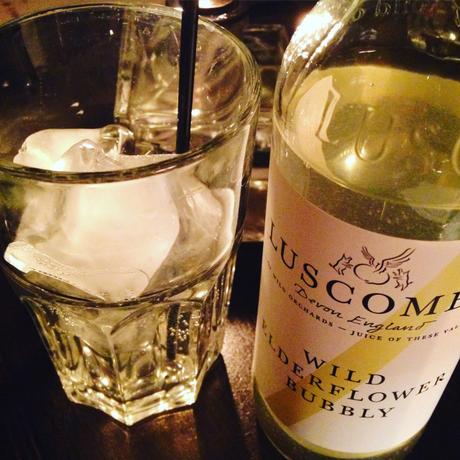 The sticky toffee puddings weren't far behind.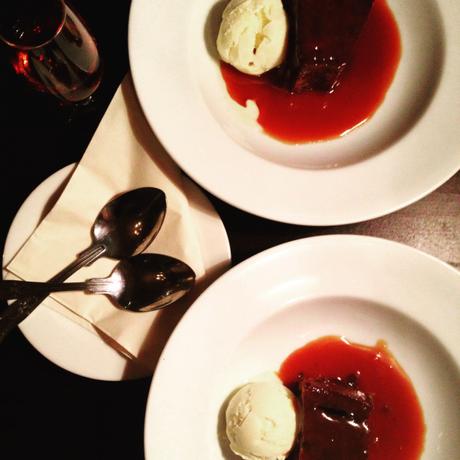 You could tell the sticky toffee puddings weren't premanufactured by the fact that the shapes differed slightly. The sponge was warm through, very moist and sweet. The sauce was sticky, just as it should be, but not overly thick and gooey like other sticky toffee puddings I'd had before. It actually felt like a more upper class version to those I'd previously had. And the vanilla pod ice cream…just wow. Thick and creamy, the flavor was incredible, with a strong vanilla essence coming through. It might have actually been a blessing in disguise that they didn't have the pistachio dessert or I would have never had this! I 100% believe that nothing could compare.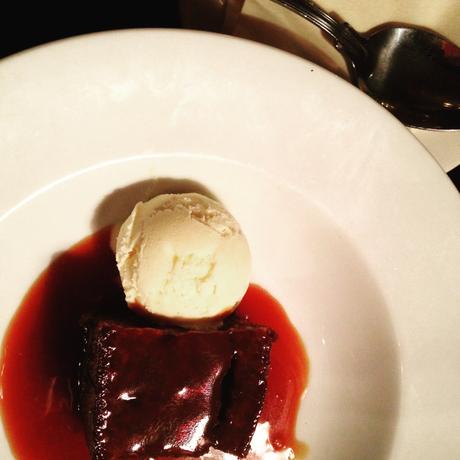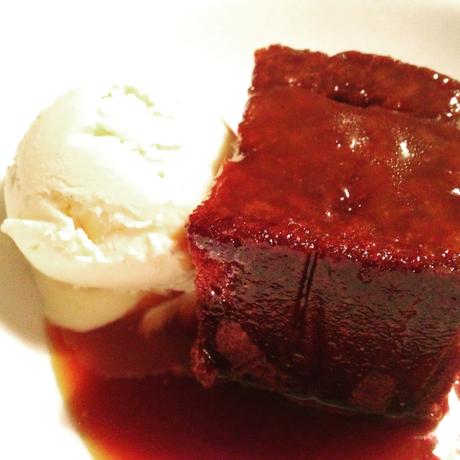 Alex's tawny port paired perfectly with the sticky toffee pudding. Sweet and strong, it had a fruity edge which really complimented the toffee and vanilla without overpowering it. A great recommendation.
We finished up, letting our food settle a little before heading off.
The overall experience was amazing. A great atmosphere, beautiful interior, friendly service from the team, and the food some of the most delicious dishes we'd ever had. The gin list was fab, I definitely have to go back! We highly recommend you go along for a meal so you can experience exactly what we did – A true hidden gem, or maybe even a diamond of a find!
Have you been to any other hidden gems like this?
Chloe xx
*We were invited to go along to The Ship Tavern in Holborn for a three course meal and a drink. All views are our own and were not swayed by this. The Beef Wellington really is one of the best dishes I have ever had – if you go along, pick this!