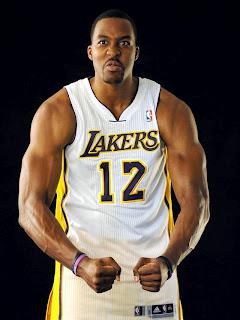 Photo: Jayne Kamin-Oncea - US Presswire
- Troy Ballard
I've written a lot about Dwight Howard over the past 12 months.
The vast majority of it has not been positive. In fact, it's almost entirely been negative (here's one
example
, and here's
another
). When he was traded to Los Angeles, I had split emotions — on one hand I was upset that, despite his irrationally immature actions, he was still rewarded with a winning organization. On the other hand, I could hardly bottle my excitement at the idea of Kobe Bryant, Steve Nash and Howard all on the same floor.
Basketball nirvana aside, I found my irritation towards Howard ever present since that blockbuster had been completed. Then comes gliding across my ESPN ticker that D12 is getting snappy with Shaq following a comment about Andrew Bynum and Brook Lopez being the best 'true' centers in the NBA.
I couldn't believe it.
Here was his exact response,
"
I don't care what Shaq says. Shaq played the game. He's done. He's gone. It's time to move on." Then, Dwight went on to show how mature he really is by clarifying, "Y
ou did your thing. Your time is up. So, I don't really care. I don't really care. He can say whatever he wants to say."
Obviously
, Howard cares enough to slam Shaq right back.
This is yet another immature emotional response, in what is quickly becoming a long line of them, to a sideways comment or assumption in Dwight's career. There are literally thousands of other things that he could have responded with, but instead, he had to push the issue.
Really, Shaq didn't do anything to affront Howard other than speak his opinion. Although, I along with most NBA fans, would wholeheartedly disagree with his assessment, it didn't even require a response from D12.
Instead, he pushed it and responded in a childish manner.
The correct response for Howard would have been to just laugh and say something like, 'we'll see what happens on the court this season.' Dilemma avoided. National media attention avoided. A potential feud avoided. That's the high road.
I'm starting to think that Dwight hasn't ever heard of it.
I have had serious doubts about Howard's ability to handle pressure since the Orlando-saga unfolded, and this only reinforces my concern. The Lakers were so eager to deal away Bynum for reasons not too different than the very thing that Howard just did. This sort of immaturity is a lose-lose for organizations, and should send up a small red flag for Los Angeles, especially given his past history.
No reason to panic, but not the most endearing media-start for Howard with the Lakers.
Be Sure to follow Beard and Stache on Twitter @BeardAndStache, and also Troy @TroyBallards, like our Facebook page HERE!