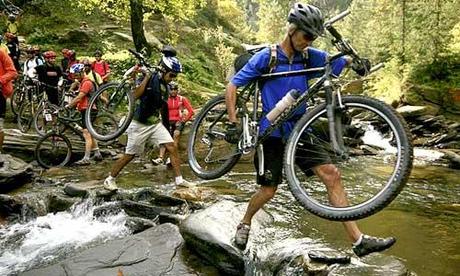 The
Hercules Mountain Biking in Himachal
 is one of the most popular and awaited events in the biking world. This event is like a race against time along the treacherous mountainous trails of the beautiful Himachal. Himachal Pradesh is one of the most beautiful states of India and is a renowned tourist destination. One of the major tourist attractions out here is the adventure sports like mountaineering, trekking, hiking, biking, para gliding etc. The beautiful mountainous slopes of this state provide an awesome opportunity for thrilling adventure sports. It is nothing less than a paradise for the lovers of adventure sports who find a great thrill in pushing their adrenalin level to its limit. The event is a gruelling, nerve wrecking, off road events that is organised along the lofty mountains of the Himachal. The
Hercules Mountain Biking in Himachal
 is the first in the series of rallies that is organised all along the mountainous regions of India and is a part of the great Mountain Biking events that are organised all over. This event runs for about 9 days and is touted as the third toughest mountain biking event in the whole wide world. The first two ones are Trans-Alps challenge held in Europe and the Trans – Rockies in Canada.
Check for Darjeeling Tour Packages
This event is being organised by the Himalayan Adventure Sports and Tourism Promotion Association. It will see a participation of about 100 participants from eight different countries and covers a total distance of 500 kms. This competition is open to both men and women and the trails covers forests, village backtracks, metalled and un metalled single lane rural roads of Shimla, Kullu and Manali districts. The toughest point that the cyclists will come across in the course of the rally is the Jalori Pass in the Kullu district which is located at an altitude of 3223 metres. Throughout the course of the entire day a cyclist will have to cycle on an average 70 kms to maintain the pace. Hence they need to be physically and mentally fit to be able to achieve the feat. It requires a lot of determination and courage to take part in this event and more importantly to be able to continue till the end. It is not for people with weak hearts and inconsistent will power. But it is also a great way to build up one's self confidence and will power.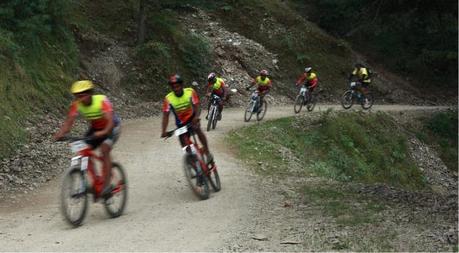 Bikers participating in the rally
This annual event draws participants and audiences from different parts of the world. Biking enthusiasts assemble every year in Himachal to be a part of this thrilling event and experience history. The last edition of this event was held in the month of September – October, 2012. It was the eight edition of the sporting event. The past seven editions have also been equally successful and popular. People have different likes, hobbies and vocations in life. Some of them are extreme like mountain biking. It literally involves risking one's life, However proper security and facilities are provided by the organisers to ensure the safety of the participant.