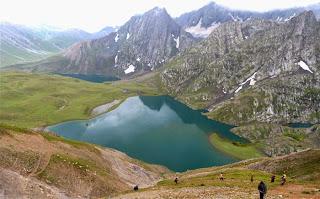 Kashmir Alpine Lakes Trek which is also renowned as Kashmir great lakes is amongst
the most desired and fascinated trekking trails around India where ardent and budding trekkers looms around from all across the world to walk the paradise trail of Kashmir Alpine Lakes trekking.
Whirls of Himalayas and tranquility of surrounding which is dominated by an aroma of seclusion makes the route exclusive and while navigating you feet to reach the height you would come across the gentle blooms of colorful orchids.
The trekking trails of Kashmir Alpine starts from the meadows of Gold Sonmarg which is located at an elevation of around 2723 m and while trailing you would come across the floor of the Nichnai passes which is located at an elevation of around 3500 m and from here the trek routes continues till you reach the site. 
Itinerary 
Day 01: Arrive In Srinagar
Day 01 starts with your arrival at Srinagar where you will meet your tour and trek representatives before walking down to your respective hotel where you will take rest for a while before taking an initiative to stroll around the brilliance of Srinagar. During the time of evening trekkers could walk down the Dal Lake where they can try a ride of Beautiful Shikara. 
Day 02: Srinagar - Aru via Pahalgam 
Day 02 starts with the breakfast and after having a quick grab trekkers would board their respective cab to drive towards Aru by taking the route of Pahalgam. While driving the distance of around 95 km traveler would come across the sterile of meadows beside that grandeurs of adulating mountains would make your journey delightful. After reaching here traveler can rest their day and can take an initiative to stroll around the surroundings..
Day 03: Aru – Lidderwat
Day 03 circuit of trekking revolves around the brilliance of Aru to Lidderwat where traveler would require walking the distance of Lidder River. The trekking trails here starts from the red line and follows the flow of stream until you reach Lidderwat. After reaching here traveler can look to spend their night by setting their camp.
Day 04: Lidderwat - Satlanjan
Day 04 starts with a steep climb towards Nichinal Pass and after reaching the top traveler can view the beauty of glowing mountains and after taking a short breather trekker would continue their journey through dale of meadows and spring streams to reach Vishansar Lake where trekkers would call of their journey.
Day 05: Satlanjan - Kolahol Base Camp - Lidderwatkashmir-Alpine-Lakes-Trek
Day 05 starts with a breakfast and then the real picture of hiking would come into place from Satlanjan trekkers would advent the distance of Kolahol peak where you would all your effort to climb the site before traveling back to Lidderwat through Satlanjan.
Day 06: Lidderwat - Sikewas
Day 06 mesmerizes the mind of the traveler because during the session of Day 06 trekking trekkers would trail through the valley of flowers and from here they sneak in to get optimistic view of Karakoram Mountains. After taking a short breather here traveler would walk the distance of Mangadub from where you would further up your journey to reach Zagibal peak. From here you would have trek a short distance of Gangabal Lake where you will set your camp for overnight stay.
Day 07: Sikewas - Tarsar Lake Kashmir-Alpine-Lakes-Trek
Day 07 of trekking journey call for a rest and during free time trekkers can take an initiative to enjoy the brilliance of Lake or can even opt for trout fishing to freshen up their mind. Traveler during the session of Day 07 calls for short trek towards Lul Gul pass from where they can enjoy the scenic brilliance of Nanga Parbat Mountain.
Day 08: Sikewas – Sonmus
Day 08 starts with the morning breakfast and after the happy feet of trekkers would undertake the journey to reach Sikewas by crossing Tarsar River. The journey to Sikewas as compare to other trek is easy and inclined which in turn allows traveler to trek it within their time frame.
Day 09: Skewas – Sonamarg 
Day 09 starts with the trekking through thick vegetation till the reach Gujar village where trekkers would have an opportunity to view the terraced rice field and from here they would trail to reach Sumbal by taking roadways. After an hour of drive from here traveler would reach Sonmarg by taking the route of Sindh River where they would call out their day by setting camp at Sonmarg. 
Day 10: Sonamarg – Nichinai 
Day 10 starts with the trekking towards lush green pine forest and from here you will walk the steel bridge which is build over the surface of Sindh River and after crossing the bridge you would climb the steep walks of Shkoder and after enjoying a moment of delight you would trek up to Nichinai where you would spend your night to trek an onward distance.
Day 11: Nichinai - Krishansarkashmir-Alpine-Lakes-Trek
Day 11 starts with the trek towards Nichinai Pass and from here we will pass through the grandeurs of Vishansar and Krishnasar Lakes to view the glory of the surroundings. After reaching here which would take around 5 hours of steady trekking traveler would call of their day by setting camp for an overnight stay.
Day 12: Krishansar - Dubta Pani
Day 12 starts with a breakfast at your camp and after having quick meal trekkers would run the distance to reach Dubta Pani by taking the trails of Gasdar pass. After reaching Gasdar pass trekker can buy a time to enjoy the beauty of Karakorum Mountain before trekking pass the distance of Gadsar Lake where you can opt to spend your night.
Day 13: Krishansar - Gangabal Lake
Day 13 starts with the clear sky as you would trek down the distance of Postpatri after having breakfast and from here you would incline down to Mangadub and would continue the trail till you reach the Gangabal lakes where you would spend your night to terminate your trekking service.
Day 14: Gangabal Lake – Srinagar
Day 14 ends your journey because after having breakfast traveler would drive the distance of Srinagar from Gangabal and after reaching Srinagar traveler can take their respective routes and transportation service to reach their destinations.