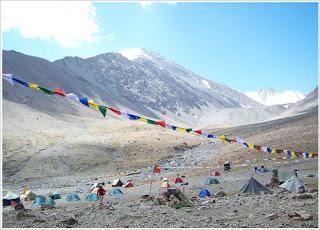 Trekking within the gorgeous valley of Markha is amongst the most distinct and designated
because an advent here would allow traveler to pass through the ranges of Himalaya that encloses the edges of the Indus valley and Zanskar region.
 Enigmatic landscape which is dominated by the gradient of terrain and narrow valleys is lived by the Buddhist people mostly Tibetans and the remote settlement where you will feel an estuary of Lord Buddha would make your journey amazing and sophisticated.
Trekkers must understand that before measuring an adulating height of Markha which is located within the stiff elevation of Ladakh trekkers should walk in and stay here for 2 days to get acclimatize with the weather condition.
The trekking trails here is quaintly decorated and illustrated by the chortens and mani and while you will walk an uphill journey which is elevated at a height of around 15500 ft trekkers would have an occasion to view renowned Hemis monastery beside that its national park which is located within the boundary is lived by the natural habitats. 
Itinerary 
Day 1: Leh - Spituk - Zinchen (11200ft / 3400mts)
Day 01 starts with driving course towards Spituk village where you would walk out from the car to view Spituk monastery and from here the trekking trails starts to reach Zinchen which would take around 4 to 5 hours of continuous walking but what's more relevant is its easy trail where you can claim to cover it without any hard hitting. After reaching here trekkers would call of their day by heading towards their respective camp.
Day 2: Zinchen - Kandala Base (13500ft / 4380mts) 
Day 02 starts with the trekking trails towards Kanda-La base which in turn would offer little steep road where trekkers need to march with tactics and plans. While walking here trekkers would require crossing numerous streams where they can fill their bottles with the natural springs and can take a breather to enjoy the scenic reverie of the surroundings. After reaching Rumbuck village trekkers would call for their lunch time and would proceed forward to reach Kandala base which would take around 6 to 7 hours to reach.
Day 3: Kandala Base - Skiu (11200ft /3400mts)
Day 03 starts with the fresh morning where trekkers would walk the distance to reach Skiu which is located at a distance of around 4 to 5 km. while covering the distance trekkers would have an occasion to view the glory of mountains and after reaching here they would call of their day for better tomorrow..
Day 4: Skiu - Markha (12200ft.)
Day 04 trekking circuit is mostly dominated by the stream crossing but that should not upset you because the trails towards Markha from Skiu are relatively easy and simple. From Skiu the road distance towards Markha is around 6 to 7 km which in turn would ask the traveler to trek for around 7 hours.
Day 5: Markha - Thachungtse (12300ft / 3700mts)
Day 05 starts with the visit towards Hankar Yokma village and Umlug monastery and from here traveler would have an occasion to view the brilliance of surrounding. After sightseeing trekkers would cover the distance of 3 hours and here they would call of their day.
Day 6: Thachungtse - Nimaling (15000ft / 4700mts) 
Day 06 starts with the fresh morning and soon after having breakfast trekkers would pass through narrow valley to reach Nimaling which is located at an elevation of around 4700 m. to reach here trekkers would require covering the distance of around 4 km which in turn demands for 6 hours of continue trekking.
Day 7: Nimaling – Chuskurmo - Shang Sumdo (12100ft.)
Day 07 starts with a long climb and the zigzag road that follows the trails of Gongmaru would make you feel weary but the substantial reverie of mountains that surrounds the elevation of around 5150 m would make your journey an everlasting journey of life. 
Day 08: Shang Sumdo – Martselang – Hemis - Leh (12078 Ft / 3660mts)
Day 08 terminates the service but before that trekkers would require to cover the distance of riverbed and after crossing the large blocks of foothill trekkers would board the cab to reach Hemis Leh and from here they would trail down to Martselang village to complete their journey.