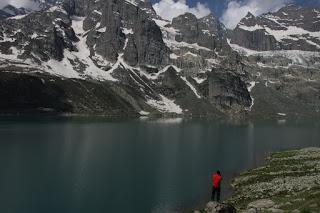 Trekking towards the valley of Gold that propels towards the blistering excellence of the
Nichinai pass to Gangabal Lake speaks about the real core of trekking. The trailhead which is located at a distance of 2 miles from the splendor of Sonmarg leads you towards the symphony of Shitkari village where you would witness the charm of Sind River and after crossing the site of river trekkers would follow the tour map that incorporates the lakes like Krishan Sar and Vishan Sar and Gangabal Lake.
Itinerary 
Day 01: Srinagar
Day one starts with your advent at Srinagar where you will meet with your tour and trek representative and after a short meeting with them you would be transfer to your respective hotels where you would take a rest for a day. During the time of evening trekkers can take an initiative to stroll around the Dal Lake and can even try a ride of Shikara which we consider to be the most important pick from your bill of fare. 
Day 02: In Srinagar 
Day 02 hovers around the brilliance of Srinagar as traveler would take an occasion to revere the springs and blossoms of the surroundings which is represented by its renowned Mughal Garden, Nishat Garden and Shalimar Bag. Day 02 allows traveler to free their mind as they would stroll to reach the height of Shankaracharya temple and then would travel down to Dachigam National Park before returning back to their base.
Day 03: Srinagar–Sonmarg–Thajiwasglacier-(84km)
Day 03 starts with a breakfast and then traveler would ride the distance of 84 km to reach Sonmarg and from here trekkers would start walking the distance of 3 km through the valley of glacier after reaching your base camp at the foot of the glacier trekkers would call of their journey and would spend a night here at their base camp.
Day 04: Thajiwasglacier–Nichnai-(13km)
Day 04 starts with a trekking towards ThajiwasGlacier to Nichnai which is located at a distance of 13 km and to complete the entire trekking session traveler would require walking for 5 to 6 hours that passes through Shokhadri.
Day 05: Nichnai–Vishnasar–Krishansarlake-(15km)
Day 06 starts with a tale of beauty because on Day 05 trekkers would cover the distance of 15 km to reach KrishansarLake. The trekking routes that follows the distance of 15 km is ruled by easy and simple ways and an ardent trekkers would complete the session within an elapse of 6 to 7 hours.
Day 06: Krishansar–Gadsar-(16km)
Day 06 calls for another trekking session and after having quick feast at morning trekkers without wasting much time would travel the distance of Gadsar upto Krishansar Pass which would take around 6 to 7 hours to complete the session.
Day 07: Gadsar–Gangabal Lake--(19km)
Day 07 routes around the brilliance of Gadsar, Gangabal and Zangibal the entire route that passes through the beauty of Poshpatri and then Megandub calls for hard trekking because while trekking the distance of 19 km trekkers would require understanding the time frame.
Day 08: Gangabal
Day 08 end your journey at Gangabal and here traveler would take an opportunity to perform Trout Fishing at Gangabal Lake or can visit the site of Lul Gul Pass to view the brilliance of Nanga Parbat. After reaching here traveler would call of their day and would set up the tent to spend their night.
Day 09: Gangabal–Naranag–Srinagardeparture 
Day 10 terminates your journey because after grabbing quick feast trekkers would drive the distance of Srinagar by taking the route of Naranag. After reaching Naranag trekkers can take an opportunity to feel the celestial ambience of Buddhist monastery and after buying some time here they would desend down to Srinagar where they would call of their day. 
Day 10 End of Service 
After grabbing a quick feast at your respective hotels traveler may look to but some time to do shopping within Srinagar or can run to railheads and airports to end their session of Sonamarg- Gangabal trek.