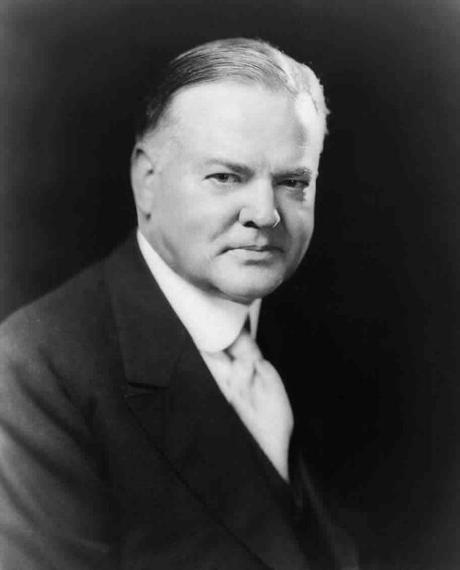 Herbert Hoover is better known as the 31st President of the United States. During his presidential career Hoover had a bad luck. In several months as Hoover started his work as the president the Great Depression broke out. And for some reason Hoover was unable to cope with all the economic and social problems he had faced.
Herbert Hoover started his career as a mining engineer. He traveled a lot around the world while working as an engineer. In the 20th Hoover worked as the United States Secretary of Commerce and in 1928 he was elected. Hoover represented the Republican Party and was a conservative politician. All his attempts to come out of a recession had no use. His policy was widely criticized at the time. Rate of unemployment in the country was high. People had no work, had no money and had no hope.
For some reason many do not consider humanitarian work Hoover did during his career. During World War I Hoover laid out the delivery of food to Europe. He also helped many Americans to come back home from Europe during the war. Hoover became an international hero as he helped millions not to die from starvation especially in Belgium, Germany and Russia. In fact his actions rescued about 20 million children in Europe. Hoover was "a simple, modest, energetic little man who began his career in California and will end it in heaven" (Ambassador Walter Hines Page). In 1917 he was appointed as the head of the U.S. Food Administration. Hoover believed that volunteerism was an important part of social activism. Moreover during his work in the White House Hoover donated all his money to charity. "I made up my mind when I entered public life that I would not make it possible for anyone ever to say that I had sought public office for the money there was in it. I therefore kept the money that came to me as salary in a separate account and distributed it where I thought it would do the most good. Part of it went to supplement the salaries of men who worked under me and whom the government paid less than I thought they were worth. Part of it went to charities".
The irony of it is that Hoover couldn't help his own nation no matter how much he wanted and tried. By 1933 Americans were desperately disappointed in the federal government and Hoover's policy. They simply tired of it.