The table which stands the attack of kilograms of different dishes and guests who find it difficult even to speak from their overeating is a stable association with any fest. However, it is not necessary to present your guests with problems with their digestion – light stand-up with delicious snacks can create festive mood as well. The following recipes are fast and easy to cook and, besides, they look beautiful.
Potato pancakes with salmon. To prepare thirty pancakes you will need:
four potatoes
two spoons of flour
three eggs
two spoons of fat cream
salt and black pepper
300 gr. of salmon
sour cream and dill for decoration
Boil potatoes in salty water and mash them. Add flour, three eggs and cream. Salt and pepper it according to your taste. Heat oil on the pan. Lay out the dough and bake small pancakes. Lay a slice of salmon on every pancake; decorate it with sour cream and dill.
These pancakes appear on the table in no time and disappear almost as fast. You can bake them beforehand and keep in a fridge for several days – the only thing needed will be only to decorate them with salmon before serving the table.
Chicken kebabs with peanut sauce. To prepare about twenty kebabs you will need:
30 gr. of peanut butter
one chopped clove of garlic
one chili pepper
one spoon of honey
one spoon of soy sauce
one spoon of curry
four chicken breasts
one glass of peanut paste
half of glass of water
lime juice
one spoon of sugar
Cut chicken breasts in narrow slices and marinade them in the mix of peanut butter, garlic, chili, honey, soy sauce and curry for twelve hours.
Wash wooden skewers in water in order to protect them from burning in the oven. Strung pieces of chicken fillet on them and bake kebabs on grill for ten minutes from every side.
The sauce is also quite easy to cook. Mix all ingredients – peanut paste, water, lime juice, soy sauce, sugar and garlic and boil the mass till the bubbles will appear. Then turn off the fire and let it cool. Serve your kebabs on plates and place peanut sauce nearby. You can decorate them with cilantro.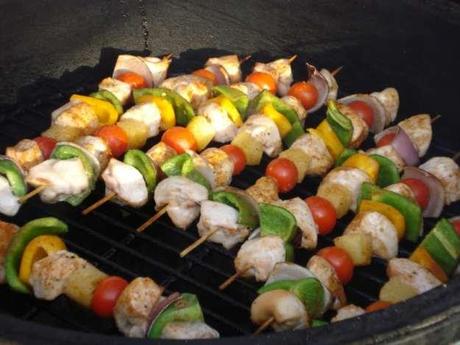 These kebabs look like designer's art and can be served as the main course.
Chocolate hand made. To prepare 24 cakes you will need:
a bar of dark chocolate
100 gr. of nuts and 100 gr. of dried fruit
Melt chocolate on the water bath and lay out the mass on the baking paper in the form of small circles. Decorate every cake with nuts and dried fruit before chocolate freezes. Put them in a fridge. That's all!
To make this desert look even more gorgeous you can take white chocolate and golden sugar balls as the decoration for it. Note, that it is better to use chocolate with maximum concentration of cacao.