Jun 24, 2012 by Tatianna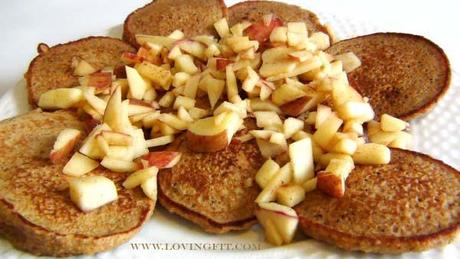 Hello my Darlings,
Yesterday I made another one of your recipes, this one was a healthy pancake recipe from Evaleen. Thank you Evaleen they were absolutely splendid!!! The recipe was very easy to make and the ingredients were very simple. I changed the recipe just a bit because I didn't have a few of the items but I will post the original recipe that Evaleen gave me as well as the one I used.
Spiced Apple & Oatmeal Pancakes
Evaleen's Original Recipe
Ingredients (makes several, one generous serving):

- 3/4 cup liquid egg whites (from dem cute little cartons in the store lol)

- 1/4 cup old fashioned oats (or more as you like, for "grainier" and less "eggy" pancakes)

- 1 med apple, diced fined (you won't need the whole thing, so just munch on what's left over)

- 2 tblsp unsweetened applesauce

- Optional Sweetener: I use a tiny amount of pure Stevia extract, but I'm sure a tsp or two of pure maple syrup would taste great (or just regular honey)

- Optional Spices: a generous pinch each of nutmeg/cloves/cardamon, and about 1/2 tsp of cinnamon. You can use only the last if you wish, but this mix of spices is simply beautiful to taste and smell–especially the cardamon, it's like a Christmas tree!
- Generous pinch of kosher salt
- Grease for the pan… these pancakes have nearly no fat, so they WILL stick without this!

Directions:

1. Heat a skillet to med-low (higher may burn them)
2. Grind the oats in a food processor till they're a fine consistency, about a minute… you may add them whole instead, but the finer they're ground, the more pancake-like the result
3. Mix all other ingredients–except the diced apple–with the ground oats
4. Grease** the pan right before pouring** small amounts of batter into it; top generously with the diced apple as the underside cooks
5. Cook about 2 minutes per side (check so they don't burn)

**TIPS: stir/swirl the batter around each time before pouring, so any settled oats get mixed back in; also, lightly re-grease the pan after EVERY pancake is fully cooked.
Hope anyone who tries it loves it too, it's one of my favorite breakfasts.
I changed the recipe just a bit because I didn't have Kosher salt, and when I went to the supermarket they didn't have any honey that I always buy, so I bought Agave Nectar.  I am still not completely convinced about Agave Nectar but I decided to give it another try since I didn't have my raw honey.
These are the ingredients that I used, also since I am a Greedy Totem

when it comes to food ( me and my husband both, we needed to increase the portions just a bit, I ended up making 9 small pancakes: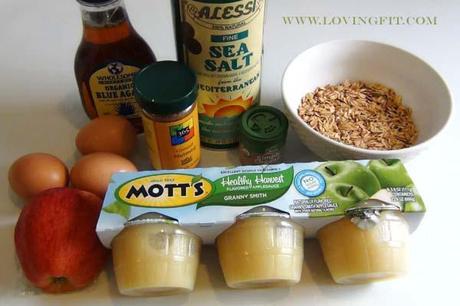 Toasted Oats – About a Cup ( I toast my oats in the oven for 25 minutes, I love that toasted taste )
Unsweetened Apple Sause ( 1 container )
Organic Eggs – I used 3
Agave Nectar – 2 table spoons
Apple – 1
Nutmeg
Cinnamon
Sea Salt
Almond Oil for the pan ( not in the picture )
Place all the ingredients in a blender, except for the apple: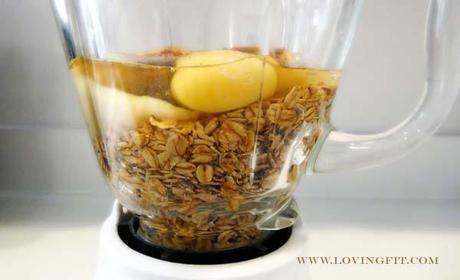 Blend it until the paste is smooth.
Heat up the pan on Medium, I used Almond Oil to cook them with: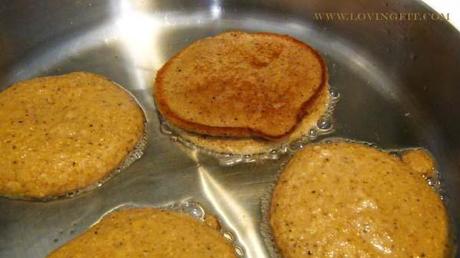 Cut the apple into small pieces: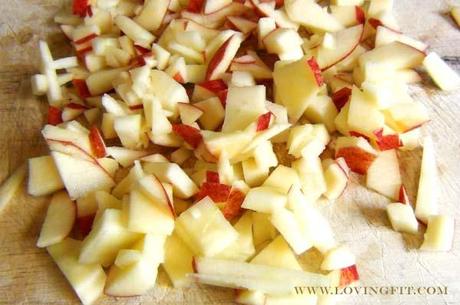 After the pancakes were ready, I placed the apple into the pan and mixed a bit of cinnamon into it, I wanted the apple to be warm, so make sure you don't over cook it, I cooked it on the pan for under a minute.  Place warm apple & cinnamon on top of the pancakes: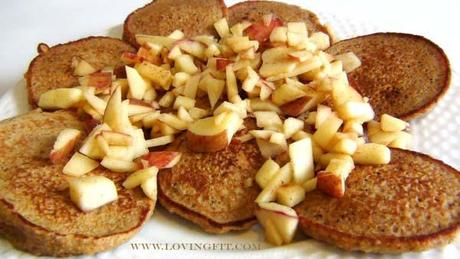 Enjoy!!!
Evaleen, thank you so much for this recipe we loved it very much

Tati