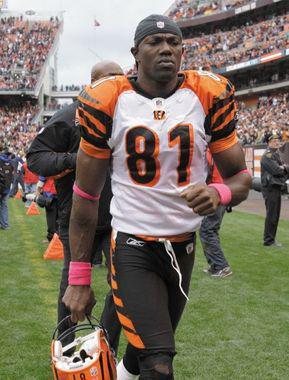 Photo: Amy Sancetta/The Associated Press
- Adam Parker
If this doesn't prove that the Seattle Seahawks are desperate in the worst way for some talent at wide receiver, then I don't know what will.
Terrell Owens, the now 38-year old wide receiver who last played in the NFL in 2010 with Cincinnati where he outshined teammate Chad Johnson while compiling almost 1,000 yards and nine touchdowns on 72 receptions, was signed by the Seahawks to a one-year contract on Monday, according to NFL Network contributor and FOX Sports Insider Jay Glazer.
According to a source familiar with the talks, the deal is reportedly for the 10-year's veteran minimum of $925,000 with $640,000 counting against the salary cap.
Not exactly the type of money I imagine T.O. was looking for seeing as how he's in serious financial trouble with all of the child support, etc. But hey, it's better than being
completely
 out of work, right?
Owens is known as much for his attitude as he is for his big plays, but we won't know once the season actually kicks off whether or not he's actually turned over a new leaf, but at least he showed his gratitude:
God is good. Thankful. Grateful. To ALL my new teammates & the "12th Man"... Let's Do This!!
— Terrell Owens (@terrellowens) August 7, 2012
Love him or hate him, there's no doubt that T.O., despite his advanced age, can still ball out on Sundays. (Not to mention that his presence just makes the NFL
that
 much more entertaining.)
After being brought in as a possible insurance policy and complement to Sidney Rice (who had surgery on both shoulders in the off-season and thus is being held out of contact drills in the hopes that he'll be healthy for the start of the regular season) Owens wowed Seahawks personnel during what was reportedly a very impressive workout.
According to sources who saw the workout warrior/beast wideout work out, Owens ran the 40 in 4.45 seconds.
Are you kidding me!? T.O. is running like that at age 38? Pretty impressive if you ask me, especially considering since most players his age are either already out of the league or are close to it.
With a phenomenal workout out like that, T.O. is definitely a lock to make the roster, right? Not so fast.
Despite cutting the team's No.2 wide receiver in Mike Williams (who likely literally
ate
 himself out of a job when he came into camp weighing close to 270 lbs.) in July and Antonio Bryant soon after, Owens still will have to contend for a roster spot with Braylon Edwards, who also recently signed a deal with Seattle.
The odds are against T.O. right now, but if there's one thing I've learned when it comes to T.O., it's that you can
never
count him out. The guy is a physical freak and as such, is probably a lock, at least in my opinion to make the 53-man roster. After all head coach Pete Carroll is notorious for his love of tall wide receivers with big frames.
Owens is by far the best combination of size and skill that the Seahawks have, especially while Rice is still trying to work his way back to full strength. No offense to guys like Golden Tate, Ben Obomanu, Doug Baldwin or Kris Durham, but it's Terrell freakin' Owens. I don't care how old he is, he's better than any of them by a long shot.
Welcome back to the work force, T.O. Hopefully, this time, you can keep your mouth shut, head down and just play the game at the high level that we all know you still can.
Get that popcorn ready, NFL! One of the greatest, most controversial wide receivers to ever put on a uniform is making his triumphant return to the league.
T.O. is back!
Be sure to follow Beard And Stache on Twitter 
@BeardAndStache
, and also Adam 
@Adam_Parker43
, Like our Facebook page 
HERE!