Hazelnut Praline Muffins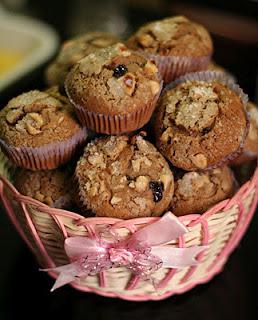 "One should always eat muffins quite calmly. It is the only way to eat them."
By Oscar Wilde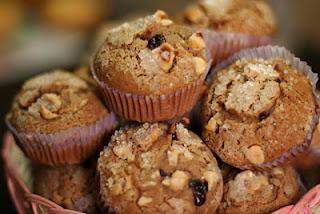 Rightly said by the poet as muffins should really be enjoyed and relished in peace without any interruption and while they are still warm!! Don't I love doing 
this!!!!!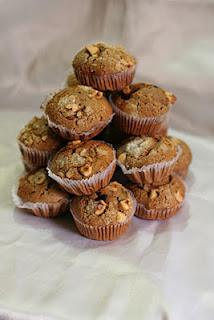 Whoever likes muffins will surely love these ones! They have a nice sugar crust and  crunchy hazelnuts on top with a filling of chocolate hazelnut spread.
By the way has anyone ever thought what would be the world like without chocolate hazelnut spread Nutella -Italy's edible treasure ?? 
This happens to be my comfort food!Even if you wake me up in the middle of night and give me a slice of bread slathered with Nutella you will still be my best friend for ever!!!!
This recipe makes about 10-12 muffins 
Taken from this favorite book of mine.
3
00g plain flour
                   

145g caster sugar ( Please use this only)
                   

1 tbsp baking powder
                  

½ tsp soda bicarb
                 

¼ tsp salt (you can omit this if using salted butter)
           

     

250 ml whole milk
                 

2 eggs
       1 tsp Vanilla essence
                 

85g unsalted butter ( melted)
                 

150g chocolate hazelnut spread (Nutella)
                 

30g finely chopped hazelnuts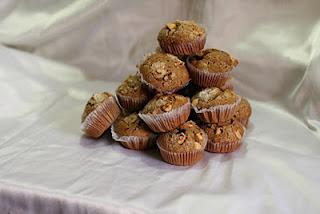 Heat oven at 170 deg C.
In a large bowl of the mixer sift together flour,baking powder,soda bicarb,salt and 
115g caster sugar
In a jug,pour milk and vanilla essence,break eggs and whisk together by hand.
Pour these wet ingredients in dry ingredients while mixing at slow speed .
Scrap down the sides of the bowl and on a medium to high speed mix the batter until smooth.
Add butter and whisk some more.
Add 80g of hazelnut spread to the muffin batter and mix well.
Spoon the batter in muffin cases,filling them about a quarter full.
Put about 1tsp of remaining hazelnut spread into the middle of each muffin and then add the remaining batter so that each case is about two thirds full.
Sprinkle over chopped hazelnuts and remaining sugar.
Bake it for 25-30 mins or until they are well risen and bounce back when lightly pressed.
Enjoy!!!