Hawksmoor – what a place. Those of you who read my blog post on Go Ape, Alex's first birthday surprise will already know that this birthday treat followed a fab day out zipping through the trees. A complete surprise, once again, Alex had no clue where we were going.
Alex had never actually heard of Hawksmoor – can you believe it? A steak lover who hadn't heard of the wonders of Hawksmoor.
We turned up to the restaurant on Air Street half an hour early – I'd forgotten I'd booked the table half an hour later, whoops! – yet they were still able to seat us which was great. The host offered to pop our coats in the cloakroom and we headed upstairs to be seated.
We were shown to a nice little table and were soon ordering a bottle of prosecco to celebrate – you have to have fizz when it comes to birthdays

Our waiter poured our glasses, after offering us a sip to taste first, and then went on to talk us through the menu as we'd never been before – there's actually quite a lot to know when it comes to steak, do you know the difference between a porterhouse and a t-bone? I do now.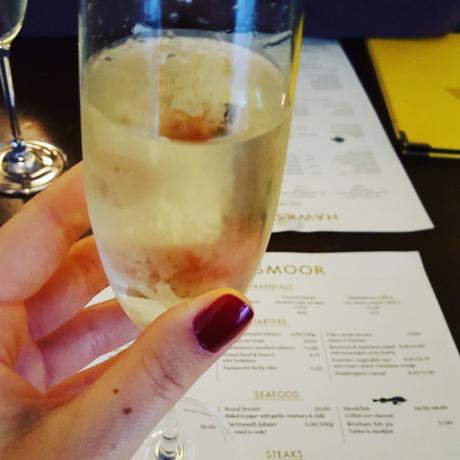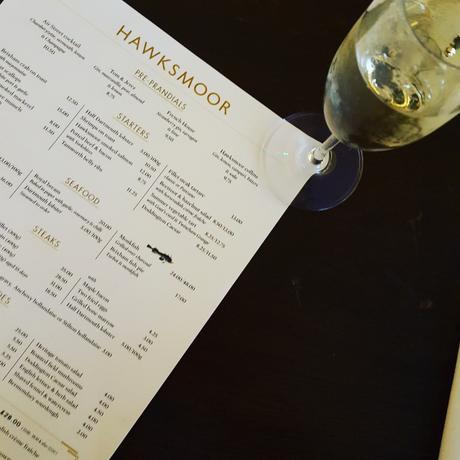 Alex and I finally decided to go straight in at mains, and went for an 850g medium rare Porterhouse steak, a portion of grilled bone marrow (I'd heard so many rave reviews about it and seen it on their breakfast menu too so we had to try this), a side of triple cooked chips, a side of Jansson's Temptation (a potato dauphinoise style dish with anchovies), and a side of roast field mushrooms just for myself.
Our waiter let us know that our meal would take slightly longer as the porterhouse steaks are obviously cut and cooked to order, at which we obviously didn't mind. We sat sipping our prosecco (and tap water – I have to have this too or fizz gives me a little bit of a dry mouth) whilst we waited and took in our surroundings.
The food wasn't too long and we were soon digging into our porterhouse and various sides.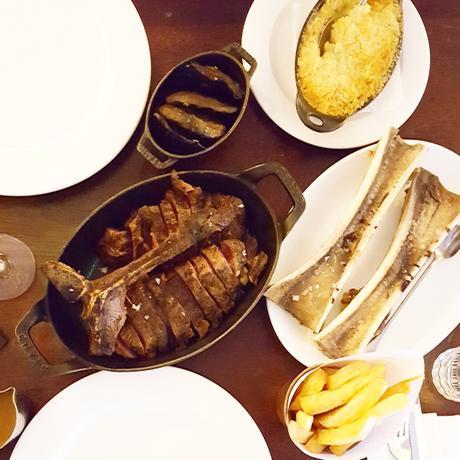 The porterhouse steak, a mixture of fillet and sirloin, was amazing. Cooked perfectly, it was pink inside, tender and extremely flavoursome and meaty. You didn't really need any sauce.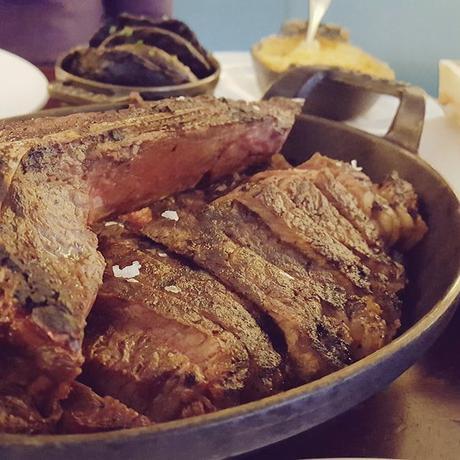 The bone marrow was completely different to anything I'd tried before. We were warned by our waiter that it was an acquired taste , but I was determined to give it a go. Jelly like, once removed from the bone, it added a deep meaty and salty flavour to the steak. Something I quite enjoyed, but Alex wasn't too sure – I think, as he tried it by itself first, it put him off.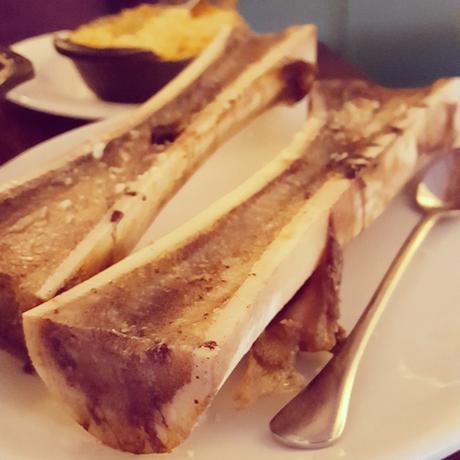 The triple cooked chips were really good too, crispy on the outside, and fluffy in the middle, they tasted really good – and that's coming from someone who wouldn't choose chips!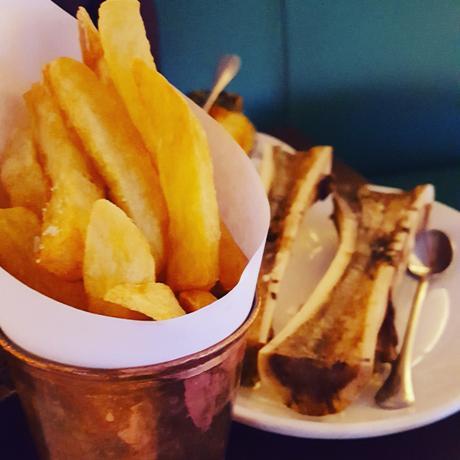 The Jansson's temptation however, was by far my favourite side. Creamy potatoes mixed with anchovies, with a crispy topping, it was indulgent and heavenly. The anchovies didn't give off a super strong taste, but added a nice depth to the flavour.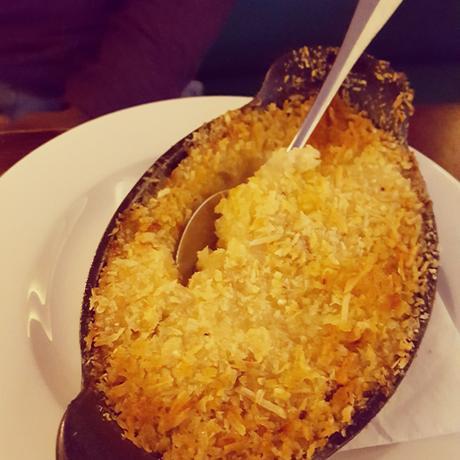 We finished up, with the plates almost completely clear – only one/two field mushrooms left (I couldn't quite finish a whole side portion to myself) – which shows just how good it was.
We were pleased we hadn't gone for a starter at this point, as dessert is pretty much a must for birthdays, especially with the dessert menu at Hawksmoor.
There were a few things which took my fancy, but when something has peanut butter in it, that's it, I'm set. We actually both went for the Peanut Butter Shortbread with Salted Caramel Ice Cream – I think the salted caramel ice cream sold it for Alex.
I'd reminded the waiter sneakily during Alex's trip to the toilets that it was his birthday, so Alex's dessert came out with a candle and happy birthday written in sauce. It was so cute! I then sang happy birthday, by myself – How good am I making a huge fool of myself for a birthday? – before Alex blew the candle out and we dug in.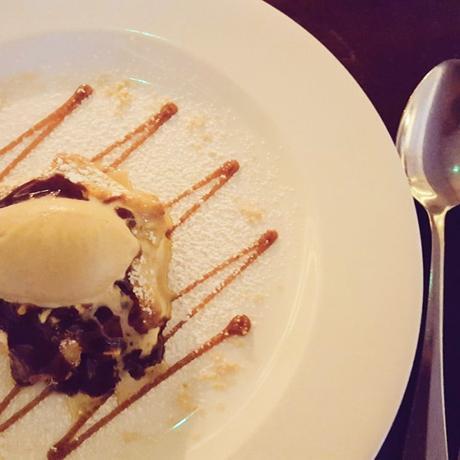 I'm not sure I have enough words to describe how good these desserts were. The shortbread was softer in the middle, and slightly warm, it was buttery, and peanut-y and so good. Combined with the salted caramel ice cream, it was a match made in heaven. The ice cream had a strong salted caramel flavour, was super creamy, and the two flavours really complimented each other. I think this might be my favourite dessert ever! – I did say I loved peanut butter.
We finished our little birthday celebration with a couple of cocktails, before calling it a night.
We both really enjoyed our evening at Hawksmoor, it was a fab birthday celebration spot. The service was second to none and the food was absolutely delicious, with incredible steak and the best dessert ever. I'd highly recommend Hawksmoor for a celebration or treat.
At roughly £190-£200 for two courses, a bottle of prosecco, two cocktails, and service charge, it's on the higher end of what I'd usually pay for meal, but well worth it.
Where is your favourite spot for a birthday meal or celebratory dinner?
Chloe xx