Recently I've had huge cravings for Mexican food.
It could be the combination of rice, meat and vegetables all in a soft wrap, the spiciness of the dish (I always have the hottest salsa or chilli) or the fact that watching burrito takeaway outlets make my meal right there is front of me always feels a little healthier. But whatever the subconscious motive – I love a good mexican, even if I make it at home! I do make a mean chilli!
I will admit I've now tried quite a few different burrito takeaway places – Chilango, Chipotle and Barburrito – and to be completely honest, there's not all that much in the competition. They all serve great food!
I did have one I'd be more likely to go to, but recently I was recommended to try Tortilla so thought I'd give it a go.
Tortilla serve California-style Mexican food – apparently there's more Mexican food there than in Mexico City itself!  In 2013 they were also voted top mexican restaurant in London.
So last week, as a treat for Alex following a tough couple days interviewing, I decided I'd turn up with surprise burritos from Tortilla for dinner. I know, I do try!
I popped into the Angel branch on my route to Alex's, taking a little detour. The Tortilla store in Angel is quite small so keep your eyes open…it's just over the road from Angel underground station.
When I got there, the queue was pretty long but I didn't mind as it was probably peak time after all! The had plenty of their team on too helping to serve people quickly.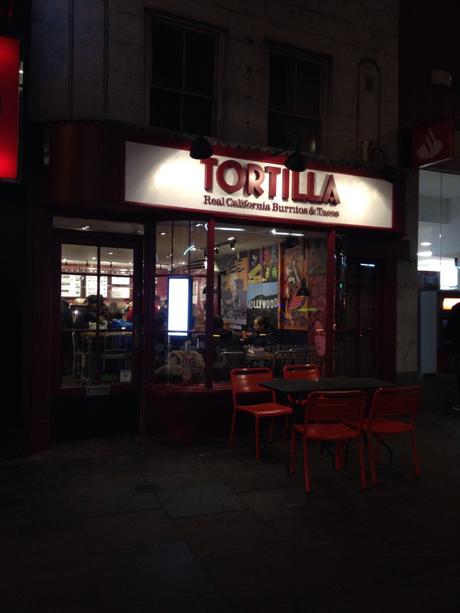 As you get to the front, you're fed down a conveyor type system along their team members as they make your burrito, adding rice, beans, veggies, meat, salsa and salad. Just like at the other burrito places too. 
Having to order two at the same time can get a little confusing, especially when you're ordering for someone who's fussy – yes Alex is, pretty much no veggies! – but at Tortilla they handled this really well, and they didn't get confused at all…they even double checked I definitely didn't want any salad on Alex's. One other thing I did love about Tortilla's options is the fact I got peppers and onions as well as my meat which I've never had before!
The service was also super friendly and efficient!
They packaged my burritos up, I paid up and left to get the bus.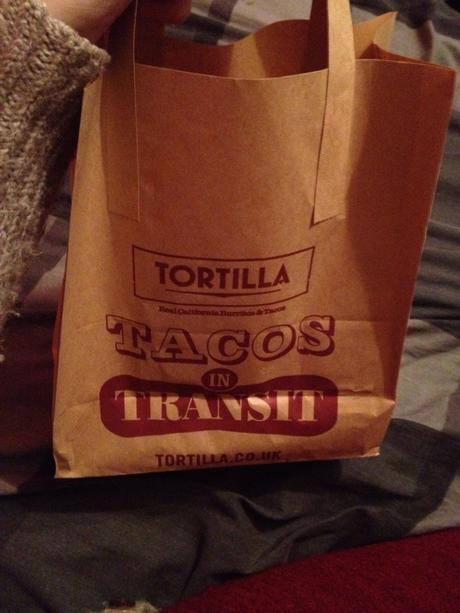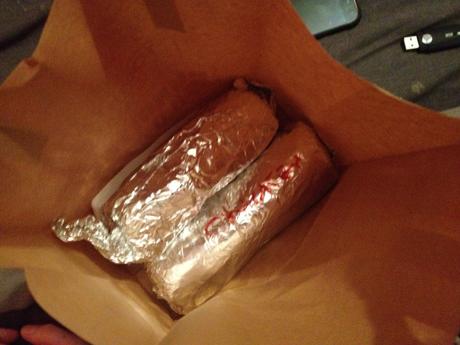 I turned up at Alex's and the smile on his face when he saw our dinner was fab! I do love giving nice surprises!
As it had taken me a while to get back, we did reheat our burritos (even though mine had salad in it) and served them on a plate. We did eat with our hands though guys, don't worry! Not a fork type food I do know – although this could go with the burger debate!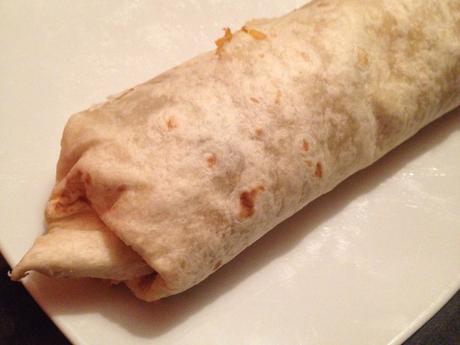 We couldn't wait to tuck in…I took one bite and wow, successfully it started satisfying my craving. Even though they only had hot or mild salsa, so I obviously went for hot, it still had a kick. The flavor was fantastic, I loved having veggies too, and the chicken was so well cooked, tender but tasted freshly grilled. I got to the end and although very full was upset to see I had none left…it was so good I didn't want to stop!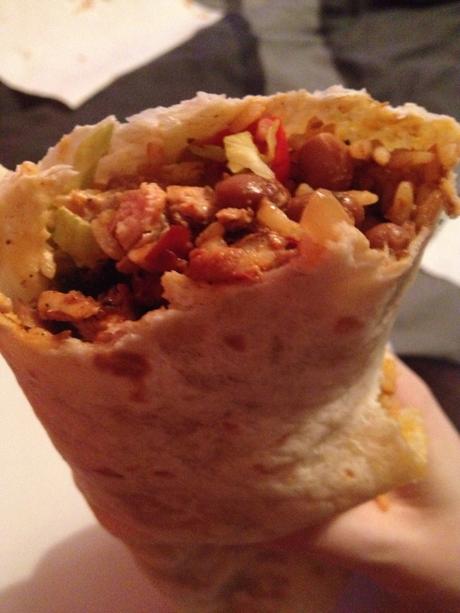 Alex had a barbacoa burrito with rice and cheese. I would have thought it would be a little boring with no veggies, beans and salad but he said it was absolutely delicious too!
I will definitely be returning and I highly recommend you try too! Go treat yourself to a little brown paper bag with super tasty Mexican burritos…you won't be disappointed!
I think I've found a new firm favourite!
Chloe xx