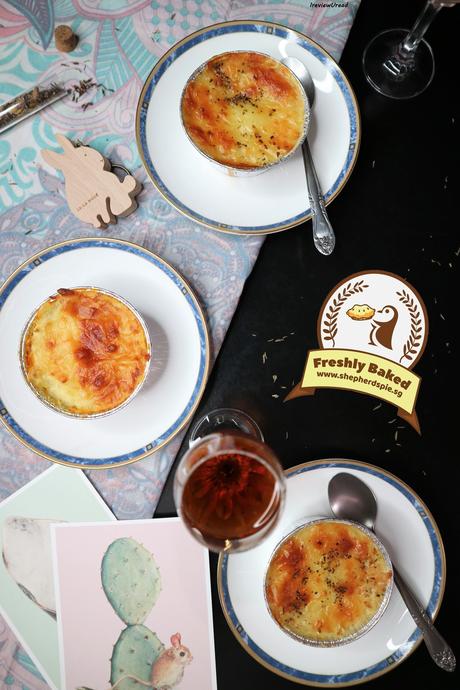 Freshly Baked Shepherd's Pies
Originated in the late 1700s from the United Kingdom, Shepherd's Pies are common inexpensive comfort food that was created by housewives to incorporate leftovers that will peak their families interests. This dish soon became a source of comfort food that helps alleviate loneliness and instil warm positive thoughts for the diner.
These days, we lack the luxury of time and energy to create such delicious home-cooked food after work daily. With the rising wave of services that allows you to eat well without having to lift a finger, there's no reason you can't eat a proper meal in the comforts of your own home. One of the best meal everyone longs to eat at home is comfort food and what is more comfortable than having freshly baked meat and mash potatoes in your belly. That's right, in this post, I'm touching on freshly baked, homemade Shepherd's Pie delivered straight to your doorstep.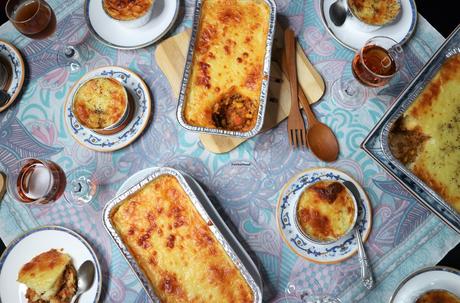 Look at this spread. It's a meal fit for a king. These Shepherd's pies are freshly baked daily. The ingredients are also prepared every single day. Thus, you have to order them a day in advance. Do note that the cut off timing for next day delivery is 5 pm.

Shepherds Pie SG Story
It is no doubt that Shepherd's Pie SG is a new company. Their journey started humbly from baking hot pies for friends at a Christmas party to baking them for friends and school events. Soon, this humble little adventure turned into a business. A business where they can provide comfort in the form of a hot Shepherd's Pie to your doorsteps.
The Sheperd's Pie comes in 3 sizes - Massive, Medium and Mini. Massive pies are suitable for 4 people and medium pies suitable for 2. The mini pies are bite-size delights that are perfect for a snack. You can choose between beef or chicken for your pies and they also come in 5 different flavours - Chicken, Black Pepper, Curry, Shroom, Rendang.
In this Foodie Friday* review, I'll be reviewing their curry beef and chicken Shepherds Pies. I'll start with the massive beef pie before moving on to the medium chicken pies.
*Foodie Friday is something I created years ago because I wanted to review food. However, I got so overwhelmed with so many beauty products and services to review that I scrapped that idea. These days, it seemed like I'm back to reviewing food especially since I've finally gotten my long-awaited stand mixer. I guess that calls for IreviewUread to have another sub-section (I Bake U Pray - because I can't cook or bake) don't you think?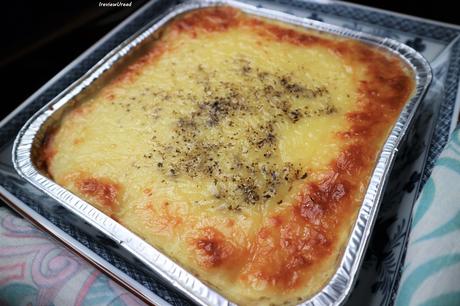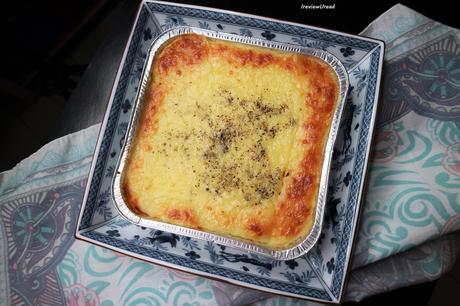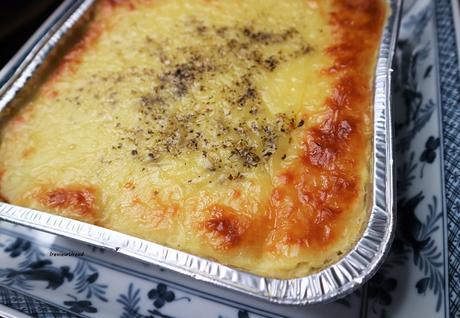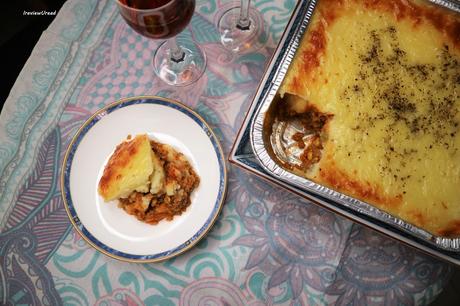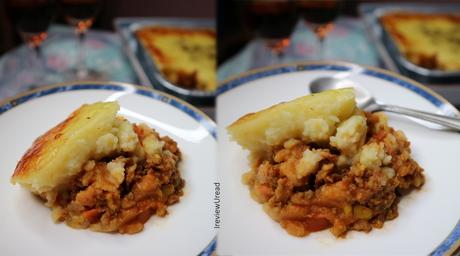 Massive Beef Shepherd's Pie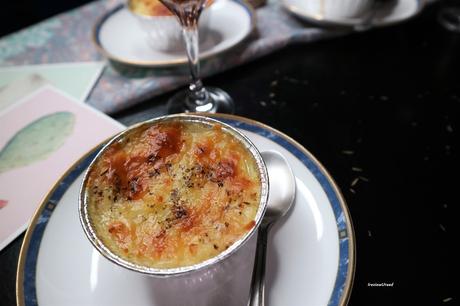 Measuring at 9 inches by 9 inches, this massive beef shepherd's pie is big enough to fill the biggest decorative plate I have at my house. With a recommended serving of 4, this tray of hot pie is generously packed with various spices, meat and potatoes to fulfil everyone's appetites. Upon receiving the heavy tray, one could easily detect the delectable aroma of a savoury pie emanating from beneath the covers.

The golden top has been caramelized to perfection while its interior had a mixture of wonderful texture. I like how there were still bits of unmashed mashed potatoes for that tells me that these mashed potatoes are freshly mashed by hand. As a person that mashes her potatoes, I can imagine how many hours and how much work was put into these saporous pies.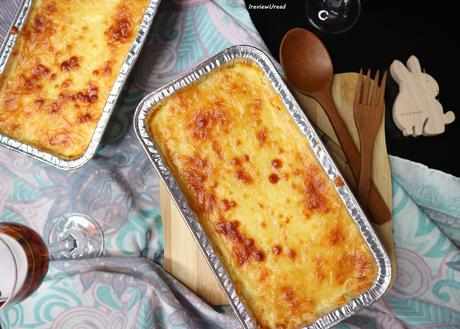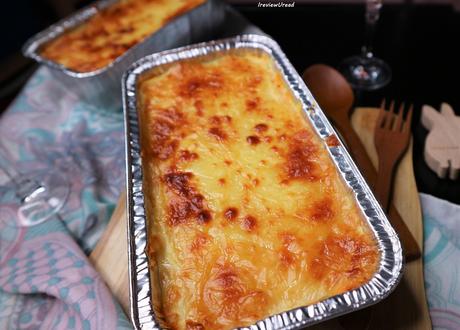 Right below the potatoes are the mixed ingredients. Carrots, corn, green peas, beef, tomato paste with curry spices could be tasted in this scrumptious dish. The combination of sweetness and saltiness meets with the mellow spices from the curry makes this the perfect meal to come home to. A single bite from this pie transports you back to the 1800s where a diligent housewife was putting the piping hot Shepherd's pie out to cool by the window of her warm cottage. The beef was cooked to perfection while the mashed potatoes melt in your mouth. It's utterly delicious.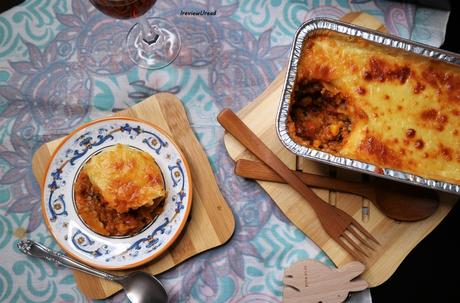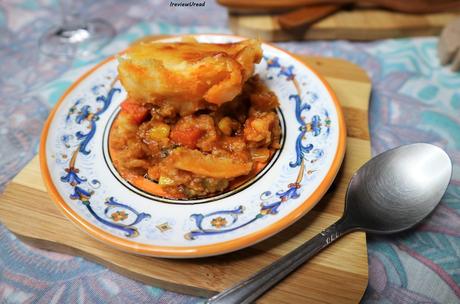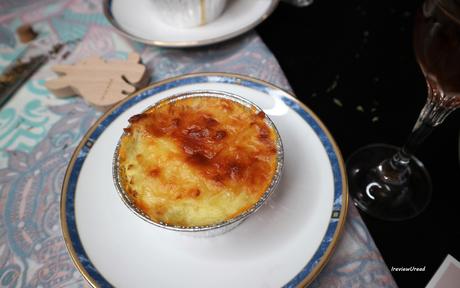 Mini Curry Beef Shepherd's Pie
Aside from the massive tray, the curry beef shepherd's pie comes in a mini cupcake size as well. Suitable for picnics and snacks, these portable Shepherd's pies are suitable for parties and events as well.
Medium Chicken Shepherd's Pie
Aside from beef, Shepherd's Pie SG also retail chicken Shepherd's pie. The medium Shepherd' pie is 9 inches by 5 inches and it is suitable for 2 people. If you have a smaller appetite, this loaf size can even be shared among 4 people as well.
Despite the size difference, the pie still tastes as scrumptious as the massive beef pie. The golden top pairs well with the succulent chicken and vegetable bits in the bottom. The mash potatoes were mashed to perfection while the curry spices combined everything. The sense of home, warmth and desire could be felt in a bite as the ingredients swirl in your mouth allowing you to savour every piece of the pie. A dish that transports your home and makes you long for more, that's a dish everyone should have.
Mini Chicken Shepherd's Pie
Like the beef pie, there are also mini chicken Shepherd's pies in the size of a cupcake. Equally as wholesome as the medium and massive pies, size does not matter when it comes to these pies. Every bite of the pie gives you a warm sensation and a happy tummy.
With that, that's my review on Shepherds Pie SG Beef and chicken Curry Shepherd's pie. Order your warm pies here-
Shepherds Pie SG