hey everyone
right, as you may know ive been going abit crazy with buying things this month,
well i keep telling myself why not? i get paid every month and it is finally a decent salary in a proper grown up job, and i haven't had a holiday all year (in fact i have had no time off), and at one point i was working 3 jobs, so im moaning now, but you get the idea lol.
so here is my first haul, haul part 1:
it is all from no7 because atm boots are giving away vouchers, so basically what i did was buy 2 diet cokes for like £2 and get a free voucher,
the voucher is £5 off skincare and £3 off make-up, but there also doing a 3 for 2, so i brought 3 things and basically only paid for 1 thing, how awesome is that.
This is what i got: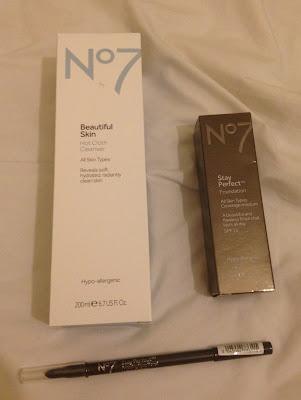 so i got the no7 beautiful skin hot cloth cleanser, which i guess is the cheaper version of the Liz earle one, has the Muslim cloth included with it, im going to use this to take off my make-up before i cleanse my skin this was £9.99.  then the main reason i went, is for the foundation, so i could try the foundation match system they have, i am going to do a separate post on this, but i did get sucked into all the offers, the foundation was £13.99 (i think) then the last thing i got was a no7 eye liner pencil in black, i didnt want a waterproof one because it would be a nightmare to get off, but i wanted something i could wear underneath my eyes and that would last all day, so she said this one would be a good one to go for, it also had the sponge on the other side.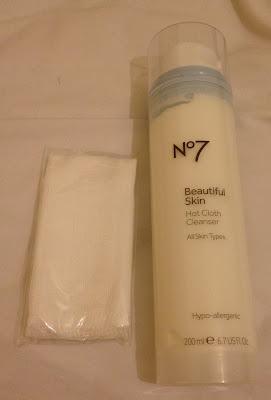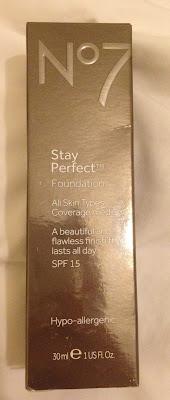 bigger pictures of what i got
altogether all i paid was £15.99 (well round the 15 pound mark), so i got a really good deal for it, because i could use the 2 vouchers but then i also got the 3 for 2 offer included, i think boots have gone wrong somewhere, surely its not worth them doing both offers, but im not going to complain.
perfect for me, my next post will be on the foundation, and then after that my haul :D, see you guys later xxxx