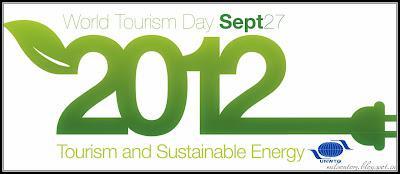 Happy World Tourism Day!!! September 27 is celebrated as World Tourism Day. Just celebrating it as any day is not the motto of tourism Day. Every year there is an agenda or theme which empowers the world to get protected or it can be say it leads a way to act something which protects the whole world. Tourism is one of the world's largest economic sectors and this year it has already taken one big step to protect sustainable energy for all.  With perspective of protecting the sustainable energy new innovative clean energy solutions have been introduced. Important steps have already been taken towards the future by improving energy efficiency, and renewable energy technologies are increasingly being used in its operations. While helping to protect the planet, many of these steps are creating jobs and helping to lift people out of poverty.
Main aim of World Tourism Day is to create awareness among the humanity about the importance of tourism and its social, cultural, political and economic value. Telling all of us to work together for our as well as for our next generation with United Nations Millennium Development Goals and to contribute a hope of liveliness to many lives.
In the past decades tourism has grown at its significant with improving a good standard of living and being a helping hand for many needy. Ensuring environmental sustainability is a must do activity. Therefore, it has act with climate change by reducing its emissions of harmful gas, which at present represent 5% of the total. However, tourism not only contributes to global warming: at the same time it can be said also a victim of it. When it comes to talk about "sustainable tourism", we are not particular on one means; we have to analyze cultural, beach or adventure tourism. Every form and circumstances of tourism must necessarily be sustainable and should be taken into due consideration. It is a fallacious expectation to think that "an immense quantity of energy and resources are available, that it is possible to renew them quickly, hence the negative effects of the exertion of the natural order can be easily absorbed".
Tourism depends on effective transportation and it is in the transportation industry where many of these innovations are most evident. With an perception of sustainable energy, The aviation industry is implementing new technologies that are reducing the overall weight of aircraft and consequently reducing the amount of fuel consumed. Commercial aircraft are also increasingly using bio fuels in their fuel mix. Large cruise ships have started using of renewable fuel.
Hotels around the world have also become much more energy saving conscious, with energy saving light bulbs showing the right path in many locations. Tour operators are promoting awareness of energy efficient procedures throughout their supply chains. With a clean energy solution we can have a drastic effect on the reduction of the carbon emissions generated by the tourist industry. Being such an enormous global industry, these reductions can make a symbloic difference worldwide.
It has been estimated that during 2012, around a billion international tourists are expected to travel. This presents a major challenge. It is seen as a time to promise to a more sustainable tourism sector, with a sustainable future for all.
UN Secretary-General Ban Ki-Moon, respond these thoughts when he thanked tourists for playing their part in offsetting their own carbon emissions, whether by choosing ecologically friendly destinations and providers, or simply by not having their towels laundered every day. These sustainable energy steps always benefit the world and not just the tourism industry said Mr Rifai (Secretary-General of UNWTO) and he urged all tourism stakeholders, whether they be governments, businesses, or tourists themselves, to play their part in helping to achieve the UN's sustainable energy goals. All of the sectors involved (businesses, local communities, governments and tourists) must be aware of their respective responsibilities in order to achieve sustainable forms of tourism. Collaboration between all the parts involved is necessary.