Hey you all!
Hope you are all had a great start to 2018. Time flies, and it is already Valentine's day!
A little update on my plans for this year. I have been thinking of resuming blogging, it has been such a long time since I blogged seriously. I have been working on some reviews, empties post and will get those post up soon. I am hoping to have the same passion, with which I started this blog, a few years back.
As the name suggests, this blog was a result of my love for make-up. But as time flew by, I slowly lost interest in make-up and was and am now, full on into skincare. I strongly started believing that, if my skin is in its best shape, I dont even need a full face of make-up. And so for the past 2 years, I have been focusing on taking care of, understanding and listening to my skin. And I feel that it has paid off. I am quite happy with where I am with my skin, right now. I still am working on it, but there has been a huge improvement.
Back to today, I have been seeing so many positive and lovely posts on instagram, about spreading love and peace among the skincare community. I am on board with that, for sure! I'd also like to share my thoughts on what I like to do on a Valentine's day.
I strongly encourage, believe in self care and love and that is what I am going to talk about today. I once read somewhere (don't remember where, but I am largely paraphrasing here, so bear with) that for a person to make the people around him/her happy, he/she has to be happy from within. If he/she experiences emptiness, there is nothing to give. I really loved the concept of happiness and love from within. I'd say, for Valentine's day, love yourself and you will have plenty to give to others!
Now, I dont want to bore you guys too much with philosophy. So, here are a few products that I have started to/feel like I am going to, love.
Here are my make-up loves.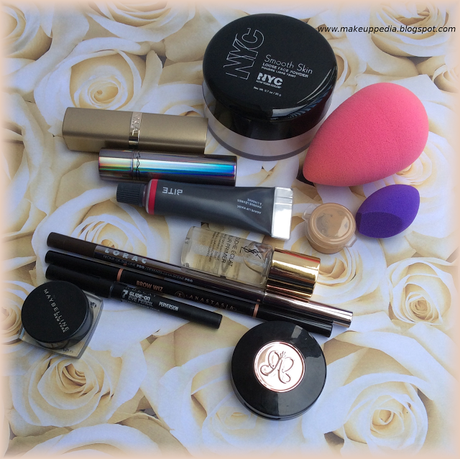 Starting from foundation, I recently got a sample of the Too Faced born this way foundation, and I am really liking it. Still testing it with a few primers underneath. Also, I like the NYC loose setting powder to set my face and under the eyes, though I hardly use it these days, as my skin does better without a powder right now. In the summer, it is going to come in handy. Got a delux sample of the YSL Touche Eclat blur primer. Really enjoy the tiny little golden flecks in this.
As for tools, I love the original beauty blender to blend my foundation in, gives such a natural finish. BTW, it is huge because I just washed it. And really enjoy using the real techniques mini miracle sponge for blending concealer in.
For a soft smokey liner, I have been loving the LORAC PRO liner in the shade dark brown. And for a dramatic kohl lined eyes, I dip the urban decay perversion into the maybelline gel liner and then line my lash lines top and bottom.
Both anastasia beverley hills brow products are my go to for brows, both are in the shades dark brown.
And for lips (I am a lipstick junkie), I have rediscovered the loreal paris lipstick in the shade blushing berry from my stash, that I am loving and there is of course, the MAC tender talk lip balm in pretty me up. This bite beauty agave lip mask in the shade smashed is what I reach for, when I am in a hurry and want a 2 in 1 moisture + color kinda product.
As for skin care loves, I gave myself a minute to pick a few products from my stash, because, it can get a little out of hands right now.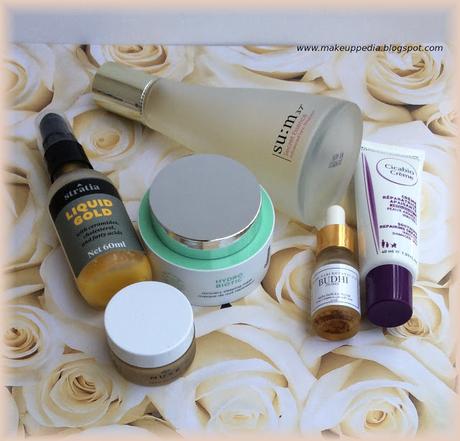 The su:m 37 secret essence is a great product to layer on the skin for extra hydration, which I am doing almost everyday this winter. Stratia skin liquid gold is my go to moisturizer if I am unsure of what to use. The wabisabi botanicals sacha inchi eye nectar has been a life saver for my dry under-eye area. The bioderma cicabio cream has also been a life saver this winter, as  have been applying it on my dry and sensitive spots. Nuxe reve de miel ultra nourishing lip balm is my go to balm at night and if I want a matte finish + moisture on my lips.
Last but not the least, I have been really enjoying the Dr.Brandt hydro biotic recovery sleeping mask, sent to me to try from Influenster. It absorbs well into the skin, provides that precious extra layer of hydration to the skin at night, does not leave a film on my skin in the morning.
Hope you guys enjoyed this come back post!
Stay tuned for more posts!!