I've set my sights on this one makeup brush for awhile and was glad that thanks to team I'm able to show it to you today. It's their version of a flat top base brush. Look at it, so clean and pristine! At this point I was so ready to get in there and use it.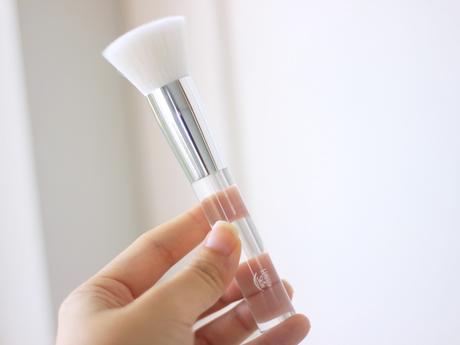 HAPPY SKIN FLAT TOP BRUSH Php599.00 available to buy here via Products/Brushes & Tools/Individual brushes
It's great for buffing and sheering out liquid bases (note: not all liquid foundations out there are for buffing) and also great for pressing in high-coverage powder foundation products onto skin. Read on to get a closer look.
The fact that it's white urges you to keep it clean. You don't need to wait and wonder until it's high time to give your brush a proper wash or spot cleaning. All of Happy Skin's makeup brushes are white and made of soft synthetic bristles.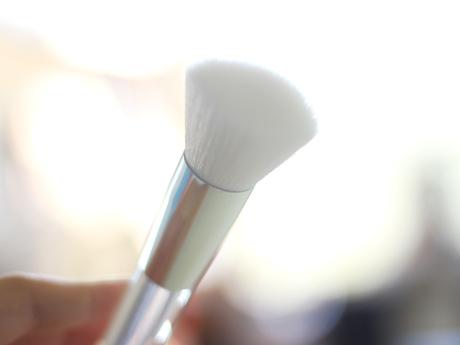 The flat top brush has dense but soft synthetic bristles that are made for buffing and perfecting foundation. A clean brush like this one can also be a second step after your initial foundation application, to blend away excess foundation that might leave your look appearing too heavy. You can also use this for loose powder mineral foundation but I wouldn't recommend using just one brush for both liquid and powder. I would have one specifically for liquid and one separate for mineral powder foundations. Combining the use of both products for one brush might make it more difficult to clean.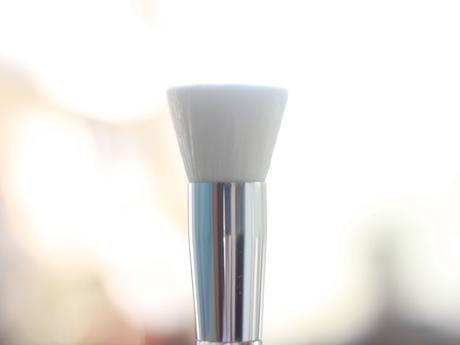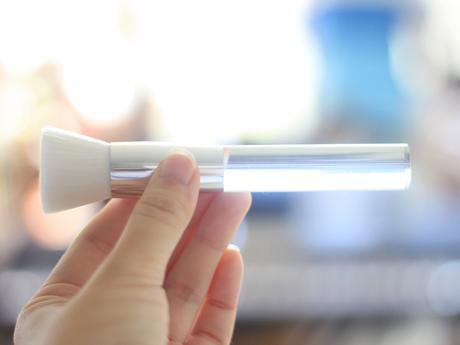 Happy Skin Founder and model Mom Rissa Mananquil-Trillo mentioned this and shared that their Flat Top makeup brush is currently her favorite in the Happy Skin brush range. She was amused that I was interested to feature this particular one because it is her absolute fave. I've used it and it reminds me of my Shiseido Flat top brush which is smaller and that other one is meant for dry powder foundation application. This one by Happy Skin is specifically made for flawless liquid foundation application and blending. It can be for powder foundations, too but in my opinion it's better for liquid products. I also appreciate that it's a travel size brush at about only 5-6 inches in length and fits easily into my daily makeup pouch.
The Happy Skin FLAT TOP BRUSH Php599.00 is available to buy online via Products/Brushes & Tools/Individual brushes or in retail via Happy Skin Boutiques and counters at Rustan's, Beauty Bar, and Plains & Prints.