Happy National Running Day everyone!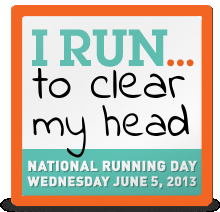 Today,
Tina
and I had planned to run hills.  Of course, last night after a dayhome interview Buggie dropped a toy in the car and I reached around the seat to retrieve it...only to battle severe spasms in my back for the rest of the evening. Not fun.  I think I dislocated a rib.  At bedtiome last night, I wasn't sure I was going to be able to run at all.
But I had to...it was going to be National Running Day.  How can you NOT run on National Running Day.
Luckily, after drugging myself with muscle relaxants last night, I woke up mostly spasm-free.  I could still feel it, but it didn't feel like someone was trying to stab my lung anymore.
So, Tina met me at around noon and we headed out into the heat to run some hills.  Almost immediately, I was asking her to dial back the pace a bit.  Not a good sign.
So we ran 4 hills, which is better than no hills and not quite as good as the 6 hills I had hoped for.
We also took a bunch of pictures (bet you're shocked)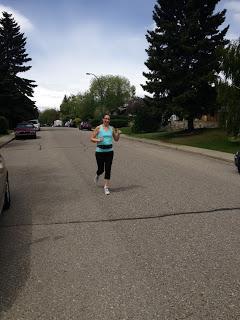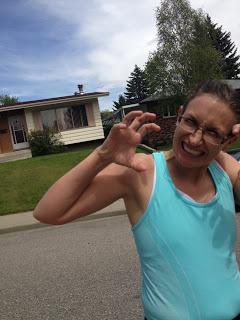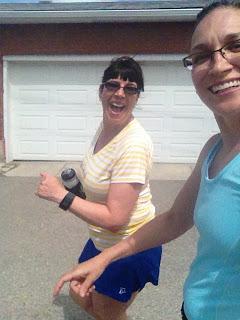 At the top of one of the hills there was this sign: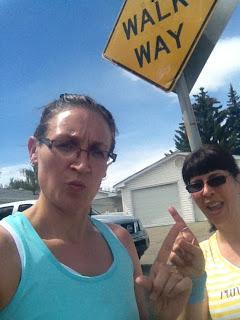 No walking allowed on National Running Day!
At the end of the 2nd hill, Tina told me she wasn't sure I should even be running at all...I told her I'd call it soon.  and I did. Last hill is a killer...my work neighbourhood is perfect for hill training....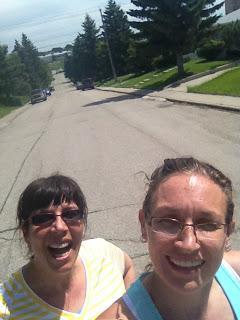 Somehow my Nike+ paused when I went to take pictures (I am NOT impressed with the latest update) so This it Tina's watch.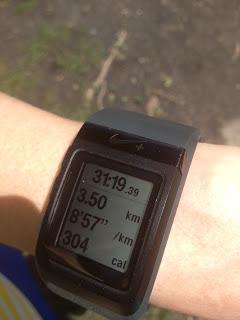 Tonight I'll be at the chiropractor to get myself fixed up.  I am contemplating joining my Vancouver runner girls long distance in a 5Peaks trail race on Saturday but I want to be sure I can run pain free before I sign up for Canmore. Guess we'll see.