This year, I am trying to improve our eating around here...mostly because we've been really bad about it of late but also because I have the big 4-0 hitting this year and I want to feel better before I get there.  My kids are ravenous when they get home from school so I decided that instead of having them hit the pantry for some carb filled empty snack, I would make them something a little more satisfying yet every bit as much fun.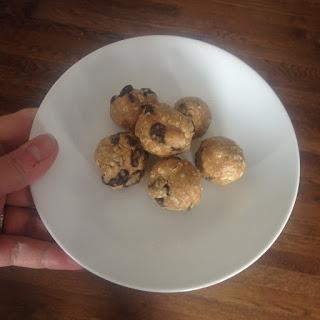 Enter the Easy Energy Bite
Toss all of this into your mixing bowl:
1 cup Peanut Butter (or other favorite nut butter or nut substitute butter)\
1/3 cup honey
1/2 cup raisins
1 cup oats
You could also toss in things like coconut, flax seed, hemp hearts, chocolate chips or whatever else you happen to like in cookies...but I keep it simple.
Mix it all together until well mixed and roll it into 1 inch balls with your hands.  Voila - you're done...These should keep at least a week in the fridge...if they last that long.  They totally taste just like munching on cookie dough.
Enjoy!