Happy Halloween all you spooky readers!


There is something about Halloween that brings out the child in me.  Every year my husband and I decorate our front porch for all the little goblins to come up and get treats for some tricks!  I love seeing the little kids dressed up and so excited about the treats.  To make this Halloween a little better, my floral shop made some spook-tacular floral arrangements for a Halloween party.
I think I have decided making floral arrangements for fall and Halloween parties are my favorite.  I love mixing beautiful flowers with gourds and pumpkins to create a unique and almost dark feel.  This event was really fun because the client was a close friend of my boss so we had a lot of freedom to design haunted creations!

I made one of my favorite decorations thus far for the Halloween event.  We put small pumpkins into large fish bowls and wrapped red garland and black calla lilies around the interior of the fish bowls.  They somehow looked "spooky chic."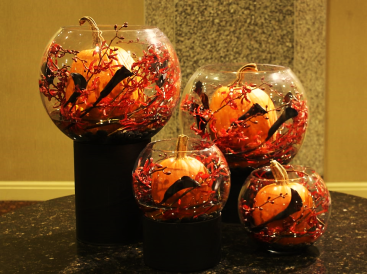 We also made an arrangement using yellow roses, greens, and purple leaves to create an old eerie feeling.  My boss has this spray she uses often in Halloween decorations and flowers.  It makes the flowers look aged and grungy, I love it!
Another customer just wanted one centerpiece for a Halloween party.  I was able to get creative with this arrangement.  I used some bright flowers, cat tails, wheat twigs, and other grasses to create an almost mystical looking combination.  To make it more fitting for a Halloween party I put the arrangement in a skull vase.  It looked even better than I thought it would.
I am so happy I found my passion working with flowers and helping decorate for events.  It makes my life so much fun and each day is a new adventure.  Like the saying by Confucius goes, "Choose a job you love, and you will never have to work a day in your life."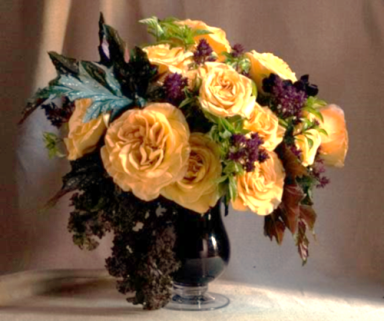 I have yet to work a day.

Happy Halloween!
Until Next Time,
Nancy