Today the floral shop owner and I decorated and created floral arrangements for a flower themed party, yes a flower themed party.  It was so perfect, I had so much fun going overboard with all the rich fall flowers and elegant accents.
It was an outdoor dinner party in the yard of our client.  I have never done a completely outdoor party.  They were kind enough to give us the details about how they wanted the set up outside and they even took it into their own hands to set up the hay bales to pave the way to the dinner setting.
We designed several small floral pieces for the table and accented the table with mason jars with candles.  It gave off such a warm, romantic country feel.  We also used a lot of pumpkins to achieve the harvest feel of the party.  The Table and mixed matched chairs were a combination of our decorations in the store as well as our client.  It fit the parties theme so well.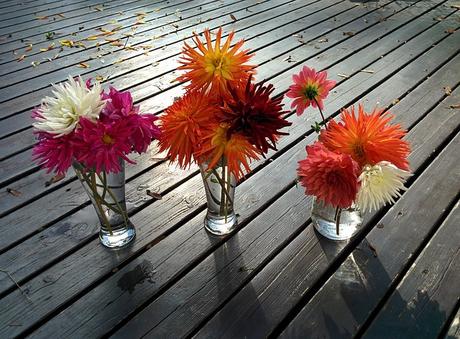 To achieve the look our client wanted we worked primarily with wildflowers and more rustic looked kinds.  It was beautiful.
Here is a photo of the mason jars we created, they are super easy if you decide to have your own fall outdoor party.  Fill up the jar about 1/3 full of corn kernels and place a tea light, or battery tea light, in the middle.  To add a little pizzazz we added a simple bow with ribbon on the top.
The set up and decorations turned out so well.  I was never seen the owner of the floral shop so please with a set up.  She took so many pictures so she will be able to show potential clients what we can do in an outdoor setting.  Here is one of the photos, so beautiful.
I have grown so much in the 7 months working at the shop.  My improvement and dedication is constantly recognized by my boss and regular clients.  I love that I am able to help make people's day better by bringing fresh flowers and decorations into their lives.  There is certain kind of happiness that a simple flower can bring to someone that is utterly incredible.
Until next time,
Nancy