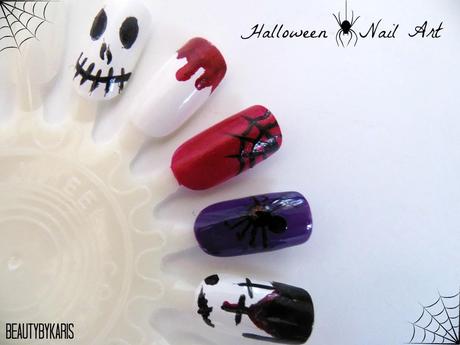 Hey There,
With Halloween around the corner, and as a follow up from my Halloween make up post I thought it was only appropriate to do some Halloween nails for a special 'manicure monday' post, (Have I said the word Halloween enough times yet?).
We have been getting some nail art ready in work, which got me in the mood for doing some at home and obviously sharing some with you lovely lot. I think if you are going to go all out with the special effect make up, and costumes, you might as well finish the look of with some 'spooky' nails, don't you think?
Each look was designed using a selection of Orly colours, some nail pens, and a steady hand. I can't pick a complete favourite, but I do like the spiders web, and the nail 'dripping' with blood, what are your thoughts? Will you be getting some 'horror' nail art ready for trickle treating?
What are you doing this Halloween?
Lots of love,
KBxx