Two weeks till Halloween
Well hello blogger bunnies, as you know Halloween is on its way and it is one of my favorite holidays of the year. So today I am going to share some fun Halloween costume ideas for you and your friends to tryout. 
First up is a Cat BurglarThis is a very easy and cheap costume for you to put together, and this is what you need-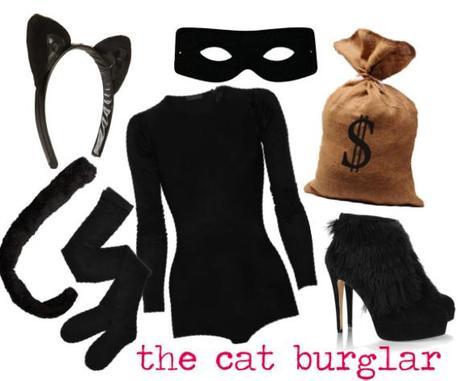 Cat ears and tail- you can buy these in any stores around this time of year, best to buy them in a set as it will be a lot cheaper.
A bandit mask- you can make your own out of felt fabric and tie a piece of elastic to the sides, or again buy one
A bodysuit- you can have two choices for this one, one with shorts and just add tights, or a full length bodysuit.  You can find these in places like H&M, Topshop or American Apparel.
Shoes- you can wear black shoe boots or plain black heels to give it that sexy look or for confort you can wear plain black flats.
Bag- instead of taking a purse out with you, use the sack that adds to your costume as your bag for the evening, just add string around the top and draw a dollar sign on the front.
Makeup- Add whiskers and a nose to finish the look off.
Try this out, cat costumes are fun, but are very comman. This adds the purrfect twist of mystery and mischievousness to the traditional halloween.
Next up is one I found from three creative bloggers who are sharing their fun ideas with everyone,Rock Paper Scissors costume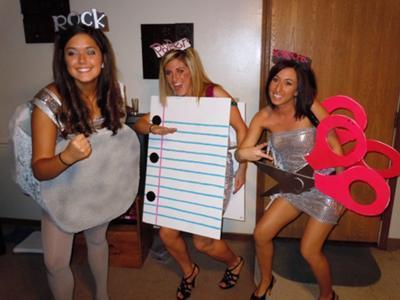 Click the link before to see how to make all three
http://www.laurenconrad.com/post/halloween-diy-rock-paper-scissors-costume
The last idea I am going to give you guys is one my sister made but I turned it into a costume Thank you Jenny!!!!
Ipod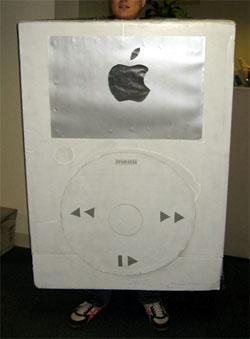 All you need is-1- Big cardboard box
2- paint and markers
3- scissors, paint brush, glue
4-printer
5- 2 bowls
7- Newspaper
8- String
First get inside the box and ask someone to mark were your arms are going to be places.
Them take the box off and cut out the marks and each lid flap around the box.
Choose a color and paint the whole box, after that has dried, paint the details of the ipod onto the box.
Once paint has dried, use a marker to around each detail, to give it that bold look.
Print off a pictures of your favourtie artist or band and stick it onto the box.
Headphones
Cover two medium size bowls with strips of newspaper, stick the paper on with glue and leave to dry.
Once dried remove the bowls from the mold you have made, then choose a color and paint.
while the headphone dry, cut one long piece of string and attach to the ipod box, by poking to small hole in the front and threading the string from the inside out.
With the two headphone moulds, attch them to the two hanging pieces of string, poke a hole in the center of the headphone and tie the string in a knot.
Your costume is finished.
I hope you have enjoyed my ideas, go give them a try and see what you come up with.
XOXOX