I love getting creative with chocolate, but it can be a little messy and a little tricky not to overheat the chocolate. Choco Writers is a clever product that saves time and the guess work of melting chocolate. No more messy worktops, bowls or spatulas when getting creative with Choco Writers.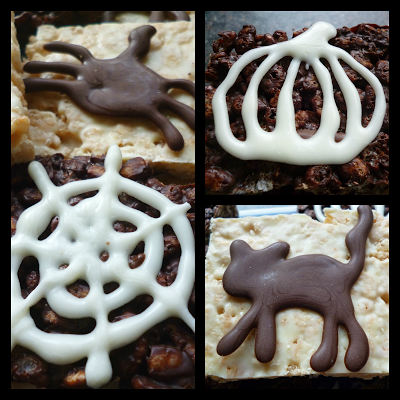 Halloween chocolate decorations using Choco Writers
What is Choco Writers?
A sealed tube containing solid milk, dark or white chocolate that melts once heated with hot water. Create endless chocolate decorations and designs by using the tube like a pen. 
How to Use it? 
Immerse the tube with the lid on into a container of hot water (I used a tall glass). Wait 2-3 minutes. Remove the tube and dry it with a cloth, remove the lid and with a pair of scissor snip off the sealed end.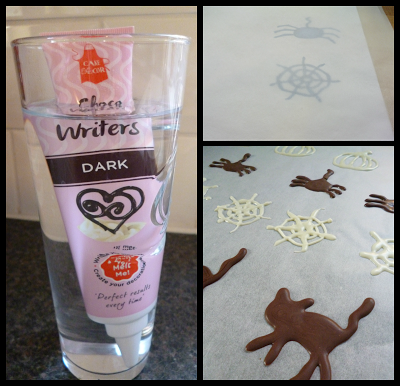 Having prepared your sheet of baking/parchment paper create your chocolate design, you can either use your creative flair or draw a design on the back of the parchment paper and trace over it with the Choco Writer. 
Leave your decorations to set. I placed my parchment paper onto a tray to make it easy to move out of harms way. Put the lid back on your tube and store in the cupboard until it is time to decorate cakes again. 
They really do add that professional personal touch to a even a simple cupcake. Time to get Creative.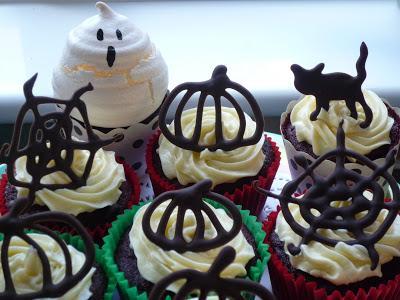 Halloween cake decorating ideas
Creating your Halloween Chocolate Toppers
Do you like my Halloween themed decorations? Not too scary for you! Here is an easy way to create your own, 
Download my Printable Halloween Template which includes 5 different designs. Once printed
 place under your baking/parchment paper then using your Choco Writer trace over my design - easy! Whilst they are setting why not make some Chocolate Crispies to put them on. You will also find other themed templates on the Choco Writers website.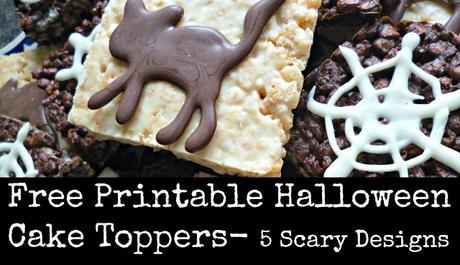 click the picture to download the template
Halloween Themed Chocolate Crispies
by
Garden Tea Cakes and Me
September-27-2015
A simple scary chocolate Halloween treat, decorate with your own Halloween chocolate creations.Ingredients
88gr

Puffed Rice Cereal

200gr

Dark Chocolate

Choco Writer for decoration
Instructions
Line a baking tray, I used one that measures 19cms x 29cms and is 2 cms deep.
Break up the chocolate into pieces and place into a heatproof bowl. Sit over a pan of barely simmering water and allow the chocolate to melt, stirring occasionally.
Pour the chocolate into a bowl with the puffed rice. Mix well so that the chocolate coats all of the puffed rice.
Pour onto the baking sheet and gently push the chocolate puffed rice into the corners ensuring you have a flat level surface. 
Leave to cool and set. Once cooled carefully cut into squares.
Using a your Choco Writer a a few blobs of melted onto the top of your cake and place or slide off the baking paper your Chocolate Halloween design. 
Alternative: For a sweeter treat use white chocolate along with some small marshmallows added to the puffed rice.
Details
Prep time: 10 minutes 
Cooling time: 2 hours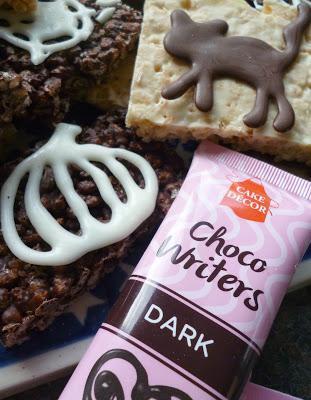 Get creative with Choco Writers
Disclosure: I was sent a set of Choco Writers for the purposes of this review. You can buy Choco Writers from Asda, Sainsbury's, 
 Morrisons and Lakeland from around £1.50.