I have never tried out any hair oils before, but I find the idea appealing. I really wanted to try either the Moroccon Oil or the Macadamia oil as I have heard amazing things about both products, but both of them are just so expensive. When I heard that L'Oreal were bringing out a hair oil I couldn't wait to get my hands on it. They have brought out two different types of the oil, one for normal hair and one for coloured hair. I just picked up the one for normal hair, as I have dyed it in the past but it is pretty much grown out. It says it has a blend of 6 precious flower extracts and these all work together to nourish the hair.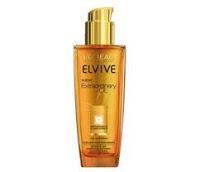 You can use this product in a number of ways but I will tell you how I like to use it. After I have washed my hair and towel dried it I will put in 2 pumps and put this into the end of my hair. This is really good for my hair, as I don't condition it, and makes it really easy to brush and when it's being dried it just falls in too place rather than looking like a static mess. Then if I am going out I will sometimes put one more pump onto my hands and just put this through my hair to give it shine and smooth it out. This product is so light weight that I can get away with putting more into my hair. I don't take it through the roots and if I did I can imagine it would make my hair oily and greasy.
One other way that I like to use it is if my hair is feeling particularly dry as soon as I get home from school, as long as I am not going out again, I will slather 4-5 pumps of this all the way through my hair, from root too tip. I will then put it up in a top knot and leave it over night. If you do this you will have to have a shower/ wash your hair in the morning as it will leave an oily residue. This just makes my hair feel so soft and it gives you that feeling of when you just want too touch it all the time.I would really have to say this is a really great product. Not only has it made my hair feel soft but it has definitely treated my split ends. You can pick this product up here for £9.99 but it is currently on a 3 for 2 offer. Comment below telling me if you have used this product and what you think of it or your favorite hair oil.Thanks, see you soon.