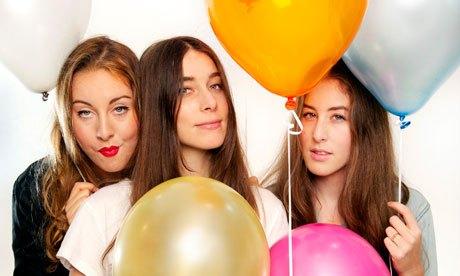 Haim are three sisters from LA called Este, Danielle and Alana; and their drummer Dash Hutton. These ladies create some very nice indie-pop/rock and have been compared to the likes of Fleetwood Mac, Stevie Nicks and John Waite: that's a lot to live up to. 2013 has been a good year for them: they played Glastonbury, topped the BBC's sound of 2013 list and signed to Jay Z's management label Roc Nation.
(unfortunately there are no versions of the song w'ere reviewing available on YouTube so their song Edge will have to do instead)
Running if You Call my Name is subdued to start, opening with layered vocals, percussion and muted piano with echoing elements. The lead vocals have a deep, earthy tone that envelope you into the sound like curling up in a big fluffy blanket. There are definite folk/country elements to Haim's sound without being too far into the genre that it can't grab a mainstream audience. Our only criticism of this track is that it gets a bit samey as you go along. There are interesting elements throughout but it tends to stay on the same plain. There;s no release or wow moment that makes you go fuzzy inside.
It's definitely worth the download but we know for a fact that they have better tracks than this.
-TWSH
Download Running if You Call my Name