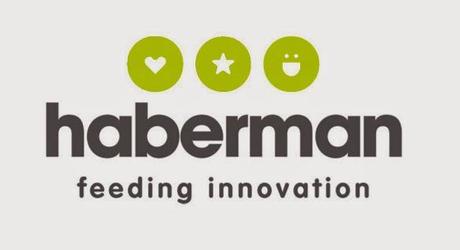 Disclaimer- 

Precious Little Worlds

have been sent out some baby/toddler cups from 

Haberman

   

for free in exchange for our honest opinion for the purpose of our blog, to report back to you the viewers our findings.
About
Haberman is a premium baby and toddler feeding solutions brand synonymous with innovative products that help youngsters develop drinking independence.
I personally came across Haberman baby goods at one
of 
their first launches at 
Manchester's 
Baby/Toddler show as they where doing some good promotional offers.
At the time I did not know they did training cups I just thought they had more of a range for breastfeeding, so when our blog got the chance to review some items from them was very happy to see they offered toddler cups.
Up for review are -
Jurassic classic anywayup dino cups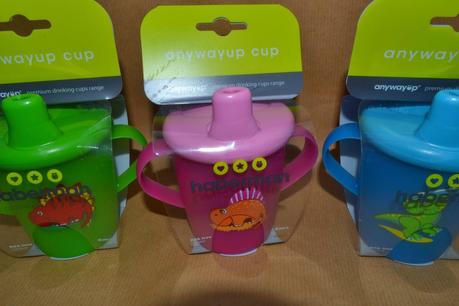 The easy-grip handles make it simple for little hands to hold, helping babies learn to drink independently.
RRP: £2.95
6 months +

250ml capacity

BPA free

Leak proof

Dishwasher safe 65⁰ top rack

Microwave safe (without lid)
Good to know:
All Haberman products are innovative in their design, manufactured to the highest standards of quality and safety, and they are practical to use.
Drip free

Assembly free

BPA free
Product care:
Before use wash with warm soapy water and rinse well.

Avoid using sharp or abrasive cleaning materials.

Our products are dishwasher safe to 65°C, top rack (except for the removable valve of the '360° Cup', which we recommend you wash by hand).

With spouted cups, always make sure the spout and valve area is clean (clean the spout only by using a suitable teat brush).

To sterilise our products we recommend solution methods only.

Drinks may be warmed slightly in a microwave (without lid).

Not suitable for use with hot or fizzy drinks.
For your child's safety and health:
Always use this product with adult supervision; never leave babies or small children unsupervised whilst feeding.

Always check the temperature of warmed drinks before offering it to your baby or toddler.

Continuous and prolonged sucking of fluids may cause tooth decay, to help prevent this only give milk, water or diluted fruit juice to your child.

Always follow food and drink manufacturer's instructions.

Do not allow your child to walk around whilst using a cup or utensil

Where a removable valve is fitted to one of our cups always ensure it is out of the reach of children when it is not being used.

When in doubt, consult a health professional.
Additional Information:
The anywayup® range of patented products are all carefully made in the EU, under license from Haberman Products Ltd (© Haberman 1997) and tested to the highest quality standards.
Review - 
Packaging simple but effective like that its not fussy to get into tells you what the items is + age range.
Design -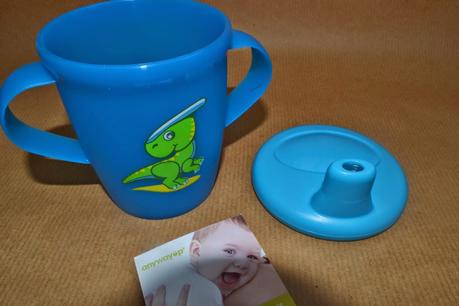 Absolutely love the dinosaur image on the front of the cups remember you choose from pink blue & green so very good if the have a boy & a girl as I do.
My son is age 2 years he did love the dino image and went crazy for it but personally little bit too young for him at this age although he did keep asking me for the cup.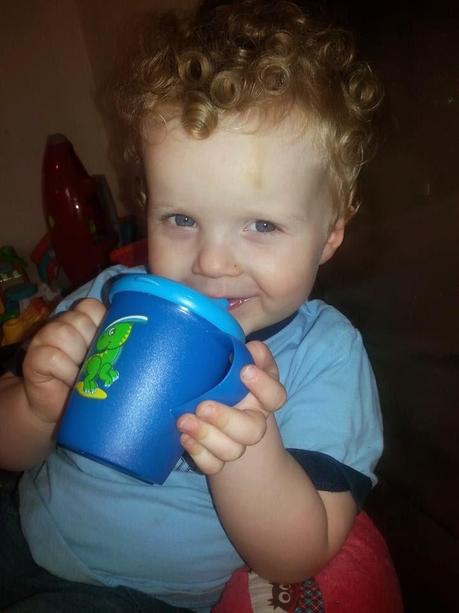 My son does like to drop his cups all over the cheeky monkey! and when I picked it up as it was on its side it never leaked out which is very good.
Water plus milk in Alfies dino cup as a Dental Nurse very important to me no way am I saying my kids don't have some soft pure juices in our house as they do sometimes as a treat once in a while nothing wrong with this if good oral hygiene plus regular dental visits for fluoride application.
Cleaning no problem as it can go in your dishwasher.
For around £2.95 I don't think you can go wrong with this for a baby/toddler cup. My son has thrown it about a few times and its still standing so very durable.
Do have to say we have a large selection on cups in our house as just love choosing from some many wonderful deigns.  
More information on this items and others pop over to -  http://www.habermanbaby.com/
Your chance to *WIN*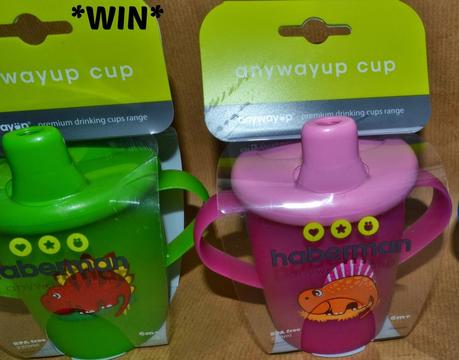 Haberman 
Baby Goods/Kids Goods have given us at Precious Little Worlds
two of the dino cups one
green
& a
pink
one to giveaway in a competition all you need to do is fill out the gleam competition app below.
WIN One Of Two Haberman Baby Dino Cups