Hey guys. I guess my break from blogging left me a little out of practice. I don't just grab my camera when I leave the house anymore, which is why my posts were lacking yesterday… Blogger FAIL!
Breakfast
bring out the same old same old!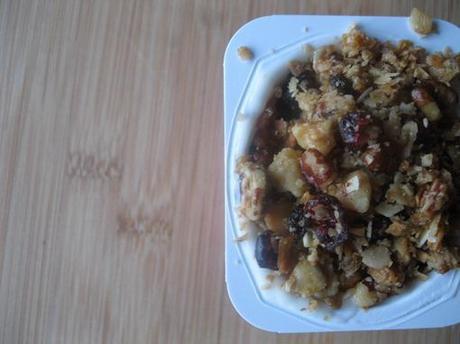 Vanilla yogurt with granola on top. Yummmmms!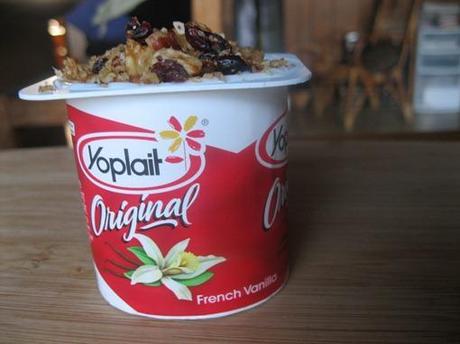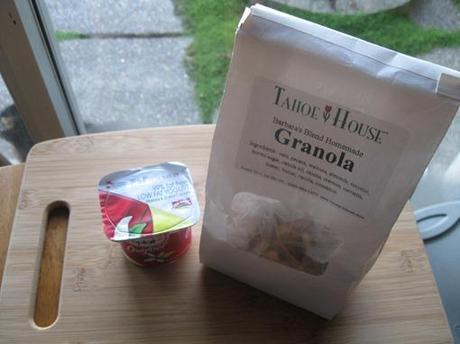 Let's Get Fit… Again!
Many of you might remember the circuit workout I posted a month ago titled Let's Get Fit, Again!. It's a pretty awesome workout with cardio circuits, distance running, and days of outdoor fun.
It's no secret I haven't been doing any fitness lately. Except for the daily 30 minute hike to and from classes, but this is all going to change. Lately I've been itching to get back in the game. I like feeling strong and I love sweating

. I don't think my ankle was ready before and now I feel like it's healed enough to handle the activity.
So, I'm getting fit again! With my old circuit workout and a new super cool tool.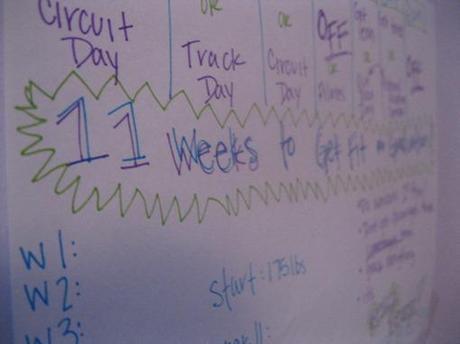 I'm happy with my body but I do want to tighten and tone up, especially since some HUGE milestones are coming up.
The Summer Milestone List
Graduation from college
an amazing vacation season this summer including a Family Reunion in New Mexico!!!
I'm going to be going on job interviews
and my 24th birthday
All reasons why it's time to get feeling confident in every way possible.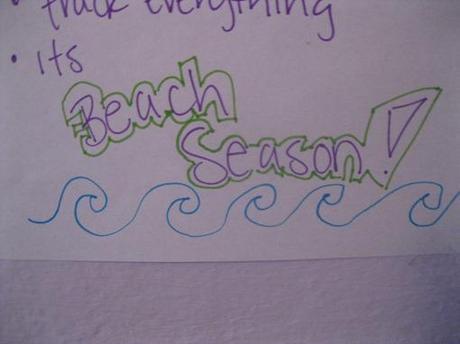 Yesterday I sat down to make a plan. A little OCD… YES! I realized if I start working out on Monday (tomorrow) that will be a full 11 weeks before my graduation, the first milestone on my Summer Milestone List.
A lot can happen in a measly 11 weeks. I can get super fit and strong, and maybe even drop a few lbs.
To help me reach my goals, I found this amazing FREE app in the Apple App Store called Nike Training Club. It's for Women and it's basically a personal trainer to help you reach any fitness goal. When you open the app, you get tons of choices. Do you want to Get Toned, Get Lean, Get Strong or Get Focused? Then you chose whether you want a beginner, intermediate or advanced level workout.  Once you choose a level a list of workouts, organized by time, appears. Then a woman walks you through each exercise, times your intervals and gives videos on how to do each exercise. The only equipment needed is a medicine ball, free weights and a jump rope. All of which you can improvise if you don't have them. The best part… it hooks up to your iPod or music files so you can play your tunes through the entire thing!
I don't want to focus on building muscles, I want lean strong muscles and to be in great cardio shape. So I want to Get Lean and Get Toned most days. I'm sure I'll change it up once in a while. I also mapped out my old Get Fit Again! circuit routine so I can do that as a change up too.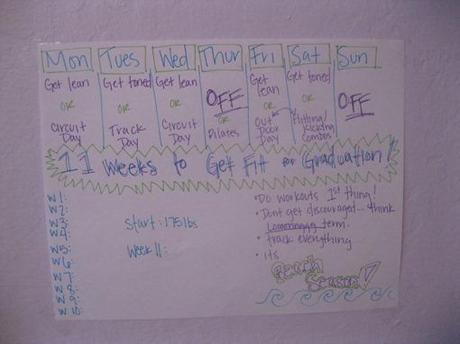 I chose Thursday as my mid week day off because that's the day I have blocked classes from 12pm to 6pm. On all the other days I don't have to be on campus until late afternoon. A perfect schedule to ensure working out time!!!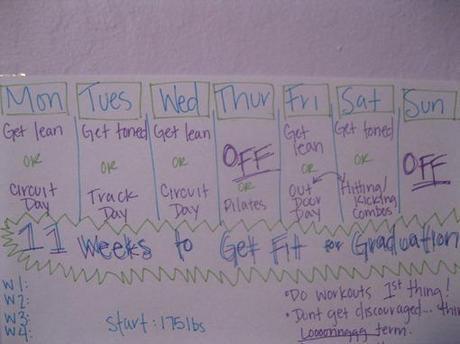 I find that simple schedules work best for me when setting up a workout plan. I like having choices. I also like to make a few little guides to help me through the process.
Do my workout first thing in the morning… before breakfast!
Don't get discouraged… think loooonngggg term.
track all food, even on the Healthy Hell Days.
and remember… It's Beach Season

(get a little motivation in there at the end)
I'm just tightening up on my eating, making more healthy choices. I'm not going on a diet. I have a place each week to write in my weight because it's been proven that people who weigh themselves once a week lose more weight then those who don't. But remember, a number is a number… It can ever define you or me!
I have a few more little plans up my sleeve for this process. I can't wait to share them. But, you and I'll have to. It's much more fun this way.
Question of the day
How do you schedule workouts? Are you a planner like me? Maybe an Excel wizard…