Hi!
Not everybody likes to do a 10 or 12 step skincare routine twice a day, especially, people who are just getting into a routine. Short and simple, but effective is the way to go. In this post, I will provide some guidelines to develop a good skincare routine, for beginners.
A few of my friends have asked my opinion about their skincare routine. So I hope this post will be of help.
Over the years, I have learned that a gentle skincare routine is the best way to go about, specifically while picking treatments and actives. You start off with gentle ones, and once the skin is used to certain actives, you can increase the intensity.
Here is what my current morning skincare routine looks like.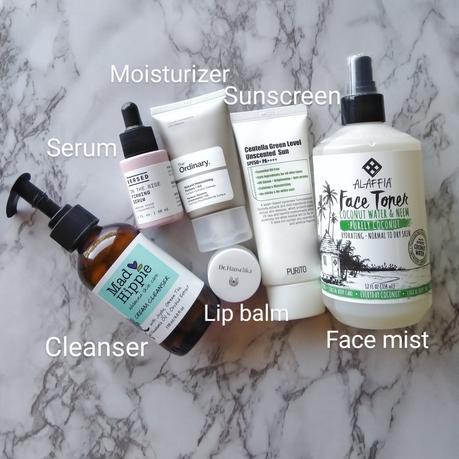 The routine is organized as follows:
Cleansing
Actives
Hydration
Sun protection 
Some definitions that might be helpful.
Cleansers
: These are products that
clean
our skin by removing makeup, sunscreen, dirt accumulated during the course of the day and oil secreted by our skin. 
Actives
: Actives are ingredients, that 
target specific skin issues
, such as pigmentation, acne, signs of aging, dryness, etc.
Humectants
: A humectant is an ingredient that absorbs and/or retains moisture. By doing this, they prevent the loss of moisture from the skin.  Some common humectants found in a lot of skincare products are glycerin, hyaluronic acid.With the definitions out of the way, lets jump into the steps of the routine.
CLEANSING
Cleansing is very important. Assuming your night time routine was done, I'd say go by how your skin feels in the morning and decide if you want to use a cleanser to wash your face or just splash water. I know a lot of people who just splash water in the morning and go about their morning routine. So its up to you.
For me, I sometimes splash water, if my skin feels dry (which happens during colder months).
But if you have oily skin and feel that any product build up might clog your pores, please use a cleanser.
Also, since a cleanser is washed off within a few seconds, I recommend getting an affordable one and rather invest in treatments and serums.
Here are a few morning cleansers that I like
Cerave hydrating cleanser
Cerave foaming cleanser
Krave beauty match hemp cleanser
Stratia velvet cleansing milk
La Roche Posay toleriane hydrating gentle facial cleanser
ACTIVES
My favorite active ingredients are 
Vitamin C
 (helps with pigmentation, aging), 
Vitamin A
 or Retinol (helps with aging, acne), 
Hyaluronic Acid
 (helps with dehydration) and 
Lactic Acid
 (helps with pigmentation, chemical exfoliation).
I strongly suggest incorporating a 
Vitamin C
 serum in the 
morning
. It is an amazing anti-oxidant for the skin. I prefer L-Ascorbic acid, which is the most effective for me. It could be slightly harsh for people with sensitive skin and for that, there are other forms of Vitamin C, that are much milder.
If you want to know more about the benefits of Vitamin C you can read 
this
 article.
A few good Vitamin C serums
Maelove The glow maker
Skindeva 20% vitamin C + ferulic acid serum
Timeless 20% vitamin C + ferulic acid serum
NOTE: If you incorporate a vitamin C in your morning routine, It is a 
MUST
 to apply 
sunscreen
 generously.
HYDRATION
It is important to hydrate the skin, especially after cleansing the skin. You can achieve hydration either with a serum containing a 
humectant
 or skip the serum and use a 
moisturizer
.
Any serum with humectants will work. You can also use serums that have a mixture of anti-oxidants and humectants.
These are a few hydrating serums
Versed on the rise firming serum
La Roche-Posay Hyalu B5 Pure Hyaluronic Acid Face Serum
Vichy Minéral 89 Face Serum with Hyaluronic Acid
The Ordinary Hyaluronic Acid 2% + B5
The Inkey list

 Polyglutamic Acid Hydrating Serum
There are a lot of hydrating serums in the market for you to pick and choose.
If in case you want to add a moisturizer here are a few good ones
The ordinary natural moisturizing factors + HA

The inkey list vitamin B, C and E moisturizer
The inkey list peptide moisturizer
PROTECT
It is extremely 

important

 to use a 

sunscreen

, 

DAILY

, to protect and retain all the work the active ingredients do for us. And to prevent further sun damage. 
It is important to choose a sunscreen with the right texture, feel and finish. Because you have to really like your sunscreen for you to wear it daily. Trust me, I have been there. I have used sunscreens with white cast, fragrance, felt too oily, felt too matte, etc., and did not like how it felt on my skin and neglected daily usage. I paid the price with a bunch of brown spots, tan and god knows what else!
Sun damage also accelerates fine lines and wrinkles. So please use a sunscreen daily.
Some good brands that do great sunscreens are
La Roche Posay

Elta MD

Supergoop

Neutrogena

Murad

Krave Beauty The Beet Shield
There are different finishes that suit oily, normal, combination and dry skin. 
And if you are familiar with Korean skincare, they have some of the best sunscreens. 
Let me know if you want to know more about sunscreens, I can make a separate post on them.
This completes part -1 of your skincare routine. 
Check out part -2 for details on night time routine.