I'd like to welcome Nicole from The Reader's Antidote! She's come to Literary Exploration to provide her thoughts on the ghostly thriller, Anna Dressed in Blood by Kendare Blake!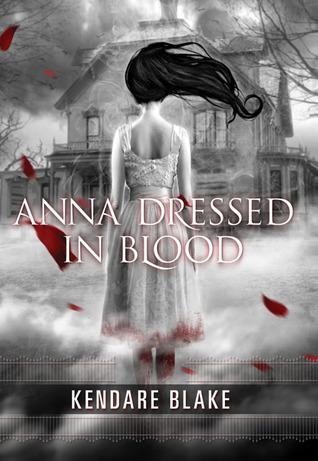 Anna Dressed in Blood
by Kendare Blake
Publication Date:
August 30th, 2011
Publisher:
Tor Teen
Page Count:
316 pages
Nicole's Rating:
 5/5
Purchase from Amazon: 
Anna Dressed in Blood
Just your average boy-meets-girl, girl-kills-people story. . .
Cas Lowood has inherited an unusual vocation: He kills the dead.
So did his father before him, until his gruesome murder by a ghost he sought to kill. Now, armed with his father's mysterious and deadly athame, Cas travels the country with his kitchen-witch mother and their spirit-sniffing cat. Together they follow legends and local lore, trying to keep up with the murderous dead—keeping pesky things like the future and friends at bay.
When they arrive in a new town in search of a ghost the locals call Anna Dressed in Blood, Cas doesn't expect anything outside of the ordinary: move, hunt, kill. What he finds instead is a girl entangled in curses and rage, a ghost like he's never faced before. She still wears the dress she wore on the day of her brutal murder in 1958: once white, but now stained red and dripping blood. Since her death, Anna has killed any and every person who has dared to step into the deserted Victorian she used to call home.
And she, for whatever reason, spares his life.
Anna Dressed in Blood was a delightful surprise, and by delightful I mean creepy and haunting with a taboo love story. Yeah, it was that good. When people tell you a story is scary, you don't truly believe them until you read it yourself. This is one of those books. I wasn't prepared for how the author so vividly described the ghostly encounters, and honestly I fell a little in love with the ghost world Cass was so involved in.
Cas has been spending a good chunk of his life moving around with his mother and following leads to haunts and spooks that he can destroy with his father's athame. What he's really doing is building up the skill to finally face the ghost that killed his father (or should I say bit chunks out of him). Creeped out yet? It gets better. He gets a tip from a source in New Orleans, and he's off to Thunder Bay to meet Anna dressed in blood.
Then Cas gets careless. He goes to the house that Anna haunts with a couple kids from school. They trick him, hit him over the head with a board and push him inside the house. Anyone that goes inside the house goes missing (cliche, but completely true). And we find out that Cas is the only human Anna doesn't have to kill. But what does that mean, you ask? You'll have to read to find out!
If you like scary books, this is for you. If you don't like scary books, this is for you. Believe me, I hate scary movies as much as the next paranoid (even Zombieland creeped me out), but I fell in love with the characters in this book. I have no complaints! But be forewarned... It ends in a cliffhanger that will have you begging for the sequel. If you haven't picked up Anna Dressed in Blood, I strongly suggest it. Also, as a tip from one reader to another, do NOT read this at night in your bed by yourself. You will not sleep very well, and I say this from experience. Now, go forth, and purchase this amazing, unique, and exhilarating YA read!
*Be sure to check out Nicole's blog for more of her awesome reviews!*