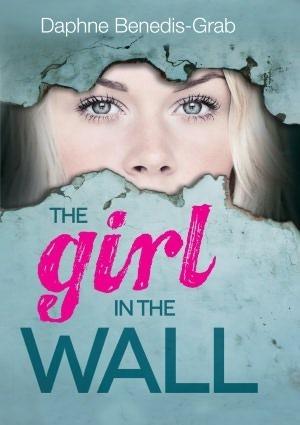 The Girl in the Wall by Daphne Benedis-Grab 
Expected Publication Date: December 18th, 2012
Publisher: Merit Press
Page Count: 256 pages
Add to Goodreads

Ariel's birthday weekend looks to be the event of the season, with a private concert by rock star Hudson Winters on the grounds of her family's east coast estate, and all of Ariel's elite prep school friends in attendance. The only person who's dreading the party is Sera, Ariel's former best friend, whose father is forcing her to go. Sera has been the school pariah since she betrayed Ariel, and she now avoids Ariel and their former friends. Thrown together, Ariel and Sera can agree on one thing: this could be one very long night. 
They have no idea just how right they are. 
Only moments after the concert begins and the lights go down, thugs open fire on parents and schoolmates alike, in a plot against Ariel's father that quickly spins out of control. As the entire party is taken hostage, the girls are forced apart. Ariel escapes into the hidden tunnels in the family mansion, where she and Sera played as children. Only Sera, who forges an unlikely alliance with Hudson Winters, knows where her friend could be. As the industrial terrorist plot unravels and the death toll climbs, Ariel and Sera must recall the sisterhood that once sustained them as they try to save themselves and each other on the longest night of their lives.
Three Life Lessons from THE GIRL IN THE WALL that I Wish my Teenage Self had Learned
By Daphne Benedis-Grab, Author of 
The Girl in the Wall
 (Merit Press)
1. Good Friends are to be Cherished

My new novel, 
The Girl in the Wall
, is about a posh party taken hostage and it's narrated by two former BFFs who had a falling out exactly nine months and eleven days earlier (they both keep track). Ariel is the one who feels she was wronged so she responded by wronging Sera, making her a social outcast, despite years of slumber parties, shared secrets and the priceless experience of that friend who really and truly gets you. Over the course of the story hostage stuff happens but along with that Ariel learns that there are some pretty golden reasons why lesson number one is 'good friends are to be cherished'. I won't give away particulars but I will say that Teen-me sure could have used this wisdom back in high school.Teen-me cared deeply about her friends but she cared even more about something else: being cool. Teen-me was not cool and so she strove for coolness with the singular passion only a teenage girl can have. And that kind of passion gets results. Teen-me managed to claw her way into the cool kids crowd, where she met some nice enough people and enjoyed the experience of feeling cool. But it was work, real work, to maintain the cool status and the friendships in that group did not run deep. But the some of the friends, the real, truly got-me friends, that Teen-me shed along the way? I miss them still.
2. The Mean Girls Don't Matter in the End

When Ariel designated Sera as the class pariah in their small private school, mean girls came out of the woodwork. All of a sudden Sera, who had known only popularity and worship from her peers, was getting snide remarks and hearing her name connected to the words 'backstabbing bitch', not exactly a self esteem booster. For nine months and eleven days Sera let this treatment batter her down, so that she was eventually walking the halls of school like a beaten dog, terrified of the cruelty that could come her way at any moment. Things change over the course of the story, of course, but I won't give any of that away here, I'll just say that Teen-me definitely understood where Sera was coming from.Teen-me lived in terror of mean girls. I think in my case my deepest fear was that someone would decide that I was a fraud who did not belong in the cool group, that my coolness was a fake, and as a result so was I. For Teen-me being cool meant having to care desperately about how other people judged me, and a negative judgment could crush my self esteem for weeks. Teen-me handed over the power of self esteem to others, a terrible and costly mistake that made high school a lot harder than it needed to be.
3. Have Some Backbone, Girl!

When masked people carrying guns take over the party you are attending, when the hostage situation goes wrong and suddenly everyone's lives are at stake, you face a choice: cooperate and hope for the best, or get a backbone and fight. There are a lot of ways to fight and over the course of the book both Sera and Ariel discover which ways work for them. You'll have to read the book to see what they choose and how it all goes down in the end, but I will say that Teen-me could have used an introduction to the concept of backbone.For Teen-me, this would actually have been the single most important thing to learn, the thing that would make lessons number 1 and 2 obvious and unnecessary. Fighting does not always mean direct confrontation, it means having backbone and sticking to what you know is right. Mean girl calls you a fraud? Whatever. Friends aren't cool? If they are true friends who cares? Wait, who cares, that mean girl over there? No worries, you have backbone so you don't care what she thinks. In the end it all comes down to the backbone, believing in yourself enough to stick up for yourself no matter what.Sera and Ariel had a night where their lives were at risk, where everything that mattered was on the line. In the face of that crisis they leaned things that it took Teen-me most of my twenties to figure out. But I think given the choice, I'd rather have taken in these lessons more slowly rather than faced my mortality at seventeen. And in the end what matters is that I did finally learn all three of these lessons and each has served me well!© 2012 Daphne Benedis-Grab, author of 
The Girl in the Wall

Author Bio
Daphne Benedis-Grab
, author of 
The Girl in the Wall
, earned her MFA in creative writing from The New School, where she began the thesis that became her first book, 
Alive and Well in Prague, New York
. She has worked a number of jobs including buildings houses for Habitat for Humanity and teaching adult literacy classes. She lives with her husband and their two children in New York City.
For more information please visit 

http://www.daphnebg.com

 and 

http://www.adamsmedia.com/merit-press-books

, and follow the author on 

Facebook

 and 

Twitter