On Monday, I got to watch a sneak-peek of 17 minutes of Marvel's Guardians of the Galaxy, which comes out on August 1st.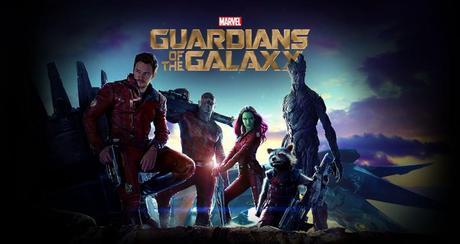 Guardians of the Galaxy are a rag-tag group of aliens (or half-alien in the case of Star-Lord) who team up to save, you guessed it, the galaxy. The group up is made up of Star-Lord (aka Peter Quill), played by Chris Pratt, an American who is the leader of the group; Gamora, played by Zoe Saldana, a green trained assassin; Drax the Destroyer, played by Dave Bautista, the vengeful warrior; Groot, voiced by Vin Disel, a sentient tree-like creature; and Rocket Raccoon, voiced by Bradley Cooper, an expert marksman and master tactician.
I was really looking forward to this screening and went early to get a good seat in the IMAX theater. I did, but I was slightly disappointed to hear the couple next to mean arguing before the show started. Apparently, she was not a fan AT ALL and was upset that he "dragged" her there for something that wasn't even a whole movie. He even had to explain to her what it was even about and who the characters are. *Le sigh*
The 17 minute preview screening was awesome, full of action and witty dialog. Although I had hoped it would be 17 minutes of new footage we haven't had a chance to see (parts are seen in the trailer), I was really happy with what we got to see and it made me very excited to see the movie in it's entirety. I had hopes the girl who was dragged there would have a change of heart and actually enjoy the movie preview, but nope, she was still pissed as they were leaving. Can't win them all I guess.
Here's the trailer:
~Laura