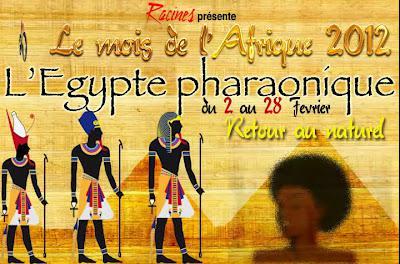 Guadeloupe's Le Mois de l'Afrique (MDA) is the French Caribbean island's commemoration of Black History month. The MDA's objectives are clearly set out: i) to actively participate in the cultural and intellectual development of its country; and, 2) to be a contributor to the economy and tourism product of the island of Guadeloupe. Now in its 9th year, the celebration (February 2 - 28) took the theme - L'Egypte Pharaonique for 2012 and presented a variety of topics, including:
exhibition of paraphernalia from the days of the Pharaoh - replica of tomb, medicines from that period of history, slides on the process of mummification

several seminars on Egyptian religious practices and Egyptian history

Afro-Caribbean market

dance exhibitions and African film nights

Story telling for children and students (time for the Griot)

display of types yoga
Also invited to take part in this year's le Mois de l'Afrique was Drs. Mireille Liong-A-Kong. She was given the task of conducting a workshop and presentation on 'Retour au naturel' - 'Going Natural.'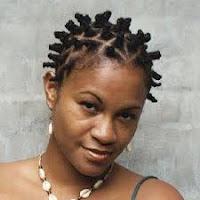 Mireille Liong-A-Kong, author of
Going-Natural: How to Fall in Love with Nappy Hair
Drs. Liong-A-Kong - who hails from Suriname, is the the author of
Going-Natural: How to Fall in Love with Nappy Hair
and the founder of
going-natural.com
. The book has become a source of inspiration to many women of the diaspora who have always wanted to know how best to transition from relaxed hair to natural hair. The table of contents reads,
inter alia
: Going Natural, Afrikan Hair and Afrikan Hair Care, Transitioning; and, Going Locs.
Here is an exerpt of what Liong-A-Kong had to say whilst in Guadeloupe:
"

The invitation shows that the history of Black people is not limited by borders but rather connected at it's roots. And in this case even literally... . Black women all over the world are dealing with the same issues that stem from stigmatizing African hair the moment Black people were taken to the western world."
I find what Drs. Liong-A-Kong said to be very interesting, and also bearing some truth. Here you have a Surinamese lady now living in the US, being invited to speak at in a French-speaking country about something that they (and I) share: an African heritage, our African roots - literally and figuratively. There is more that binds us together, than what can be presented as evidence to tear us down. 
In another interview (2007) by Clutch Magazine, Drs Liong-A-Kong spoke candidly of her own love for her hair. She really reiterated to me the importance of loving who I am regardless of what others might say (not that I have that problem). Her words say it best:
 "

I think the biggest obstacle is really a mental one. Women are truly sensitive when it comes to family's and friend's attitude."
Is it that as women we wish to please those around us, so we try our best to follow the pictures of how others view us? So conforming or staying in line becomes a priority, a habit to maintain the status quo, to keep the peace.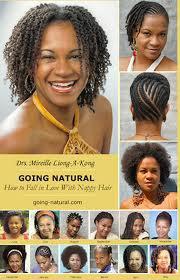 Front cover of the book with photos of
Liong-A-Kong
Going-Natural: How to Fall in Love with Nappy Hair
(Sabi Wiri Inc., 2004)
And at times, it really is all in the mind. We even make up entire conversations of how we think a particular conversation would go, should we be asked about why we were going natural. Many times, these conversations never even happen.
Whatever happened to just pleasing yourself?  Naturally?    :)
Have you been inspired by Drs. Mareille Liong-A-Kong's top-selling book, Going-Natural: How to Fall in Love with Nappy Hair?  Which part(s) did you find most interesting? Or, what about her resource site? 
And for those of you who are interested, going-natural.com is also running the America's Next Natural Model search. So check it out for further details.