If your favorite childhood memory is going to the zoo with your family (and if you still like visiting Zoo), then Griffin were thinking of you when they created KaZoo silicone cases for iPod Touch 5G and iPhone 5. The Kazoo cases from Griffin will let you always have your favorite animal in your pocket! There are several cute animals, designed by artist Bill Caywood.
Kazoo silicone iPod touch 5G cases are specially designed for the iPod touch 5th generation; iPod fits perfectly into the case and is therefore optimally protected. Naturally, the iPod touch remains fully accessible while in the case: there are model-specific cut-outs for all buttons, ports and the camera. KaZoo's animal iPod Touch 5G and iPhone 5 cases are made from durable, soft silicone protecting your device against dirt and scratches.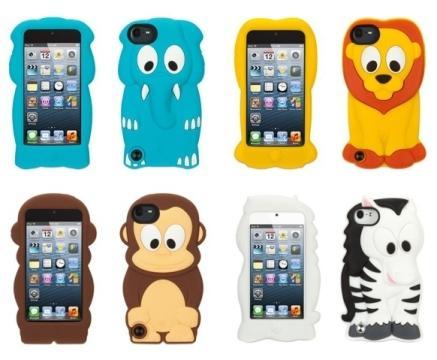 Griffin Kazoo Silicone Case for iPod Touch 5G – Elephant, Lion, Monkey, Zebra
These iPod Touch 5G accessories by Griffin are made in limited editions so the chances that your friends have the same one are very small. There is also a free app, Kazoo Keeper, and if you download it, you will find cool wallpapers and interesting games. What can be more fun than the zoo animals? Choose your favorite one: elephant, lion, zebra or maybe that funny monkey?