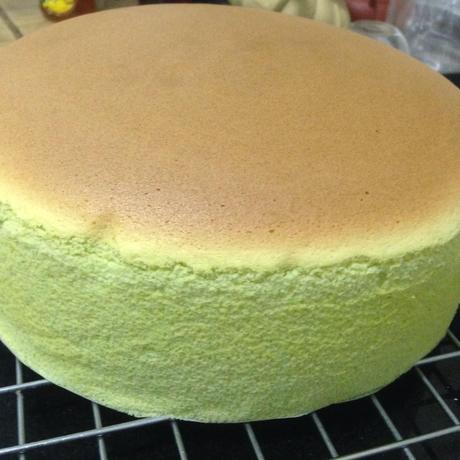 I saw this recipe on Happy Home Baking, I love how nice and tall her cake stands and hardly any shrinkage at all...she had only done a few Japanese cheesecakes and managed to achieve such success so I reckoned her recipe must be good huh! An so I proceeded to try it out since it used so little cream cheese and I happened to have some in the fridge. I also added some greentea since I have some left. Let the photos speak....:D
Here's the recipe if you want to try it...do visit Happy Home Baking to see her other wonderful bakes.
Thanks to her that I have this delicious cake to show off lol!
Japanese Soufflé Cheesecake 日式舒芙蕾芝士蛋糕
Recipe adapted from Happy Home Baking
Ingredients:
(makes one 8" cake)
125g cream cheese, cut into cubes
60g unsalted butter, cut into cubes
5 egg yolks (I used eggs with net weight of 55g)
125g milk
1 teaspoon lemon juice
75g cake flour
35g corn flour
1 tablespoon greentea powder
5 egg whites (I used eggs with net weight of 55g)
120g caster sugar
1/2 teaspoon lemon juice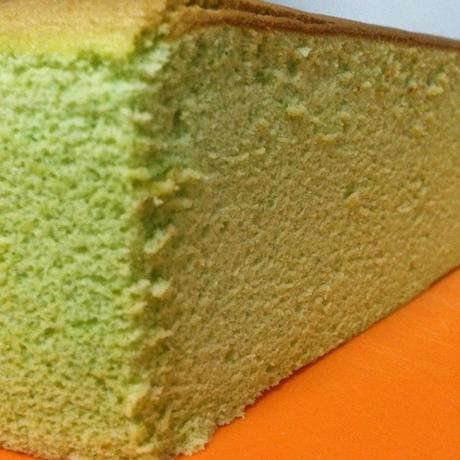 Method:
1. Line the base and sides of a 8" round cake pan(fixed base) with parchment paper. For the sides, make sure the parchment paper extends higher than the cake pan by about 1.5 inches as the cake will expand and rise above the rim of the pan, set aside.
2. Sieve together cake flour, corn flour and greentea powder; set aside.
3. Melt cream cheese and butter in a double boiler, stirring until mixture is lump free. Remove from heat and leave to cool.
4. When ready, add the egg yolks to the cream cheese and butter mixture, one at a time, and with a balloon whisk, whisk to combine.
5. Add milk, whisk to combine. Add lemon juice, whisk to combine.
6. Sieve over the flour mixture, whisk to combine. Small lumps may form once the flour is added, whisk the batter gently till there are no lumps, do not over mix.
7. In a clean, dry mixing bowl, beat egg whites and lemon juice with an electric mixer on low speed until mixture becomes frothy and foamy. Add half of the sugar and turn to medium-high speed and beat the mixture. Continue to add in the remaining sugar mixture in separate additions and beat until the egg whites reaches the soft peak stage.The soft peak stage is reached when the peaks of the whites curl over and droop slightly. Turn to low speed and beat for another 1 to 2 mins (this helps to minimize large air bubbles).
8. Add the beaten egg whites to the cream cheese mixture in 3 separate additions, each time fold with a rubber spatula (I prefer to use a balloon whisk) until just blended.
9. Pour batter into the prepared cake pan.(I pour it from a height slowly to help remove big air bubbles.) Tap the pan lightly on a table top to level up the batter and also to further remove air bubbles.
10. Place cake pan in a baking tray. Fill the baking tray with hot water (the water should rise up to about 1 inch of the cake pan).
11. Bake on lower rack of the oven for 60 minutes at 150 degC.
12. Remove cake pan from oven and immediately drop the pan at a height of 20~30cm onto the table top.(I forgot to do this part!) This helps to prevent the cake from shrinking upon cooling. Unmould the cake immediately. To unmold, place a large plate or baking sheet on top of the cake pan, invert the cake pan onto the plate/baking sheet. Remove the cake pan and the parchment paper on the base and sides of the cake (Note: do use oven mitten as the cake pan will be very hot). Next, place a cooling rack on the base of the cake, invert the cake right side up onto the cooling rack and leave to cool completely. Leave the cake to chill in the fridge for about 2 to 3 hours, best overnight, before serving.
HHB's Recipe source: adapted from here.