Driving across the great state of Texas can be both overwhelming and transformative. What I mean, is that you can be driving for anywhere up to 10 hours, and still, you'll be in Texas. If that's not overwhelming, I don't know what is. This is one HUGE state, and there's no shortage of interesting landscapes, and ever-changing scenery.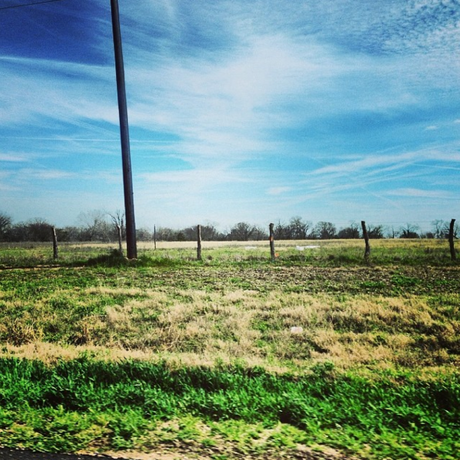 This past weekend, I was afforded the opportunity to make the trek eastward to Jacksonville, TX, a tiny town known for its concrete tomatoes, and world's largest bowl of salsa. I'm not even kidding you. These are things that are real. Anyway, my husband's sister was set to marry the love of her life in this tomato loving town, and provided us the reason to pack up our truck, and head out on a 5-hour road trip! 
The wedding was beautiful, and I had a lot of fun getting to know more of my husband's side of the family. The next morning, after a truly sad continental breakfast at our hotel complete with broken (unplugged) toaster and luke-warm and questionable sausage links, and a delicious lunch at my husband's brother's beautiful home in Tyler, it was time to hit the road and make our way home to Wimberley.
The clouds started crawling in almost immediately, and the skies opened up. Rain was pounding down, and actually served as a brilliant backdrop to the dead and dying towns we drove through.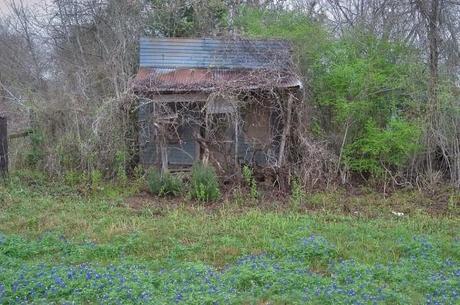 Abandoned homes with broken out windows, doors hanging on by a hinge, and sheets acting as walls became something of a norm dotting the landscape. The gloomy skies gave way to seemingly impossible darkness, with even more rain. But there was a sound that trumped the cacophonous pounding rain: our stomachs.
Luckily, we were starting to see signs of civilization, and that meant that we were only miles away from Round Rock, Austin's neighboring city to the north. Whew! My husband asked me to find a place to stop for some dinner, and I figured the best way to find something family friendly in Round Rock would be to search the Austin City Guide! So awesome.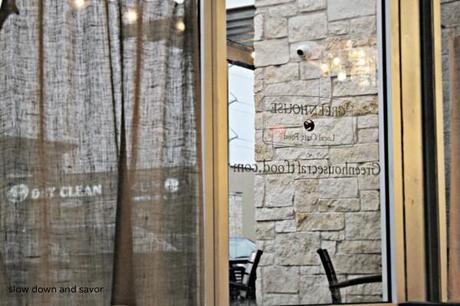 After reading the various descriptions of the restaurants on the guide, we settled on Greenhouse Craft Food. Basically, Greenhouse Craft Food is a casual farm to table restaurant that serves up delicious, fresh and wholesome food that's raised, grown, harvested and created just around the corner, and satisfies all tastes and ages.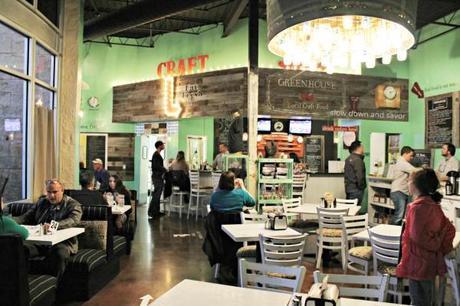 We arrived, parked and ran inside the warm, funky and rustic restaurant to escape from the cold, wet evening. First things first. This place was really cute.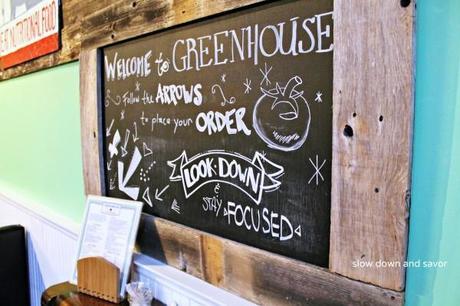 I loved the decor, and the way the dining space reflected their mission: waste nothing! Using Ball canning jars in the chandelier, burlap on the seats, and refurbished wood art, they found new uses for old things. We loved the whimsical nature of the place.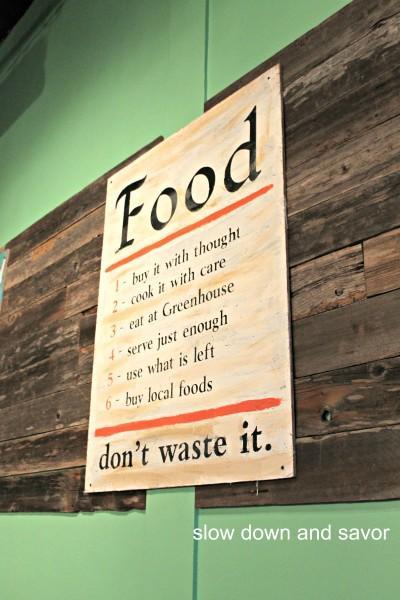 But we didn't take too much time taking everything in. We were STARVING, and quickly followed the arrows on the stained concrete floor to the register where we were faced with the menus and the register.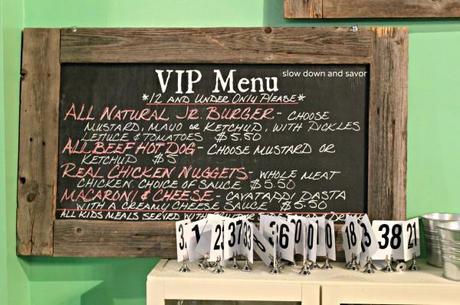 Based on the City Guide review from Red White & Blueberries, we knew that we wanted to start with an order of their Hatch Chili White Bean Hummus. My husband picked the Big Spender burger (Strube Ranch Wagyu burger, tomatoes, house-made pickles, caramelized onions, sharp cheddar, house sauce, on a sweet bun.), the kiddo chose the hot dog and fruit cup from the VIP menu, and I decided on the Big Pig Sandwich (Braised pork butt, house-made pickles, smoked onions, slaw, chipotle cider aioli) with a couple slices of their house-made bacon, because, why not add bacon to the Big Pig? The little one went with some cherry cola from Dublin Bottling Co., and my husband and I each went with a local brew on tap. Yum.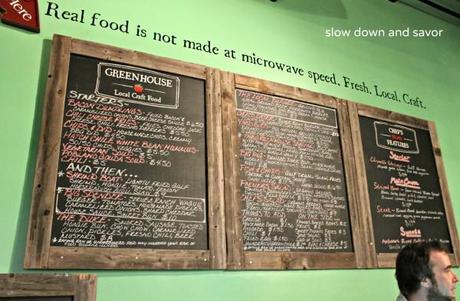 We got our number, found a seat and finally began to relax.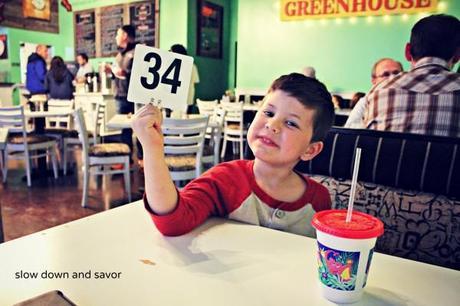 What a long day already! While we sat at our table, I saw that over in the far corner by the bar, there was a map. Upon closer look, this wall was dedicated to showing us diners exactly where the ingredients of your meal came from.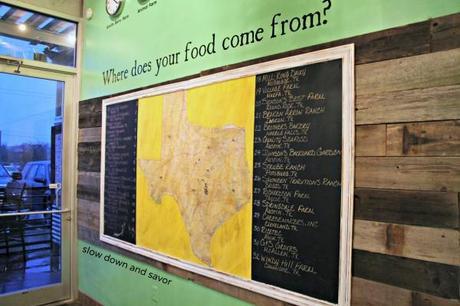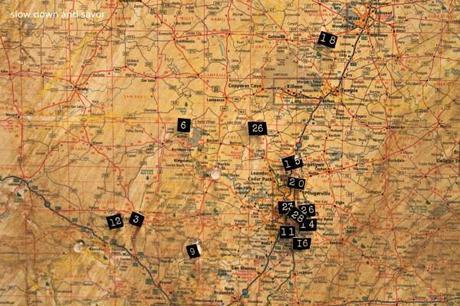 Very cool. There really was no mistaking what this place was all about, and I know that we were all very excited to sink our teeth into our ultra local and super fresh meals.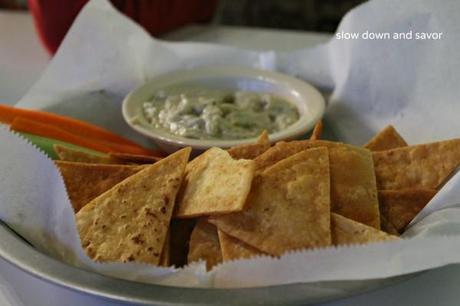 After hardly any wait at all, our hummus made it to our table, and to our tummies. I LOVED THE HUMMUS. We all loved the hummus. It was garlicky, smooth and packed with flavor. It was perfect with the carrots, celery and house-made chips. I'm unclear what sort of chips these were, since they seemed too thin to be pita chips, but all I know is that they were good, albeit a touch salty for my taste, but still very good. Anything would be good with that hummus on it, let's just be honest.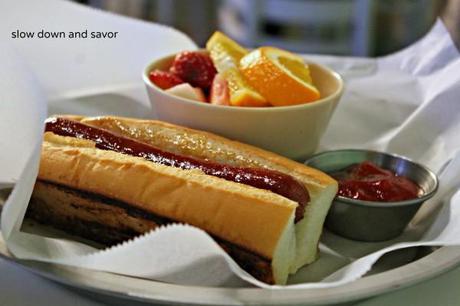 Soon after we finished the hummus, our meals were presented to us. The kiddo liked his hot dog a lot. It looked pretty! But how can you mess up a hot dog. Hot dogs are the bee's knees, as far as I'm concerned.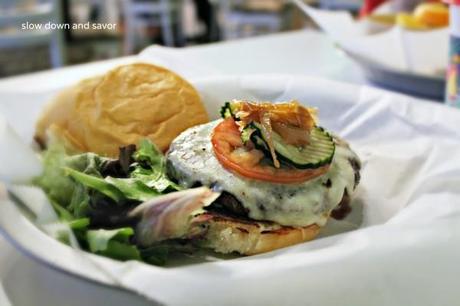 My husband's Waygu burger was, well, it was good. I guess when expectations are set really high, and when the small technique things that shouldn't go wrong do, we were a little let down.  It seemed that the meat was more on the well-done side, when he had requested it be prepared at medium, and sadly, it was lacking. Not to say that it was bad. Because it wasn't bad at all! It was delicious, but it just didn't live up to what we'd have thought an ultra fresh burger made with the best meat you can get in this country, should be.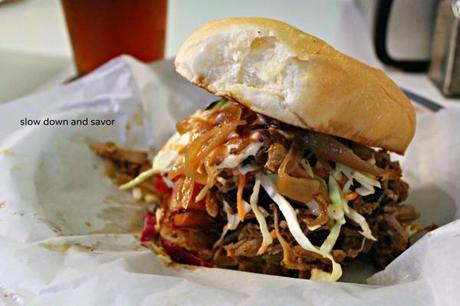 As for the Big Pig? I had similar concerns regarding salt with this sandwich. This was dumbfounding. The pork was tender and juicy, but somehow, it didn't have gusto. Weird. The slaw was good. The meat was good. The whole sandwich was just missing something, and that something was salt. If I could have taken some of the salt from the chips and put it on here, it'd have been perfect. I do have to say, the tart and crisp house-made pickles were sensational. Truly delicious. Drool-worthy. The bacon was awesome too.
So, at the end of the day, the three of us cleaned our plates, fell in love with the hummus, thought the mains were OK, enjoyed the fun and whimsical atmosphere, and had a good time.