Hearts, hearts everywhere!
I'm loving these Multi Heart Stencils from Stick It! Nail Vinyls, they are incredibly easy to use and my favorite part? The insides of the stencils don't lift up when you remove the stencil from the paper. I can't tell you how frustrating it is, though a lot of you probably know, when you are trying to use a nail vinyl and you have to pick out the insides. So aggravating! That's why I like these vinyls so much, aside form having a great variety, the vinyls are nice and stick and the insides stay where they are supposed to ;) 
For this fun heart look I started with a base of Sally Hansen Insta Dri Tag, Ur It! and applied a layer of Seche Vite over each nail to protect the polish from the vinyls. I applied the multi heart stencils to my nails, protected my skin with a layer of liquid latex and created the gradient using Lime Crime Parfait Day and Glam Polish Without Love and a cosmetic sponge. I removed the vinyls and liquid latex and sealed it all in with one final layer of Seche Vite.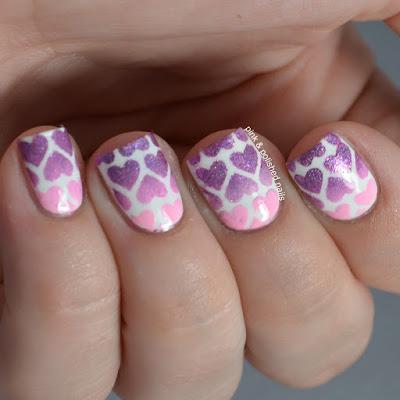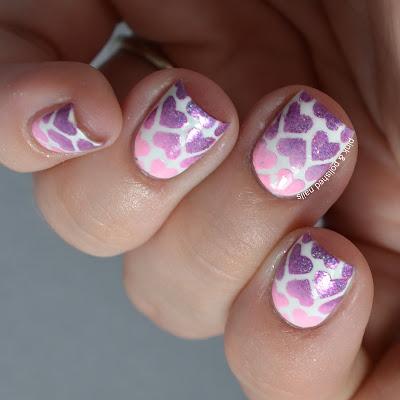 I absolutely LOVE how fun this look is! And it's so easy to create and use whatever color combination you want. I especially love the purple glitters in Glam Polish Without Love, such a perfect finishing touch ;) 
What do you guys think?
Have you tried Stick It! Nail Vinyls? What did you think?
Thanks loves :)