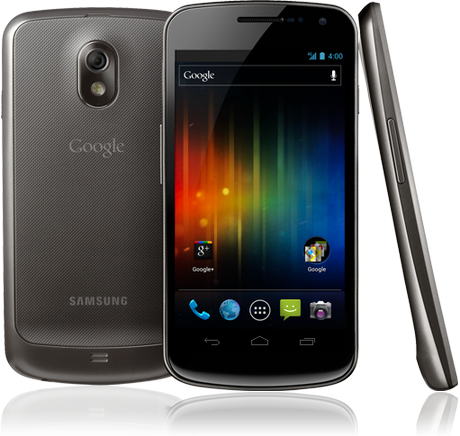 The Google Nexus Prime is here!. Yesterday, it was officially announced in that Hong Kong event.
Samsung Galaxy Nexus or Nexus Prime, is the first device which has the new OS Android 4.0 (Ice Cream Sandwich). But not only a good software is the main strength of this wonderful device: some cool and new hardware features comes into the picture.
Regarding the design, it has some similarities to the Samsung Galaxy S II with the amazing curved screen of the Google Nexus S. If you had the opportunity to play with those phones, you will see what I'm talking about.
Before going into details with hardware and software, you may want to check out this amazing commercial video. It looks like tron but in a Google way!

Ok now. The part that you might want to read.
Starting with the technical specs:
Dimensions

: 5.4in x 2.7in x .35in
Android 4.0 Ice Cream Sandwich
1.2GHz dual-core TI OMAP 4460 processor
4.65-inch 720×1280 Super AMOLED Plus Display. This is an amazing screen.
5-megapixel CMOS rear camera with LED flash, capable of video capture in 1080p
1.3-megapixel CMOS front-facing camera
NFC!! Yes!. Remember that Google Wallet will be an important key in Google's plan for this new market
1GB of RAM, 16/32 GB of on-board storage
Indeed it is a really good hardware, and I think it is the best so far that Samsung has built to the date.
But A good hardware is nothing without a good software (and viceversa). According to techcrunch, this are the coolest ICS features:
Ice Cream Sandwich's Finer Features:

The widgets system has been overhauled, with the primary new trick being resizability. The Gmail widget, for example, can be scaled to show just two recent e-mails at a time, or, with a brief hold of the widget and a quick drag of the edge markers, up to three or four.
You can, at long last, take screenshots right on the device. Outside of a few phones which had screenshot functionality hacked in by the manufacturers, nabbing a screen grab on Android generally entailed installing a massive SDK onto your computer and learning your way around the tools.
The browser has been thoroughly improved. It's got the usual bug fixes and performance enhancements, but also now allows you to save pages for offline reading and to request the non-mobile version of any page with just one click (presumably through a bit of user-agent trickery).
The new camera is really, really fast. Shutter lag is non-existant, and it's ready to take another picture in well under a second. I'm itching to do a quick-draw shoot out between the camera on the Galaxy Nexus and that of the iPhone 4S.
The speech-to-text engine has been completely overhauled, and is remarkably fast. You speak, and it'll transcribe each word in turn with but a second or two of delay. You've gotta see it to believe it (check it out in the video above at the 2:31 mark).
Also well worth seeing (9:25 in the video above): the Face Recognition Lock. Android takes a few seconds to analyze the structure of your face — once configured, your mug is the only one that the device will unlock for. In low light situations (wherein the camera might not be able to see you well enough) you can fall back to a swipe pattern (which ICS requires you set up while configuring the face detection).
To create a folder, you now simply drag one app on-top of another. Apps can also now be dragged in and out of the static dock area without trudging through settings.
They've tucked in a rather talented photo editing tool, with everything from scaling/cropping to basic photo filters. It's no Photoshop, but it'll probably hold you over until Instagram makes its way to Android.
To geek out for a moment, there was one small bit that was perhaps my favorite of all: the data usage monitor. With the quick drag of a few sliders across a graph, you can quickly peruse a timeline of your data usage, and narrow down which apps are the data-gobbling culprits. One more bar lets you set up automatic warning triggers for your data usage, while a final bar lets you set a point (say, half a meg shy of your monthly cap) at which your data connectivity automatically offs itself. As someone who gets nailed for data overages pretty much each and every month, I love it.
Finally you can take a look of the phone is the following pics:












techcrunch.com
I think this is going to be an amazing phone that many people is ready to get. Let's see how the OS behaves and of course all the many custom OS that will be created around this magnificent upgrade.
What do you think? is this phone a worthy rival for the iPhone 4s and iOS5?
Share your opinion in the comments section bellow