As previously announced, Google has officially unveiled Android 4.1 aka Jelly Bean! This update Ice Cream Sandwich is not revolutionary, but the image of iOS 6, brings new features.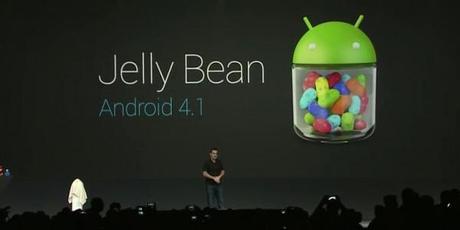 Android 4.1 - Jelly Bean
Let's start with Butter Project, which should fit the Android system more fluid by different means. The latter is now synchronized with the VSync, the famous refresh rate of 60 Hz of the screen, while the Triple Buffering should now ensure that the various components work in parallel. Similarly, voice recognition until then processed remotely on Google's servers, Siri as those of Apple, will now work directly on the terminal and offline if you wish! Typing on the keyboard and the route have also been improved. Camera function  is also improved with a facelift and an optimization of the latter.
Notifications, the highlight of Android, are also improved. Copied from Apple recently, they now endow additional functions to help you especially did not have to open the application. Example of this is an email notification which allows displaying a summary of a longer tape, to respond quickly with predefined text, without having to return to the application.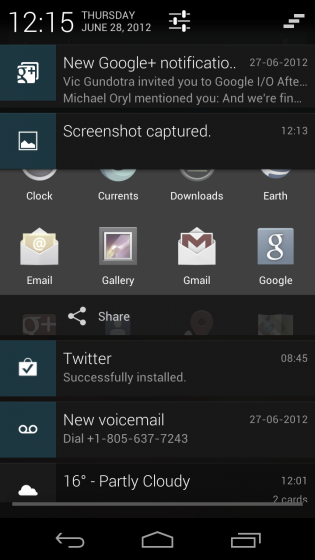 Notifications on Jelly Bean
Google Now makes its appearance, it is a series of predictive search functions. If you want to know the results of your favorite football team, you do not need to specify your favorite team, because you already searched Google.
Here is also Voice Search, Google's answer to Siri! Voice Search will provide factual answers to queries like "what time is it in New York" or "who will win Euro 2012″ or "what is the height of Mont Blanc." These searches can be driven by voice, and a wizard reads the results.
Android Jelly Bean will be available mid-July over the air on Galaxy Nexus, Nexus S and Motorola Xoom! The SDK for developers is meanwhile available today. Take a look at a video about most promising feature: Google Now:
* And as you are all familiar with, no matter if you own a Samsung, Apple, or any other smartphone, regardless of its OS, we have the right mobile accessories for you!