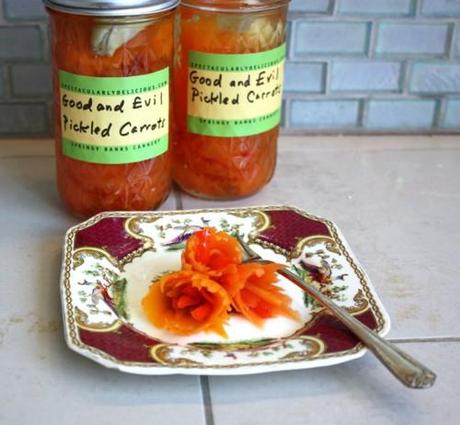 The "good" in this pickle is a creidt to the noble carrot — so healthy! The "evil" lurking within is ultra-hot habañero peppers. The cheery red color of the slender pepper slices look oh so innocent, rolled up as they are in the centers of the pretty little carrot flowers. And with the sweet pickling solution their incendiary flavor doesn't reveal itself right away. But like evil everywhere, it is discovered soon enough.
The curious name of these pickled carrots should serve as a warning for the hot-pepper adverse.  Still, to avoid unpleasant recriminations from friends — and possible screams of pain from unsuspecting children — be advised to make sure everyone is aware of the peppy surprise packed into these bouttonnieres.
What makes this batch of pickled carrots so lovely is this great device found at Kam Man, my go-to resource for Chinese foodstuffs, cookware, plates and who knows what else. Poking around the store's two levels always yields a new treasure or two.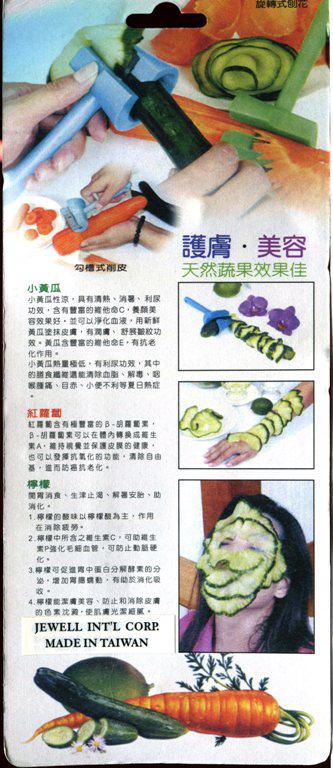 This peeler lacked any English instructions or identification. But the clever illustrations on the packaging told enough: it showed cucumbers and carrots; it showed a chef; it showed long feathery strips of carrots and long flat peels of cucumbers.
It also displayed a woman with thin strips of cucumber covering her arms and face which looks like a highly efficient version of the old cucumber-slices-on-the-eyes trick one sees so often in ladies' beauty and fashion magaines.
The device has a double-bladed cone affixed to a handle. The outer blade is ridged. Drag this blade down the sides of the peeled carrots to create grooves all the way around. Then insert the carrots into the cone and twist like you are sharpening a pencil. The interior blade will shave off thin slices of carrot with feathered edges.
The strips are remarkably thin and yet strong too.  Cut each strip of carrot into 6″ lengths and roll into flower shapes. Pop in a pepper stamen and there you have it.
If you can't find this tool in your neck of the woods, Amazon offers this spiral slicer  and twin curl ribbon cutter, both of which would make nifty shapes too.
RECIPE FOR GOOD AND EVIL CARROT PICKLES
1 lb. carrots, peeled
4 red habañero or Scotch bonnet peppers
2 c. vinegar
1 c. sugar
garlic
Use the peeler of your choice to slice the carrots into long, very thin strips, ideally with fluted edges. (See info about about my Chinese gadget.)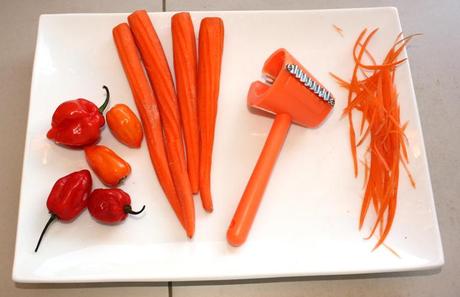 WEAR RUBBER GLOVES to cut the peppers into matchstick-size pieces, discarding seeds and white ribs inside the peppers.
Roll the carrot strips into flower shapes and place a few sticks of pepper in the center of each. Pack into hot sterilized canning jars.
Bring the vinegar and sugar to the boil, dissolving the sugar, and pour the solution over the carrots to within 1/4″ of the top of the jars. Add one clove of garlic, smashed, into each jar. Seal and process in a boiling water bath for 20 minutes.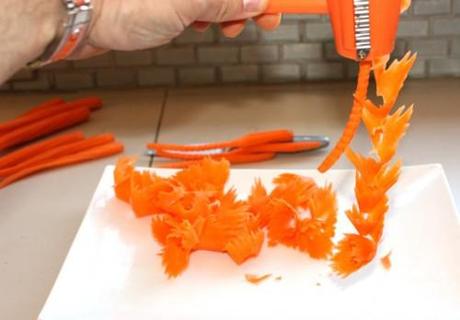 Allow pickles to develop their flavor for at least a week before serving.
Makes 3 cups of pickles.

Print This Post
This original recipe was created in East Hampton's Springy Banks Cannery, Spectacularly Delicious's hygienic facility dedicated to the finest in home preserving using tested and trusted techniques.