Good evening Beautiful,
So I'm sitting here watching The Bachelorette (yes, I watch it) and wondering how to start this blog. What a perfect way to start the blog than with The Bachelorette! I've heard a ton of mixed opinions about this year's Bachelorette, Emily Maynard. Personally, I think she's so sweet and so kind and so beautiful but I know a lot of people find her annoying and fake. I actually bought myself a US Weekly because there was an article in the magazine about Emily and her past. I guess she had some work done before her original appearance on Brad Womak's season of The Bachelor. In all honesty, I was somewhat relieved to know that she's had worked done because I was convinced that she was actually born looking like a Barbie. I guess she also has a history of dating rich men. Her ex-finance that died in a airplane crash was apparently work $15 million dollars. After dating Brad (who owns a lot of different bars in the city where he's from, I forget what it is) she dated a couple country music singers, then an NFL player before going on The Bachelorette. After reading that I'm kind of convinced that she'll pick the race car driver Arie. Only time will tell I guess!
Today was a great day! I was super productive at work, I had some amazing paleo meals and I had an amazing workout. I'm going to start with my work out because I'm super excited about it. Today is the first day since my half-marathon and since my shin splints that I ran on the treadmill with ZERO pain! I didn't push it, I only ran for about 15 minutes, and I did it like this…
Distance – Speed
0.0-0.1 – 3.0mph
0.1-0.2 – 4.0mph
0.2-0.3 – 5.0mph
0.3-0.4 – 6.0mph
0.4-0.5 – 7.0mph
0.5-0.6 – 8.0mph
0.6-0.7 – 9.0mph (this was seriously the fastest I could go, I was legitimately concerned I was going to fly off the back of the treadmill)
0.7-0.8 – 8.0mph
0.8-0.9 – 7.0mph
0.9-1.0 – 6.0mph
1.0-1.1 – 5.0mph
1.1-1.2 – 4.0mph
1.2-1.3 – 3.0mph
My friend Keely did one of these runs and blogged about it and then I stole it. Thanks for the idea Keely! I can't explain to you how it felt to start running, and feeling so worried that I was going to start limping because of my shin splint, and then it not hurting at all. I was actually a bit worried that I'd tweek it and somehow hurt it again, so it's all I could think about while running is to have perfect form the whole time.
After that run I decided to try and destroy my legs, so I did 10 sets of 10 reps of squats, lunges (5 on each side) and plié squats so I did 100 of each. I also decided I'd hold two 10lbs dumbbells while doing these. So not only did I do 200 squats in total, and 100 lunges in total while holding an extra 20 lbs. My legs were like jelly and I really had to concentrate when walking down the stairs and walking up the stairs, and basically anything. Hopefully I'm not sore tomorrow…
It's been over a month since I've run, and I'm 100% not use to it anymore. With running, you lose your endurance so quickly, it's unbelievable. I don't know if I've mentioned this recently but it's definitely been on my mind. The day after I did my half-marathon, I registered for the Toronto 10-miler which is about a 16 kilometer run that goes through the distillery district here in Toronto the weekend before my companies Awards Gala and a huge fitness conference (canfitpro) that I'm attending. I've committed to doing this race, which means I need to start training ASAP, which also means I need some new shoes. I had a training program for the 16km race since the half-marathon ended, so as of now for my long runs I should be doing 15km. SHIT. I'm supposed to run 7km tomorrow, and I think I'm going to, regardless of the weather, I have to. It will be very, VERY interesting to see how many times I need to stop to walk. But I can do this, if I train hard and be strict with my diet, I can totally do this. It's only 16km, I should be able to do this in under 2 hours. I will update you tomorrow on my run. Oy vay.
As for my lovely diet today, well my breakfast and lunch were pretty basic. (I measured/weighed everything like normal, but I won't bore you with those details).
Breakfast
1 chicken breast with the bone in but I took the skin off
carrots
2 hard-boiled eggs
Snack
pistachio nuts, roasted and salted
Lunch
1 chicken breast with the bone in but I took the skin off
cherry tomatoes
cucumber
organic salad dressing on my veggies
Post-workout Snack
1 vanilla protein shake. I, unfortunately, forgot my own protein so I had to buy a protein shake. I remember it only having 1g of sugar (which probably means there was some artificial sweeteners in it which I hate) and 4g of carbs.
Dinner
This is where I got creative. I decided to make coconut chicken nuggets! These are the ingredients I used: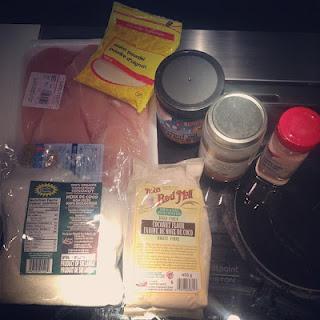 I also cooked some butternut squash and had some raw purple cabbage. I love cabbage so much, it's almost a bit strange. I could just eat it, plain and raw every day, and I might because I had no idea how cheap it was. Go cabbage! I love mixing up dinners and meals in general. It keeps life interesting, don't you agree? This is what dinner looked like right before I ate it!

Mmm… I know that's what you're thinking. To be honest, I think there's something missing from the coconut chicken. I'm not sure if it's salt, or spice or what the heck it is…. Leave it with me, and I'll figure it out.
Also, I'd like to point you to the direction of The Old Scholar badge I have on the right hand side of my blog. The Old Scholar and I have teamed up to bring all my readers out there 10% off your purchase with the promo code "ohm" (my last name!). It's actually a pretty cool deal! They ship to anywhere in the world (that means they ship directly to you!) and they have some amazing products from some new up and coming designers. I've checked out everything on the website and so far I've spent my next three paycheques… no big deal! I strongly recommend you swing by the website and at least check it out, sign up for their newsletter if you like their products, so you'll be the first to see the new products that they post. They're changing their website in about three months because they're going to have SO much new product that the current website can't handle! Get in while you can!
My friend Alyssa who had the bridal shower on Sunday has a brother who every single year has the best Pride party, hands down. This year's theme is "hot mess" and I'm trying to locate a sequined mini skirt to wear to the event that I don't need to spend a bajillion dollars on. I've been looking on eBay and need to pull the plug really soon because Pride is in 2 weeks… So much for my goal of not buying clothes until July. Maybe I'll post on facebook my need for a mini skirt, sequined, that fits my behind.
J
Wish me luck tomorrow!
Stay sweet.
xoxo