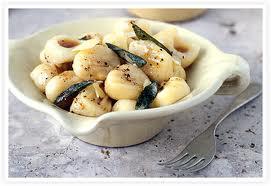 TIME: 20 MIN.
DIFFICULTY ': **
INGREDIENTS:
400 gr. potato gnocchi
some sun dried tomatoes
1 truffle
100 gr. of grated parmesan cheese
extra virgin olive q.b.
salt
pepper
PREPARATION:
Heat a large pot and add salt water.
As soon as the water reaches the boil, pour the gnocchi and cook for about 2 minutes until the surface will rebound.
Drain.
Place them in a serving dish and baste with olive oil.
Then add the dried tomatoes and Parmesan, stirring well.
Grate the truffle and sprinkle over dumplings, pepper, pour more oil and serve immediately.