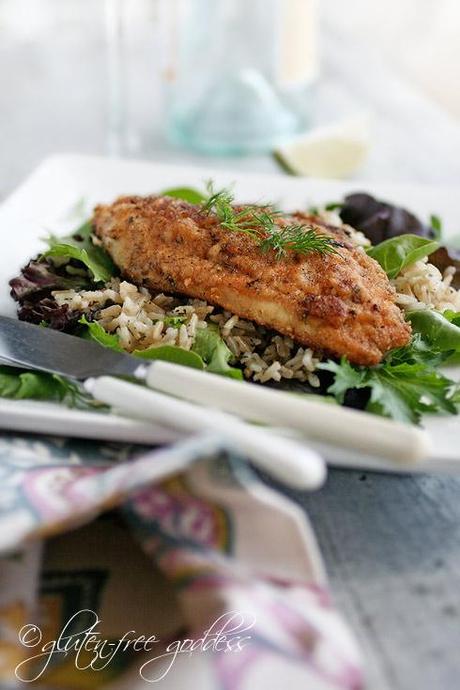 Gluten-free golden fried catfish fillet- tender and tasty.
By
Meet Karina
Gluten-Free Pan Fried Catfish Recipe with Brown Rice and Baby Greens
One of my favorite simple dinners is pan fried catfish. So flavorful. The texture is lovely- flaky, and tender. Here I've made a crumb style coating with three gluten-free flours. The combo of almond meal, coconut flour and brown rice flour creates a light and delicate coating that fries to a crispy golden brown.
Ingredients:
4 (6 to 8-ounce) skinless catfish fillets
1 beaten organic free range egg
1/2 cup almond meal
1/4 cup coconut flour
1/4 cup brown rice flour
1 teaspoon smoked paprika
1 teaspoon dried dill
1 teaspoon dried oregano or parsley
1 teaspoon dried minced garlic
1 teaspoon sea salt
1/3 cup light olive oil or vegetable oil, for frying
Lime wedges, for serving
Fresh herb salad greens, for serving
Hot cooked brown rice, seasoned with olive oil and sea salt, for serving
Instructions:
Line a baking sheet with a piece of parchment paper, and place it in a warm oven.
Rinse the catfish fillets briefly in cool water and pat dry.
Place the fillets in a shallow baking dish, in a single layer. Pour the beaten egg mixture over the catfish, and make sure each fillet is evenly coated on both sides. Set aside.
In separate shallow dish, whisk together the almond meal, coconut flour, brown rice flour, smoked paprika, dill, oregano, garlic, and sea salt.
Working with one fillet at a time, remove it from the egg mixture and dredge it in the gluten-free flour mixture to coat both sides. Transfer the coated fillet to a clean plate. Repeat for the remaining fillets.
Heat the light olive oil in a large skillet over medium heat. When the oil is hot, carefully add two fillets to the skillet, and fry until the underside is golden and crisp, roughly 4 minutes. Using a thin, flexible spatula, gently turn the fillet over and continue cooking until it is crispy golden brown on the second side, about 3 to 4 minutes more.
Carefully transfer the cooked fillets to a parchment lined baking sheet in a warm oven. Repeat the process with remaining fillets.
Serve the catfish with a crisp, fresh herb salad and hot cooked brown rice. Garnish with fresh lime wedges and snips of fresh dill.
Cook time: 
8 min for the catfish
Yield: 
Serves 4